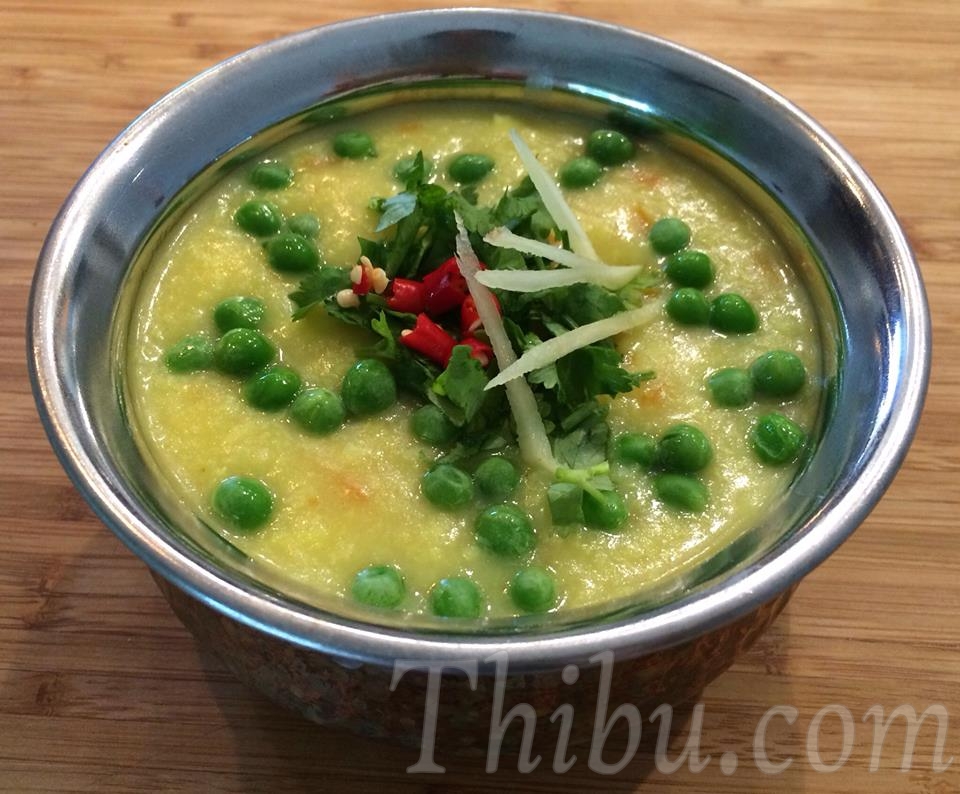 Kanji Soup
After being sick for a week and half, and absent from the kitchen, this was easy to make and comforting to eat. Here is my version.
What you'll need:
Basmati Rice – 2 cups
Water – 12 cups
Turmeric Powder – 2 tsp
Salt – 6 to 7 tsp or to taste
Garlic Pods chopped into slices – 4
Ginger chopped fine  – 1 to 2 inches
Methi/Fenugreek Seeds – 2 tsp
Cumin Powder – 3 to 4 tsp
Coconut Milk (or fresh coconut shredded and ground a bit to get milk out) – 4 tbsp
Carrots chopped into thin slices – 2
For garnishing –
Frozen Peas – 1 cup
Cilantro chopped – a few sprigs
Fresh Red or Green Chilies – optional/to taste
Ginger chopped fine
Ghee – Optional
Method:
1. Bring all ingredients except cumin powder, coconut milk and carrots, to a boil and cook on low covered. Mix in between with a whisk. Add upto 4 more cups water if needed.
2. To almost cooked rice, add cumin powder, coconut milk and carrots.  Cook some more mixing with whisk.
3. Serve in a bowl, top with some frozen peas (it will thaw from the heat of soup), chopped cilantro, chilies and extra ginger. Add ghee (optional). Enjoy!
Note: I omitted chilies and ginger for kids, and added ghee.
Comments
comments