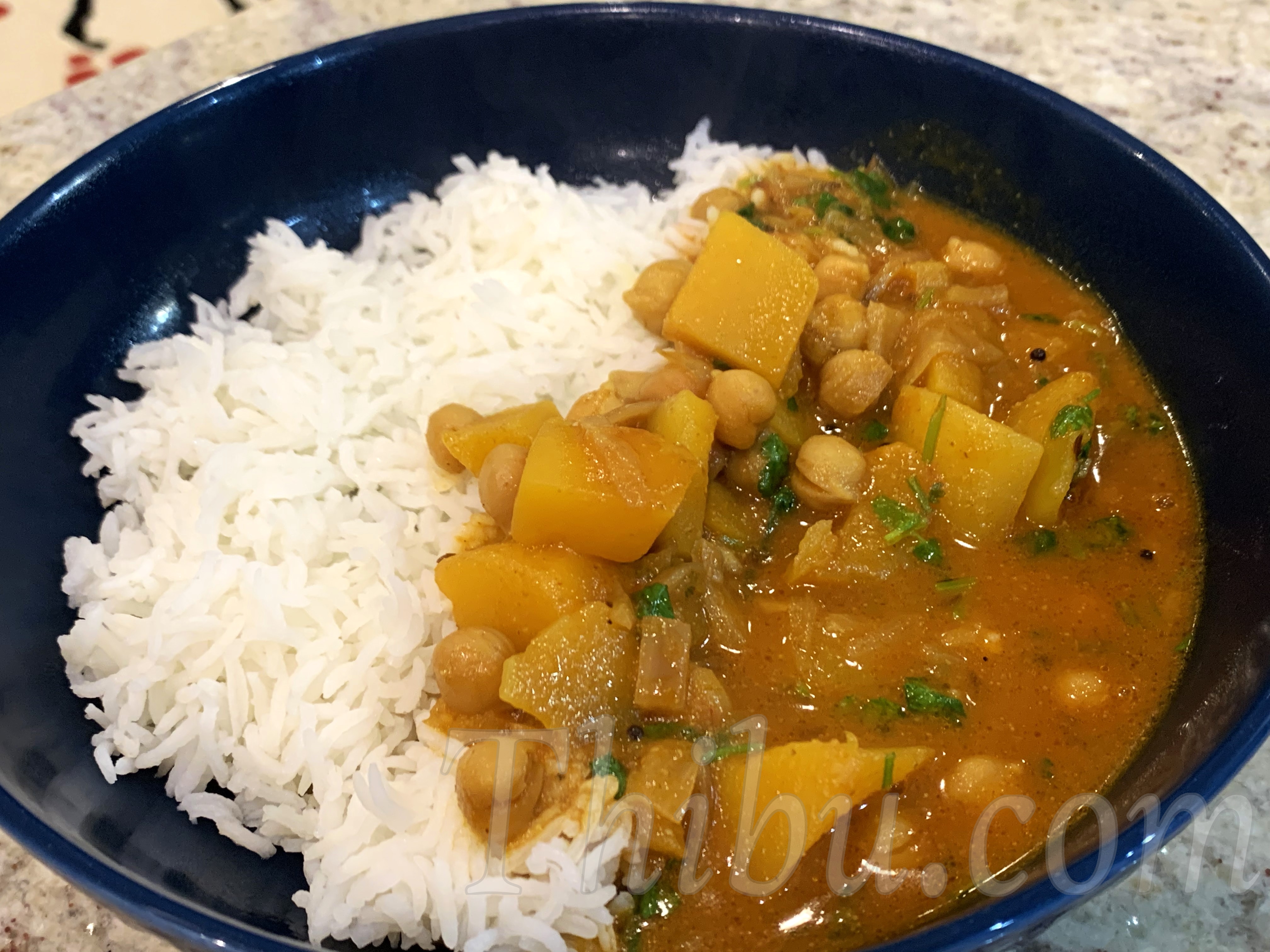 Butternut Squash and Garbanzo Beans Creamy Vegan Curry
Another super easy recipe for a weekday dinner. Goes very well with hot steamed rice or quinoa or other grains or roti!
I dont always write recipes for everyday dishes like this. But my son, who is the picky eater in our house, and usually does not say much about the foods I make except that he likes some of them, had some really nice things to say about this!! So I had to, I am a happy mom 🙂
Ofcourse, as I said this is an everyday kind of dish which is very delicious, and you can substitute the veggies and beans with any other combination – options are really endless.
What you'll need:
Butternut Squash, cubed – 1 large (or 2 lbs precut)
Onion , thinly sliced – 1
Garbanzo Beans – 2 cans of 15.5 oz
Coconut Milk – 1 can of 13 oz
Tomato Paste –  1 can of 6 oz
Oil – 2 to 3 tsps
Cumin Seeds – 1 tsp
Mustard Seeds – 1 tsp
Ginger paste or powder – 1 tsp
Garlic paste or powder – 1 tsp
Turmeric Powder – 1 tsp
Cumin Powder – 2 tsps
Coriander Powder – 2 tsps
Kitchen King Malasa (or curry powder) – 3 tsps
Chili Powder or Cayenne – 1 tsp
Salt to taste
Fresh Cilantro, chopped – a nice bunch
Method:
In a large pot, heat oil and add the cumin seeds and mustard seeds. Let them splutter.
Add the Onion and sauté until tender.
Add the Ginger and Garlic paste or powder.
Next add the Butternut Squash, Garbanzo Beans, Coconut Milk, Tomato Paste, and about 2 cups of water.
Add all the spices – Turmeric Powder, Cumin Powder, Coriander Powder, Kitchen King Masala or Curry Powder, Cayenne, and Salt.
Give it a good mix and let simmer on medium low for about 20 mins. (you can also leave it on low covered for about 30 mins while you do other things).
Comments
comments