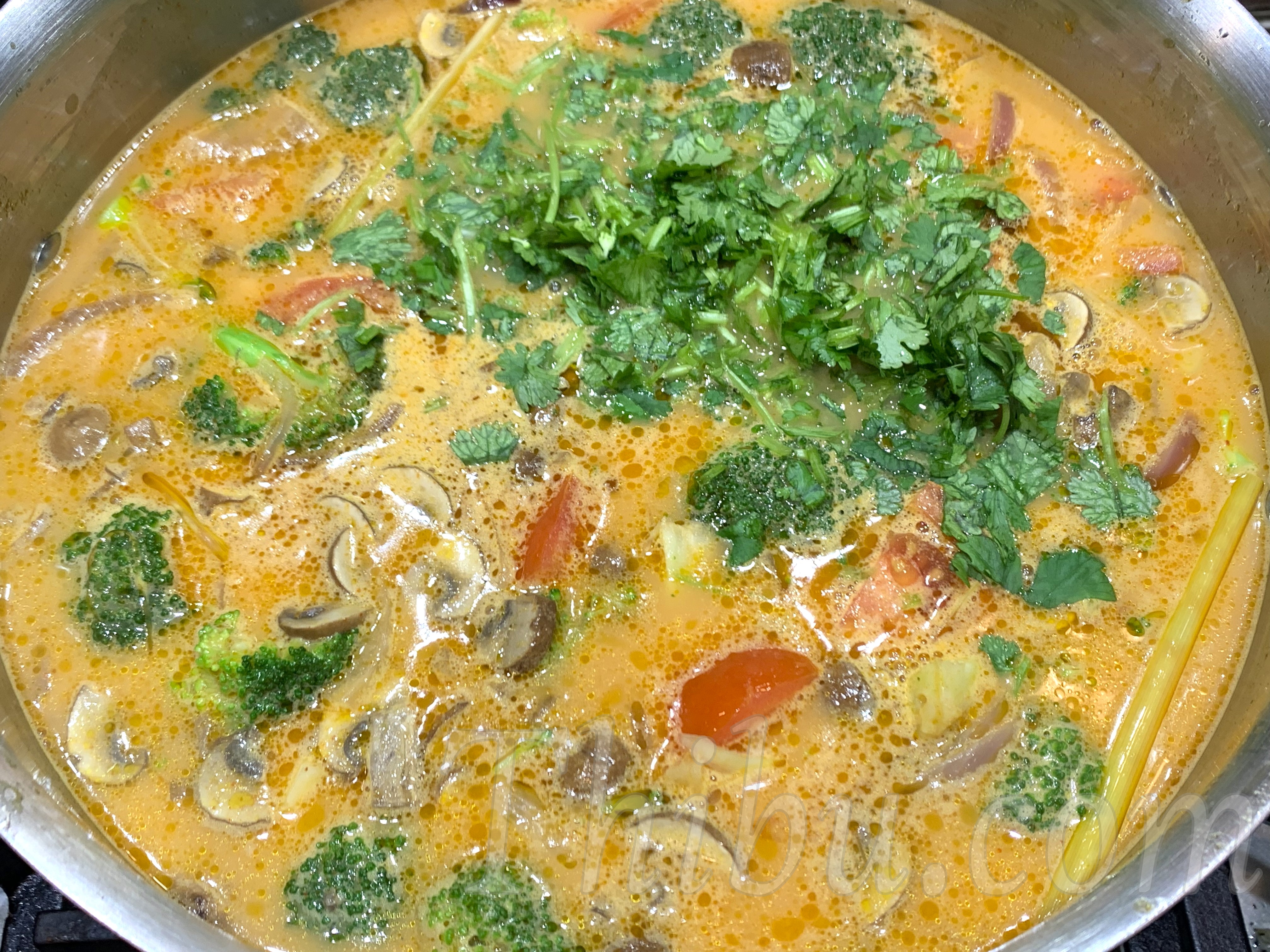 Tom Yum Noodle Soup with Veggies
This soup is perfect for a cold night! It is spicy and so flavorful. You can have it on its own or add Noodles and make a meal out of it.
I use vegetables that I have on hand and sometimes add Tofu as well. The recipe serves a good portion for four. You can double or triple the recipe.
What you'll need:
Onion, thinly sliced – 1/2
Carrots, sliced – 2
Mushrooms, sliced – about 8 small
Broccoli florets from 1 small head
Tomatoes, cubed – 2
Coconut Milk – 1 can
Thai Red Curry Paste – 4 oz (I use 1 jar Thai Kitchen brand)
Lemongrass stalk – 1 (or 2-3 leaves)
Ginger, julienned  – 1 inch
Lemon Juice – 1 tbsp or from half lemon
Sugar – 2 tsps or to taste
Salt to taste
Noodles (I used flat rice noodles) – enough for 4 servings
Note: You can add vegetables such as Bell Peppers, Spinach, Squash, Peas, etc. And optionally add Tofu.
Method:
In a large pot, sauté the Onion in oil.
Add the Coconut Milk and Red Curry Paste and sufficient water to bring to soup consistency (about 3 to 4 cups). Bring to a boil.
Add the Lemongrass stalk, Ginger, Lemon Juice, Sugar and Salt. Boil for about 5 mins.
Reduce heat and add the sliced Carrots and Mushrooms. Let simmer for 2 mins. To retain some crispness, you dont want to cook the veggies for too long.
Add the Broccoli, Tomatoes and Cilantro. Mix and turn off heat. The veggies will cook in the heat.
In the meantime, cook the Noodles according to the directions on the package. Set aside.
For serving, ladle the soup into bowls and place the noodles in the center. Optionally, top with chili paste for extra heat. Enjoy!!
Comments
comments