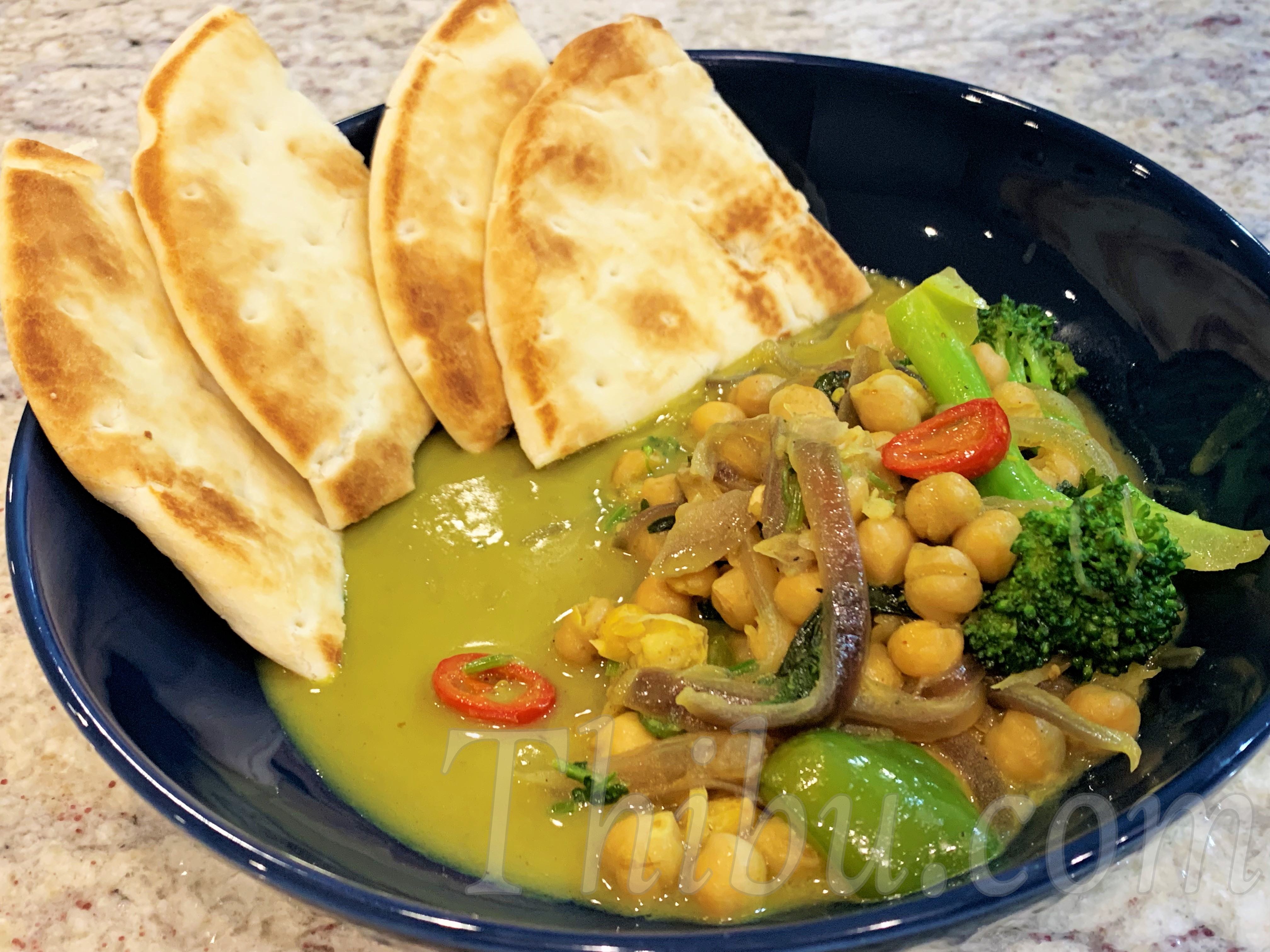 Garbanzo and Broccoli Curry
It was one of those days when I didnt feel motivated to cook, so I had decided I wouldnt.
I settled on the sofa and watched a food show about "Curry". It is an interesting thing curry – what is it? Different regions have a different understanding of it and different ways of making it. But essentially it is a gravy based dish.
An hour later, I was inspired to make this curry for dinner 🙂 And half an hour after, it was plated and ready to eat!
Maybe the choice of veggies or the coconut milk in it, it tasted like a fusion of Thai and Indian food. My son and husband both thought it was Thai.
Very simple, and turned out very good!  I had soaked and boiled a bag of garbanzo beans ahead, to use in different dishes which helped. Ofcourse canned can be used.
What you'll need:
Red Onion, sliced – 1
Green Bell Pepper, large cubes – 1
Broccoli, florets and stem cut to pieces – 1 large head
Garbanzo Beans, cooked – 3 cups
Oil – 1 to 2 tbsp
Turmeric Powder – 1 tsp
Chili Powder – 1 tsp
Ginger, thinly sliced – 1 to 2 inch piece
Chilies, sliced – 2 to 3
Garam Masala – 2 tbsps
Coconut Milk – 1 can 14 oz
Salt to taste
Cilantro, chopped – a small bunch
Method:
In a large pan, add Oil, Turmeric Powder and Chili Powder.
Add Onion and Saute until it starts to caramelize.
Add Ginger and Chilies. Mix.
Add Coconut Milk and Cooked Garbanzo Beans. Add Garam Masala and Salt. Add 1/2 to 1 cup of water to adjust consistency as needed. Mix and let it simmer for 3-4 mins.
Add Bell Peppers and Broccoli. Mix and simmer for a couple of mins. Dont overcook. Switch off heat.
Add chopped Cilantro. Give it a stir, plate and its ready to eat! Enjoy!  Can be eaten with Naan, Pita, Roti, or Rice.
Comments
comments