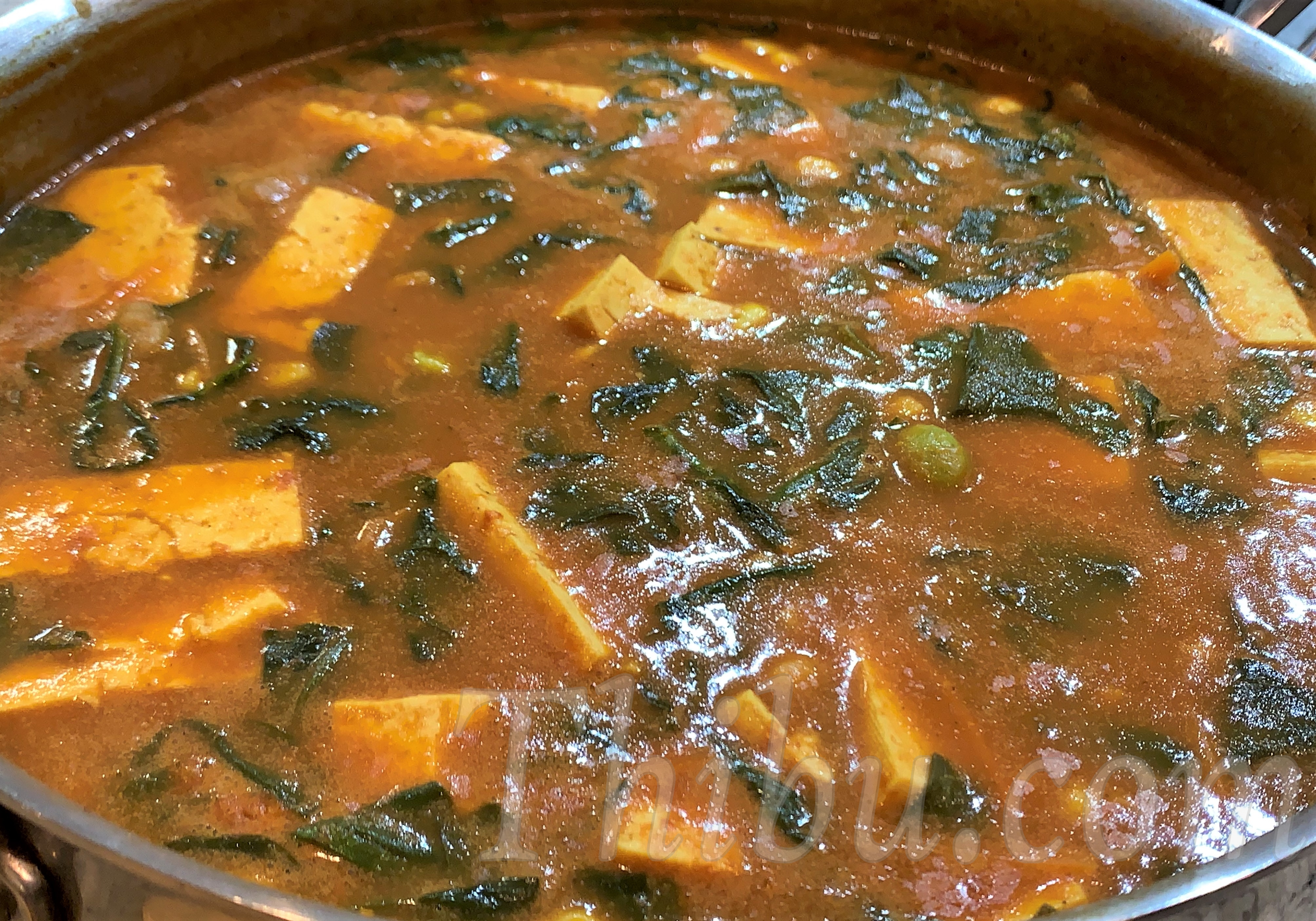 Chickpea Spinach and Tofu Stew in Coconut Milk
This is a hearty meal for a cold evening!! Creamy, full of flavors and nutritious! And it is vegan 🙂
I have to tell you that this will taste even better the next day when chickpeas and tofu have soaked in all the flavors!! So make enough to have leftovers for next day 🙂
What you'll need:
Organic Chickpeas/Garbanzo Beans – 2 cans (15.5 oz each)
Organic Spinach – 1 bag (6 oz)
Organic Firm Tofu – 1 box (14 oz)
Organic Coconut Milk – 1 can (14 oz)
Organic Tomato Sauce (or Paste) – 1 can (15 oz)
Organic Corn kernels (frozen works) – 1 cup
Pav Bhaji Masala – 2 to 3 tbsps
Cayenne Chili Powder – 1 tsp
Turmeric Powder – 1/2 tsp
Salt to taste
I used canned chickpeas because this was a last minute fix. Soaked and cooked beans can be substituted. Similar fresh tomatoes can be pureed and substituted for tomato paste.
I threw in a handful of edamade that I had. I only did because I wanted to finish it up. So its totally optional.
Method:
In a large pot, add all the ingredients one by one, mix. Add water to get the desired stew consistency. Bring to boil and let simmer on medium-low heat for about 10 mins.
Thats it! Thats how easy it is! Adjust flavoring as needed. Enjoy!
Have it with some bread on the side or you can even have it with steamed rice.
Comments
comments