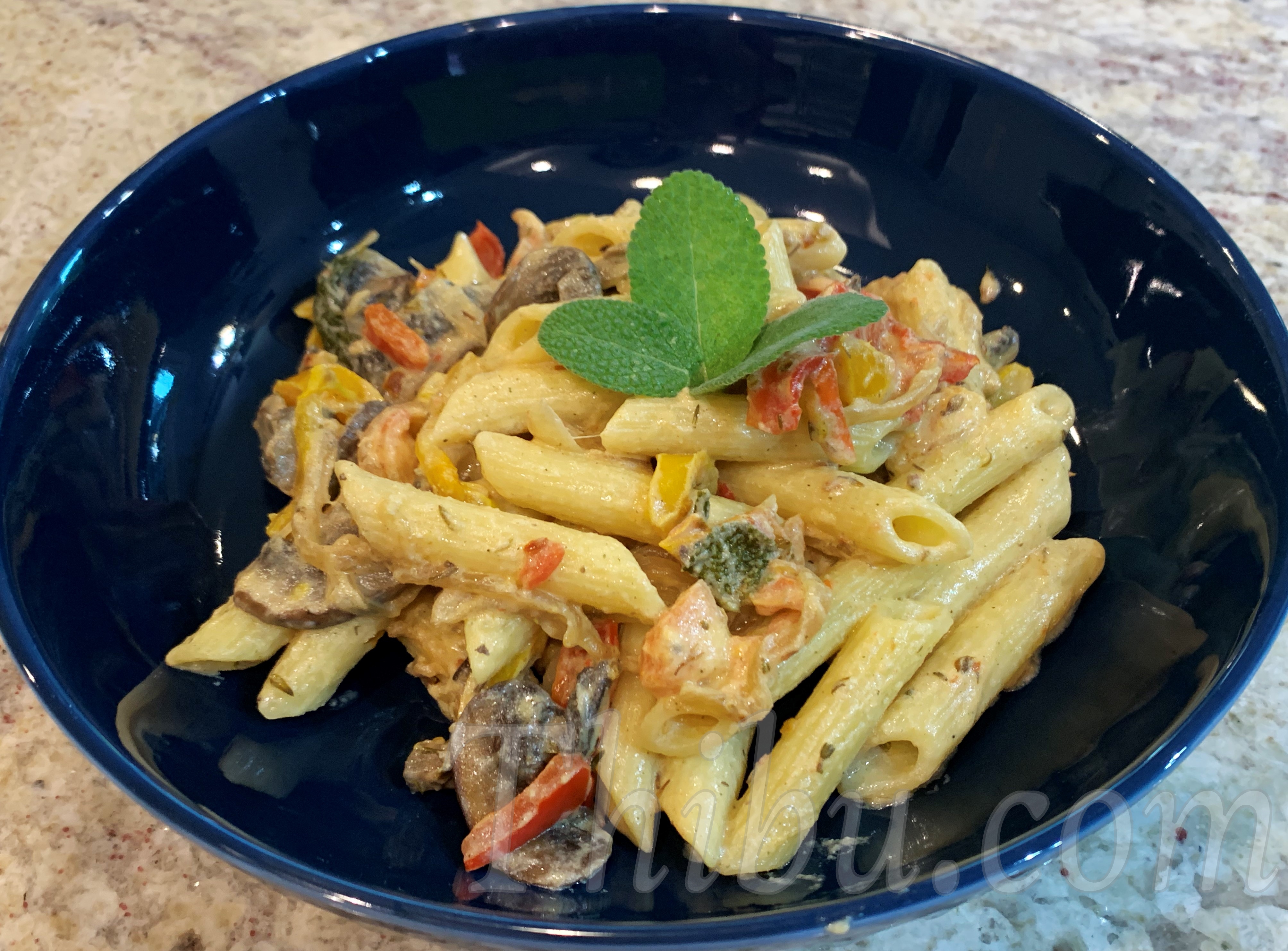 Creamy Mushroom Sage and Pepper Pasta
I make a creamy Vegan Mushroom and Pepper Curry which is so yummy and so easy. Try it if you havent already. Recipe here.
We were in a mood for pasta. So used the same main ingredients but different herbs and spices and made this really delicious Creamy Mushroom Sage and Pepper Pasta!! Fresh Sage from the garden gives a wonderful flavor and aroma.
What you'll need:
Bell Peppers sliced – 3 (I used 2 yellow and 1 red)
Fresh Sage – 6 to 8 leaves
Mushrooms Sliced – about 3 cups
Chili Flakes – about 1 to 2 tbsps or to taste
Oregano – 2 tbsps
Hemp Seeds – 1/2 cup
Garlic Cloves – 5 to 6
Olive Oil
Salt to taste
Freshly Ground Pepper (optional)
Pasta
Method:
Boil water, add a teaspoon of salt and cook the pasta. Drain, reserving about a cup of pasta water.
In the meantime, in a large pan add oil and saute the Sage and Bell Peppers on high heat, for about 5 mins.
Add Sliced Mushrooms and continue to saute until they cook through and any water releases is absorbed.
Add Chili Flakes, Oregano and season with Salt.
In a blender, add Hemp Seeds, Garlic, Olive Oil and water as required and make a fine paste (consistency of cream).
Add the Hemp Garlic cream to the veggies. Mix
Taste and adjust flavors as needed. Add ground pepper (optional).
Add the cooked Pasta and the reserved pasta water (consistency should be creamy but not runny).
Serve and eat hot. Enjoy!!
Comments
comments