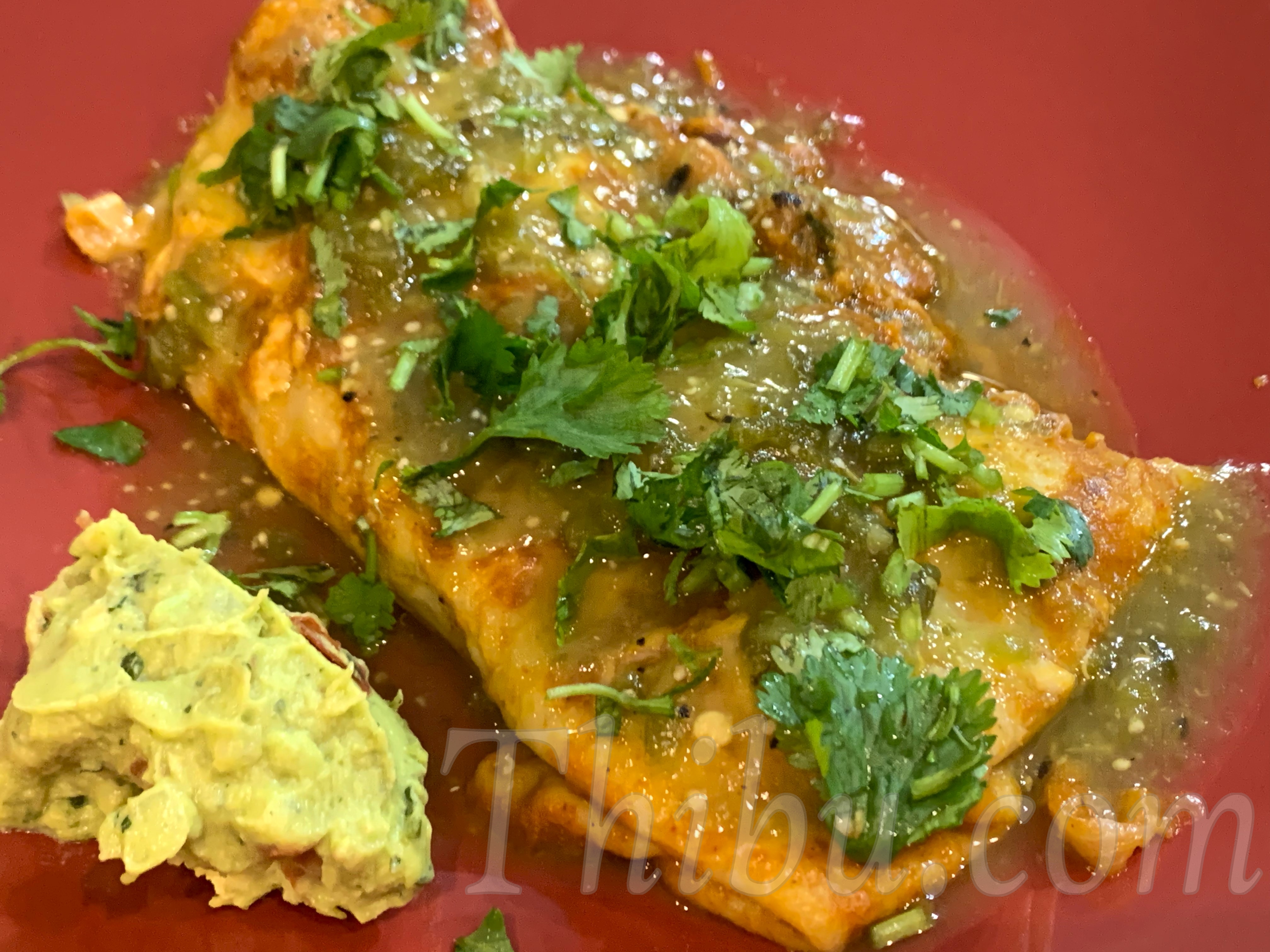 Veggies Bean and Cheese Enchilada
A family favorite! The filling is so delicious. It gives an uplift to a simple dish. I was trying to clean out the fridge once and I made this with  sauteed onion, bell peppers and lots of mushrooms. Turned out so good, so we repeat this combination often. But any other veggies on hand could be substituted – Spinach, Cauliflower, Squash, etc.
This recipe makes plenty and makes for great left overs. I usually assemble in separate baking dishes to make it easy to portion per each meal.
Serve it topped with any Salsa.  Guacamole, Salad or Mexican Rice go well with it on the side. If you want to indulge, throw in some chips.
What you'll need:
Red Onion, sliced thinly – 1 large
Bell Peppers (any), sliced thinly – 2 large
Mushrooms, sliced – 2 cups
Garlic Powder – 2 tsps
Adodo Peppers in sauce – 2 peppers plus about 2 tsps sauce
Taco Seasoning – 2 tsps
Salsa ( any salsa of your liking) – 2 to 3 tbsps
Salt to taste
Beans (Pinto or Black) – 2 cans, 15 oz each
Shredded Cheese – about 2 to 3 cups
Enchilada Sauce – 28 oz can
Tortilla (medium size) – 14
Cilantro, finely chopped – a good bunch
Salsa to topping (option)
This quantity makes 14 large Enchiladas. You can half the recipe if you like.
Method:
Filling:
In a large pan, sauté the sliced Onion in oil.
Add the sliced Bell Peppers, Mushrooms and any other optional vegetables. Continue to sauté on med-high heat until cooked, 8 to 10 mins.
Add in the spices – Garlic Powder, Adobo Peppers, Taco Seasoning, Salsa, and Salt. (You can chop the Adobo Peppers or just mush it well in the pan as I do and mix in.)
Mix well and cook for another 3-4 mins. Turn off heat.
Assembly:
In a baking dish, put in 3-4 ladles of Enchilada Sauce to coat the bottom well.
Next, take a Tortilla, place about 2 scoops of Filling in the middle. Top with 2 tbsps Shredded Cheese. Fold the Tortilla like a burrito. Place in the baking dish.
Continue to do the same with the rest of the tortilla. I usually place about 4 to 5 filled Enchiladas in a baking dish. You can split according to your preference or place all in one large baking dish if halving the recipe.
Top with more Enchilada sauce to coat all over. Sprinkle with shredded cheese on top.
Cover loosely with aluminum foil, making a slight dome to not touch the foil to the Enchiladas.
Bake in a preheated 400deg Fahrenheit oven for 30 mins.
To plate, take out an Enchilada on a serving plate and top with Salsa and chopped Cilantro, and any optional sides. Enjoy!!
Note: Can be frozen and baked later. Or bake, let cool and refrigerate or freeze for later.
Comments
comments