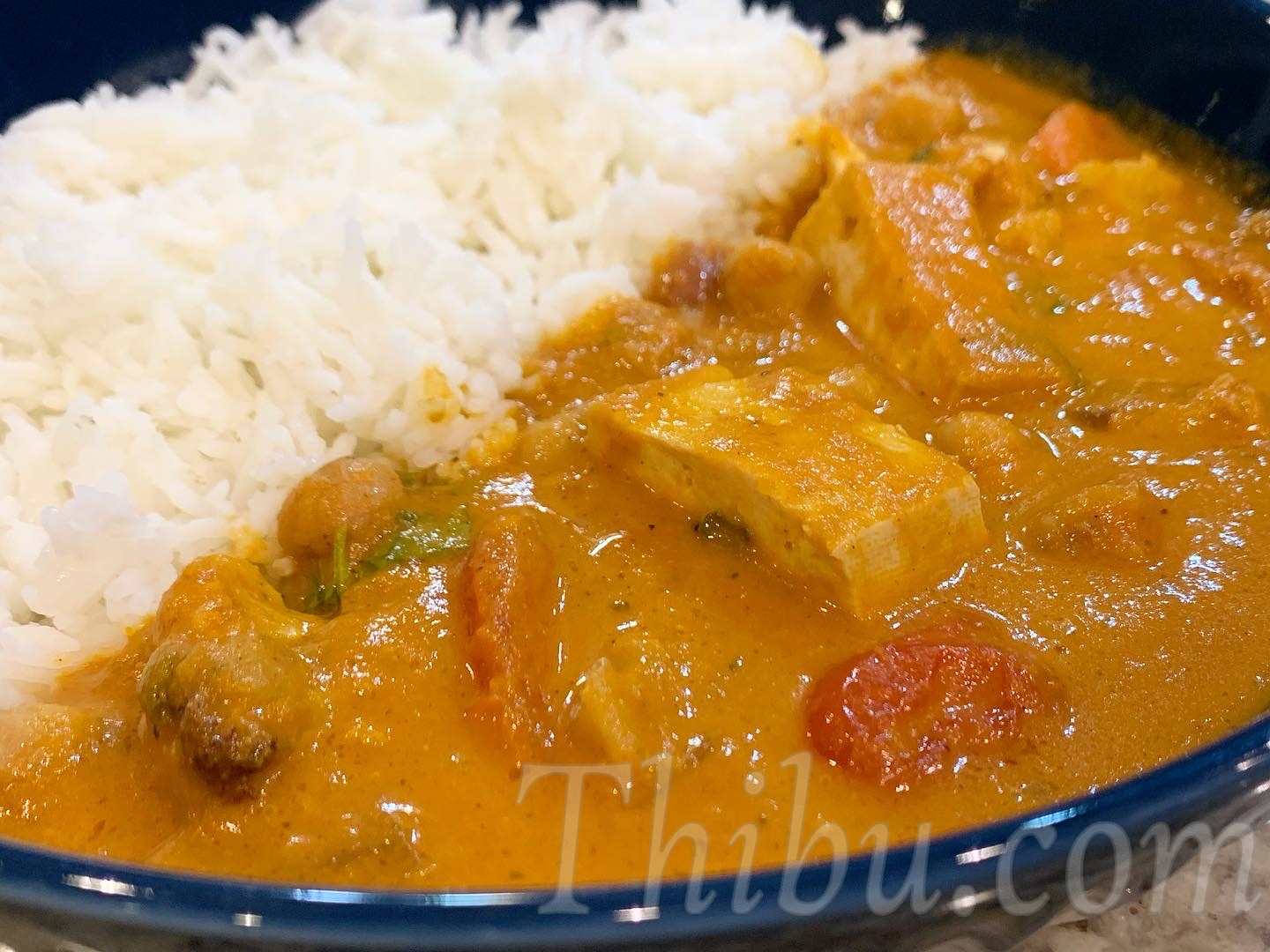 Roasted Vegetable and Tofu Curry (Vegan)
I like healthy cooking and healthy eating, and I also like efficiency. One of my favorite ways to accomplish this is oven roasting, tray bakes. It gets half the work done without any babysitting.
Food must be colorful, adding a variety of vegetables into the diet. Chopping and prepping veggies are probably the most time I spend in cooking. I dont mind it, but to make it a bit more efficient, I sometimes make double batches of prepped veggies, roast them and use them in different ways! We had Roasted Veggies and Tofu with Homemade Peanut Sauce with the first batch. And this is what I made with the second batch. Both were hits! They are flavored differently, so you don't realize its the same veggies! Tips and tricks always make a busy weeknight dinner doable, enjoyable, healthy and easy 🙂
What you'll need:
Cauliflower, cut into Florets – 1 head
Carrots, sliced – 2 to 3
Onion, diced or sliced – 1 small or 1/2 large
Cherry Tomatoes – 10 to 15
Firm Tofu – 1 box
Cloves – 4 to 5
Black Cardamom – 1
Cinnamon – 1 inch piece or 1 tsp ground
Garlic Powder – 1 tsp
Ginger Powder – 1 tsp
Green Chilies – 4 to 5 or to taste
Tomato Paste – 1 can, 6 oz
Peanut Butter – 1 tbsp
Coconut Milk – 1 can, 13 oz
Salt to taste
Cilantro, chopped – a small bunch
Method:
Roast the Vegetables and Tofu: Preheat Oven to 425F. Toss the Cauliflower Florets, Sliced Carrots, Diced Onion and Cherry Tomatoes in oil and place in a baking dish or tray. Drain the water from Tofu and squeeze gently to remove any excess water, cut into cubes and toss in oil. Place in a baking dish or tray. Bake both Veggies and Tofu for 30 mins.
In the meantime, in a large pan, take a tbsp of oil. Add the Cloves, Black Cardamom, Cinnamon and roast for a couple of minutes on medium heat.
Add Green Chilies and saute for another minute.
Add Ginger powder or paste and Garlic powder or paste.
Add Tomato Paste, Peanut Butter and Coconut Milk. Mix everything cook for 3-4 mins. Add Salt and turn off heat.
Transfer to a blender and blend until smooth adding some water if needed.
Transfer back to the pan. Adjust the consistency of the gravy (I usually add a small amount of water to the blender, give it a swirl and add that water).
Add the Roasted Vegetables and Tofu into the gravy, bring it to a boil. Turn off heat.
Comments
comments