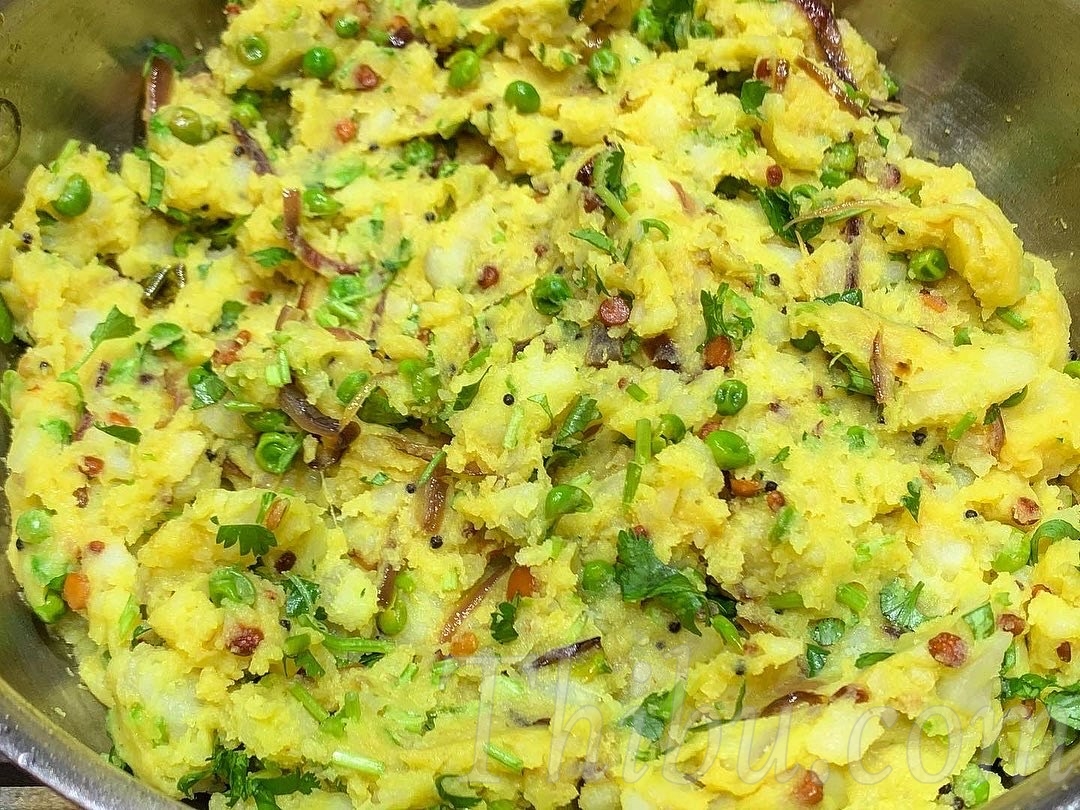 Potato Masala
Potato Masala!! Perfect filling for Dosa!! 😋😋 
Also a great side dish with Roti, or in Sandwiches, Rolls and a whole lot more.
What you'll need:
Onion, thinly sliced – 1 small (or 1/2 large)
Oil – 1 tbsp
Mustard Seeds – 1 tsp
Urad Dal – 1 tsps
Chana Dal – 2 tsps
Green Chilies, chopped or slit – 3 to 4 (or to taste)
Ginger, finely chopped – 1 inch piece
Green Peas (frozen) – 1/2 cup
Turmeric Powder – 1/2 tsp
Salt to taste
Potatoes – 5 medium sized
Finely Chopped Cilantro
Lemon Juice – 1/2 lemon
Cashews (optional)
Method:
Wash the potatoes and boil them, with skin, until they are cooked through. Peel the skin once its cooled a bit and mash. Keep aside.
In a large wide pan, add the Oil, Mustard Seeds, Urad Dal and Chana Dal. Roast.
When the Seeds starts to splutter and the Dals are turning golden, Add the thinly sliced Onion and the Green Chilies. Saute.
When the Onion is translucent (I like it when its close to caramelizing), add Turmeric Powder, Salt and Green Peas. Saute.
Turn heat to low. Add the mashed cooked Potatoes. Mix well until combined.
Add the chopped Cilantro, and squeeze the lemon juice. Mix well. Optionally add roasted Cashews. Enjoy!
Comments
comments