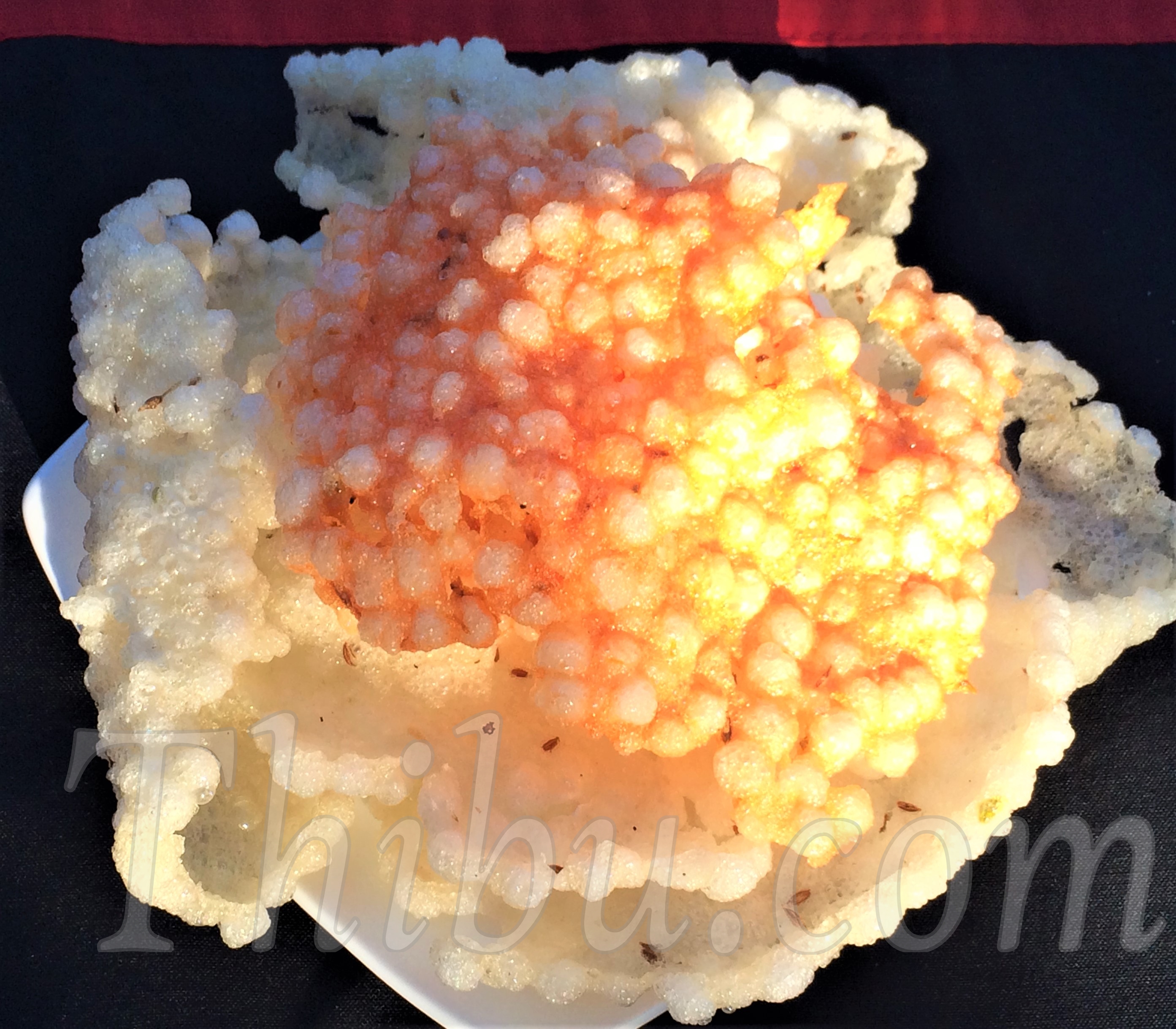 Sabakki Sandige (Sabudana/Tapioca Fryums)
Growing up, one of the annual summer tradition was to make a variety of Sandige (fryums). My mom and her friends (neighbors) would make them together and all the kids would help excitedly!! We'd watch the fryums as they dried in the sun, keeping birds, cats and sometimes even monkeys off them 🙂 And we couldn't wait to eat some of the semi dried sandige in the evening, before they would go back in the sun the next day for a full dry.
They were such fond memories and I wanted to share that tradition with my kids and make some new memories for and with my kids! We made our first Sabbakki (Sabudana/Tapioca) Sandige a few years back and the kids still get excited whenever I fry the fryums and they go straight for it.
Sabakki Sandige is one of the easiest to make. You make the batter/cooked mixture, and pour small amounts on sheets of cloth (or plastic) and let it fully dry. Kids can pour as well, we used to do it as kids 🙂
They can also be made with natural flavors. I had a lot of Tomatoes and Green Chilies (some turned red) growing in my yard. So I used them.
It is best to make the Sandige on a bright and sunny day.
What you'll need:
Sabakki/Sabudana/Tapioca – 1 lb
Cumin Seeds – 2 tsps
Water to soak and cook
Salt to taste
Green Chilies to taste  or 4-5
Tomatoes (optional, for flavored fryums) – 2-3
Method:
Wash and soak the Sabakki/Sabudana/Tapioca overnight.
Next morning, cook the Sabakki/Sabudana/Tapioca on medium low with about 3-4 cups Water in a large pot.
Add Salt and Cumin Seeds. Adjust water as needed, to make a porridge like consistency.
In the meantime, grind the Green Chilies, add to the cooking Sabakki/Sabudana/Tapioca.
Optionally, for Tomato flavored Fryums, grind the tomatoes along with the chilies and add.
It might take about 15-20 minutes for the Sabakki/Sabudana/Tapioca to fully cook. It will be translucent.
Drying:
Spread a Clean Cotton Sheet or Table Cloth where you'll get direct sun for most of the day. Some also use Plastic, I prefer not to.
Place something heavy in the corners so that it doesn't fly away.
I preferred to place mine on a table since we have squirrels roaming in our backyard.
Now take the cooked Sabakki/Sabudana/Tapioca mixture in smaller containers and spoon small quantities and spread over the sheets. Continue until all the mixture is spread.
Let the fryums dry all day. Flip them over and dry again next day if needed. Fryums must be completely dry.
Comments
comments