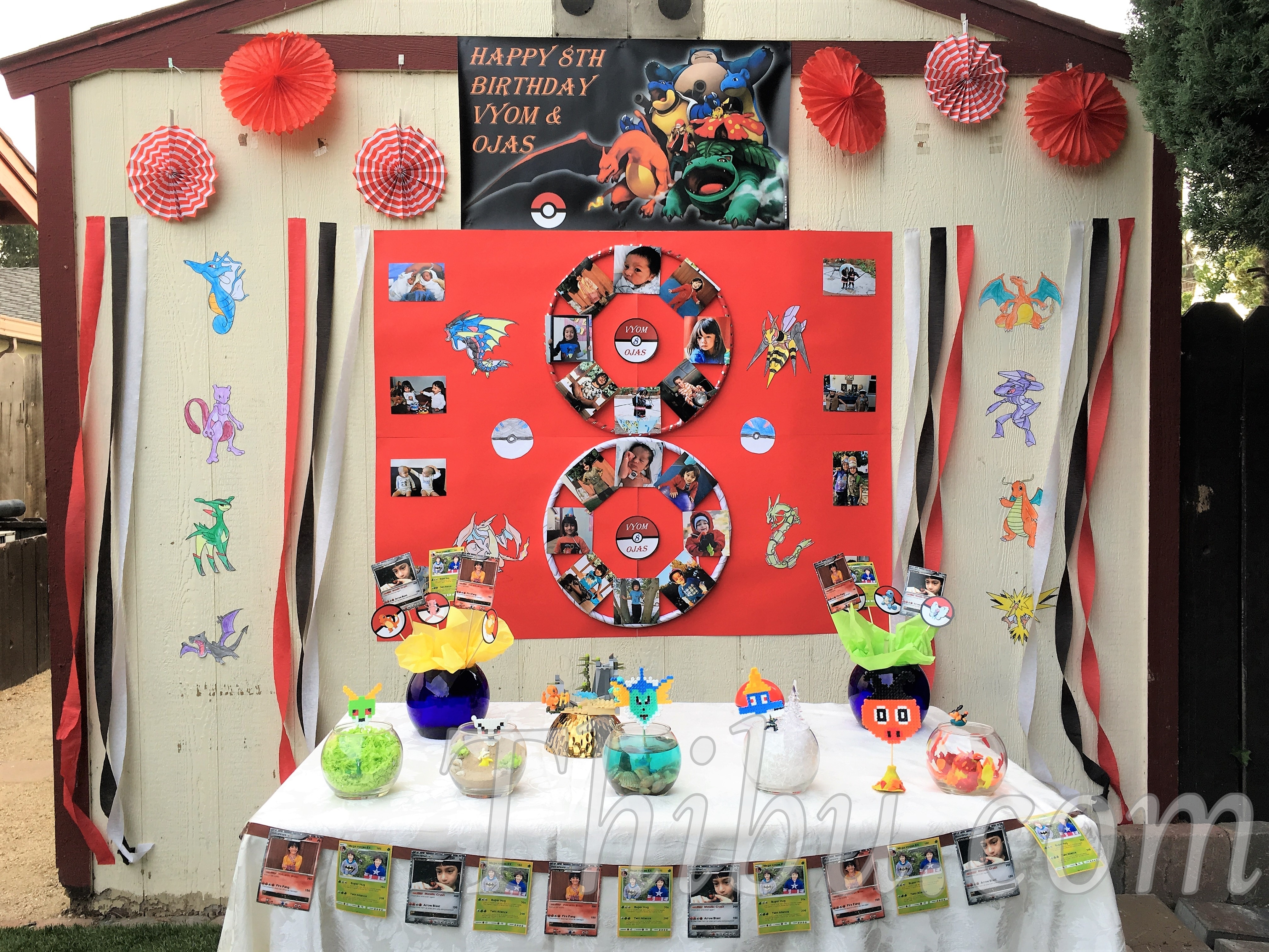 Pokemon Themed Birthday Party
All of last year my boys have been so into Pokemon. It first started by an older kid giving them a Pokemon card at after school. Then both got so involved, they self educated themselves on all Pokemon characters, bought the Pokemon books, wrote to Santa requesting Pokemon cards for Christmas, slowly the collection of cards kept growing, watched Pokemon shows, and they were talking Pokemon in a-l-l their spare time! The strengths, weaknesses, what evolves into what, the types and so much more that I couldn't understand head or tail! They would even come up with their own Pokemon characters and stories and draw them out.
So it wasn't a surprise when I asked them what theme they each wanted for their birthday that they both individually said Pokemon immediately! But I had no idea where to start! They did help me in everything this year, I also googled, searched the internet, and got myself somewhat informed to throw a party in this theme 🙂
We started off by designing Banners and making custom Pokemon cards for invitations and decorating.
And the kids spent a lot of time drawing and coloring different Pokemon characters and making fuse bead Pokeballs and Pokemon characters that I used in decorations in several ways you'll see in pictures posted.
I also wanted to have a few Pokemon themed goodies in their goody bags, so made Pokemon Soaps, Pokemon Rice Krispies Treats, kids made the lovely Pokemon Origami Bookmarks, and we also made Pokemon Bags.
We made our own versions of Pokemon environments. I used clear glass vases inside which we made the Grass, Fire, Water, Fight (which the kids said is desert setting), and Ice environments. Kids made the Fuse Bead characters of each type for these as well.
Since it was their 8th birthday, I wanted some 8 in the decorations as well. So, I used the colorful paper Pom Poms I had recently made for another event, and hung Pokeballs I designed with the names of the kids and the number 8 from them using ribbons. This went on the walls all around the rooms.
I also made 8 by using the kids pics from years 0-7 on Hula Hoops which I wrapped in the Pokeball colors Red and White. This is probably my favorite! Combining the two individual hoops to make an 8 felt very appropriate for twins 🙂
We also made Food tags and all the Pokemon fun foods!
For placing on the tables we made a bunch of Pokemon vase arrangements, using custom Pokemon cards and Pokeball cutouts. I used what vases I already had. Also, I put the kids drawings and Pokemon cards in frames for table decor.
I wanted to make these Candy Pokeballs filled with Pokemon Characters to give kids in goody bags. But didn't have the time. It was probably a good thing! I did make a couple for the birthday boys, literally 15 mins before the party, and they later melted down a bit by heat!
This time my husband suggested a few times that I should outsource the cakes 🙂 I had even bought bundt cake pans, but one day before the party I figured its best I ordered from the bakery. Again I wanted to put 2 bundt cakes together to make an 8, and the cakes from Nothing Bundt cakes were just perfect! I put some Pokemon Characters in the middle and had made Personalized Pokeball Cake Banners which the kids loved. Our cousin brought a 3rd cake which I decorated using the Fuse Bead Pokeballs the kids had made, it looked perfect. Our guests loved all the cakes.
8 years – Bundt cakes for twins!!
Finally we also made custom Thank You Pokemon Cards for our guests!
All in all, it was a very fun birthday!! A lot of preparation and work did go into it, I realized after the party that I had forgotten to put some decorations here and there. This was also one of our biggest parties with around 70 guests! And overall a very happy one 🙂
Comments
comments