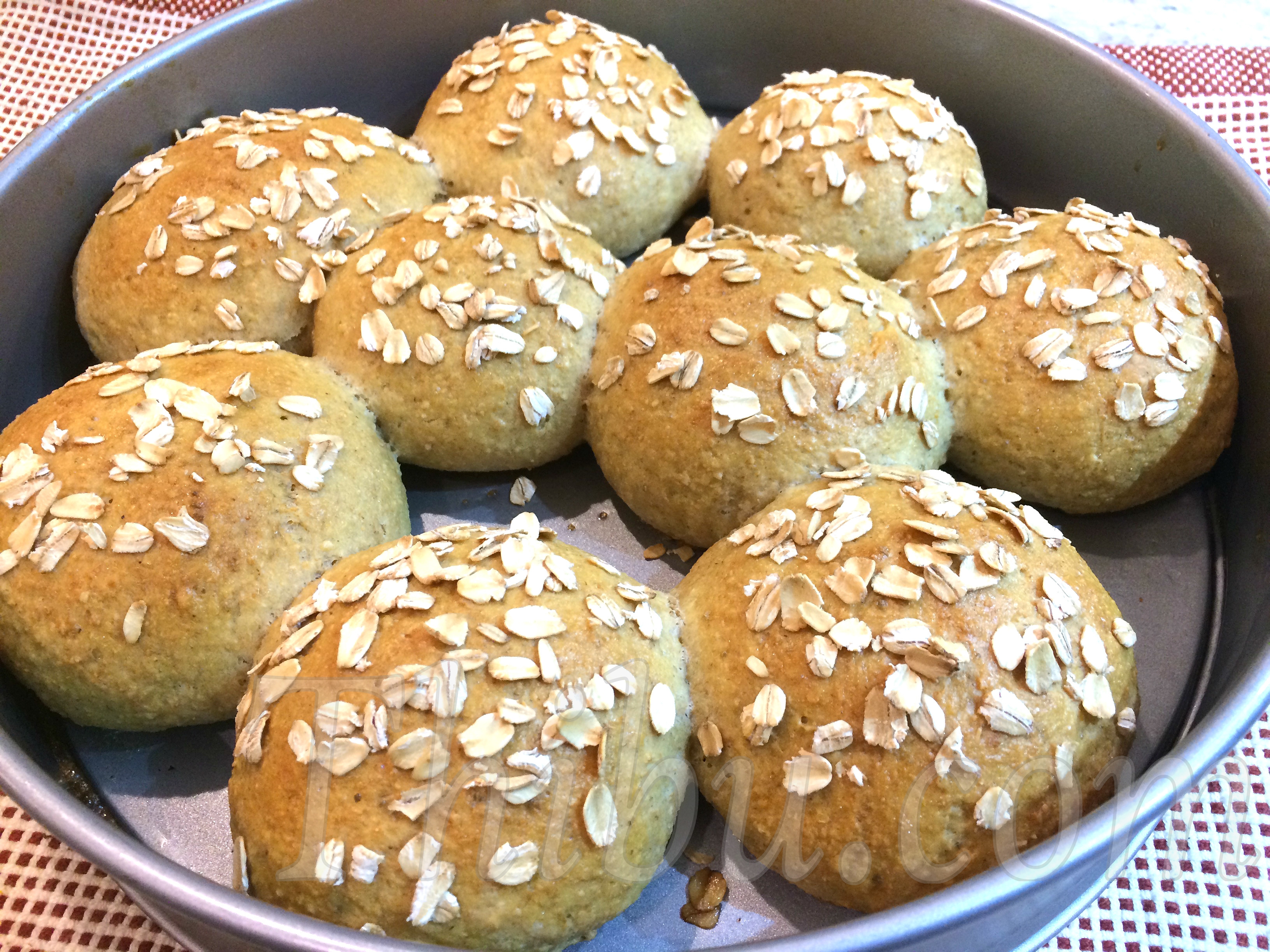 Whole Wheat, Oat & Almond Buns
I wanted to make some buns and these days have been experimenting using Almond Flour. So used that and Oats Flour which I quickly make at home when needed. Was worried that the kids might find it a bit too healthy 🙂 But they loved it and the buns were gone soon. They went in lunch boxes, and we even ate it with Pav Bhaji.
What you'll need:
Whole Wheat Flour – 1 cups (plus 1/2 to 1 cup for kneading)
Oats Flour (made by powdering oats) –  1 1/2 cups
Almond Flour – 1 cup
Dry Active Yeast – 1 tbsp (or 1 packet)
Warm Water – 1 1/2 cups
Honey – 1 tbsp (Optional, I skipped this time)
Olive Oil – 1 tbsp
Salt – 1 tsp
Egg – 1 (Optional)
Some Oats for topping
Method:
1. In a large mixing bowl, add the yeast and 1 1/2 cup warm water (110 deg – I microwaved for 1 minute. Make sure that the water is not too hot, it might kill the yeast). Dissolve yeast and let sit for about 5 minutes. It should fully dissolve and start to make small bubbles.
2. Sift in the Flour and Salt. Add the Honey and Olive Oil. Mix the dough until it comes together. Knead for another 5 minutes adding additional flour as needed. I needed about 3/4 cup. The dough will be elastic and bounce back when poked.
3. Grease the bowl and place the mixed dough. Coat dough with oil. Cover bowl tightly with a plastic wrap and set aside for 1 -2 hour in a warm place (I kept inside the oven with the light on).
4. It should have doubled in size. Take out and punch dough to deflate. Lay it on a flour dusted work surface and roll it and cut into 9 or 10 equal parts (can make it smaller as well).
5. Roll each into a smooth ball and place in a greased pan in which you'd bake. Cover with plastic wrap and set aside for another 30 minutes.
6. It will rise some more.
7. Make an egg wash by beating an egg and a table spoon of water. Brush over the dough and top with some Oats.
8. Preheat oven to 400 deg Fahrenheit and bake for 20 to 22 minutes, or until golden. Enjoy!!
Comments
comments