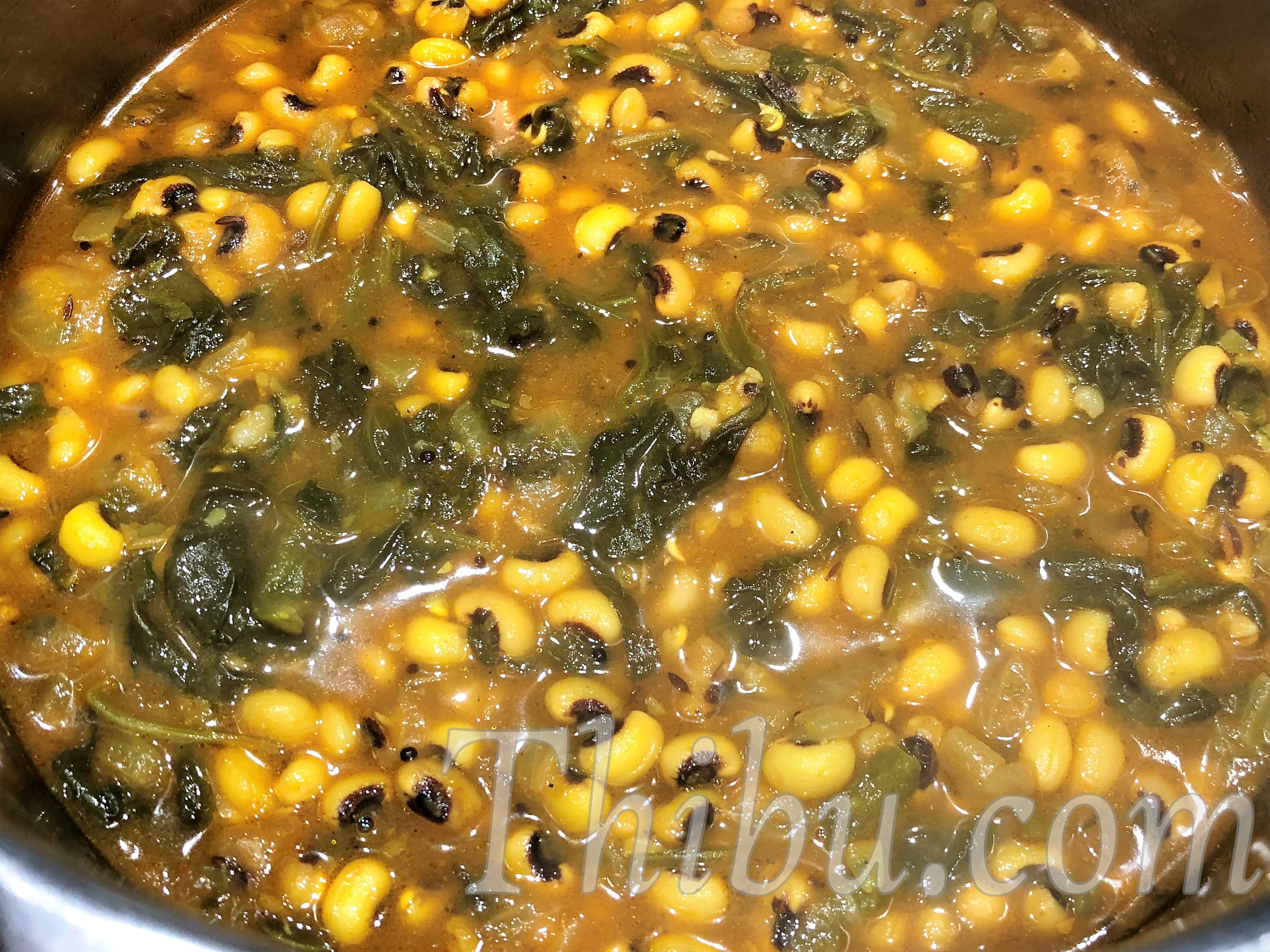 Black-Eyed Peas and Spinach Stew
This is an easy and quick stew to make in the pressure cooker. So one pot and no mess. But it does not compromise on taste and nutrition. Yummy to have a bowl topped with some lemon juice, or to mix up with steamed rice and ghee (optional), or as a side with roti or bread.
What you'll need:
Mustard Seeds – 1 tsp
Cumin Seeds – 1 tsp
Fennel Seeds – 1 tsp
Olive Oil – 2 tbsp
Asafoetida/Hing powder – 1/4 tsp
Onion (finely chopped) – 1
Ginger (finely chopped) – 1 inch piece
Garlic cloves (finely chopped) – 5
Green Chilies – 2 to 3 or to taste
Bell Pepper – 1 (optional, I like to sneak in some veggies. Especially the ones which that my kids don't like much otherwise)
Kitchen King Masala – 2 tbsp (you can substitute with curry powder, or paprika, or any spices of your choice)
Salt to taste
Turmeric Powder – 1 tsp
Black-Eyed Peas – 2 cups
Spinach – 4 cups (I used 3/4 of a costco organic baby spinach box)
Method:
1. In a large pressure cooker, add the Olive Oil and Mustard, Cumin and Fennel Seeds. Let them splutter. Then add Asafoetida/Hing powder.
2. Add the Chopped Onion, Ginger, Garlic and Green Chilies and saute until Onion starts to caramelize.
3. In the meantime, grind the yellow Bell Pepper, Tomato Paste (you can use fresh tomatoes in season), Salt and Kitchen King Masala into a paste.
4. Add the Masala paste into the sauteed Onion. Add the washed Black-Eyed Peas (no soaking needed) and Turmeric powder. Add about 2 cups of water.
5. Add the cleaned Spinach. Close the lid of the Pressure Cooker and cook on medium high. I waited for 5 whistles and switched off.
If you are using a Slow Cooker or Instant Pot, use the cooking directions accordingly.
6. Stew is ready when the pressure is released! Enjoy a nice hot bowl with some fresh lemon juice squeezed on top, or with steamed rice and ghee (optional), or with Roti!!
Comments
comments