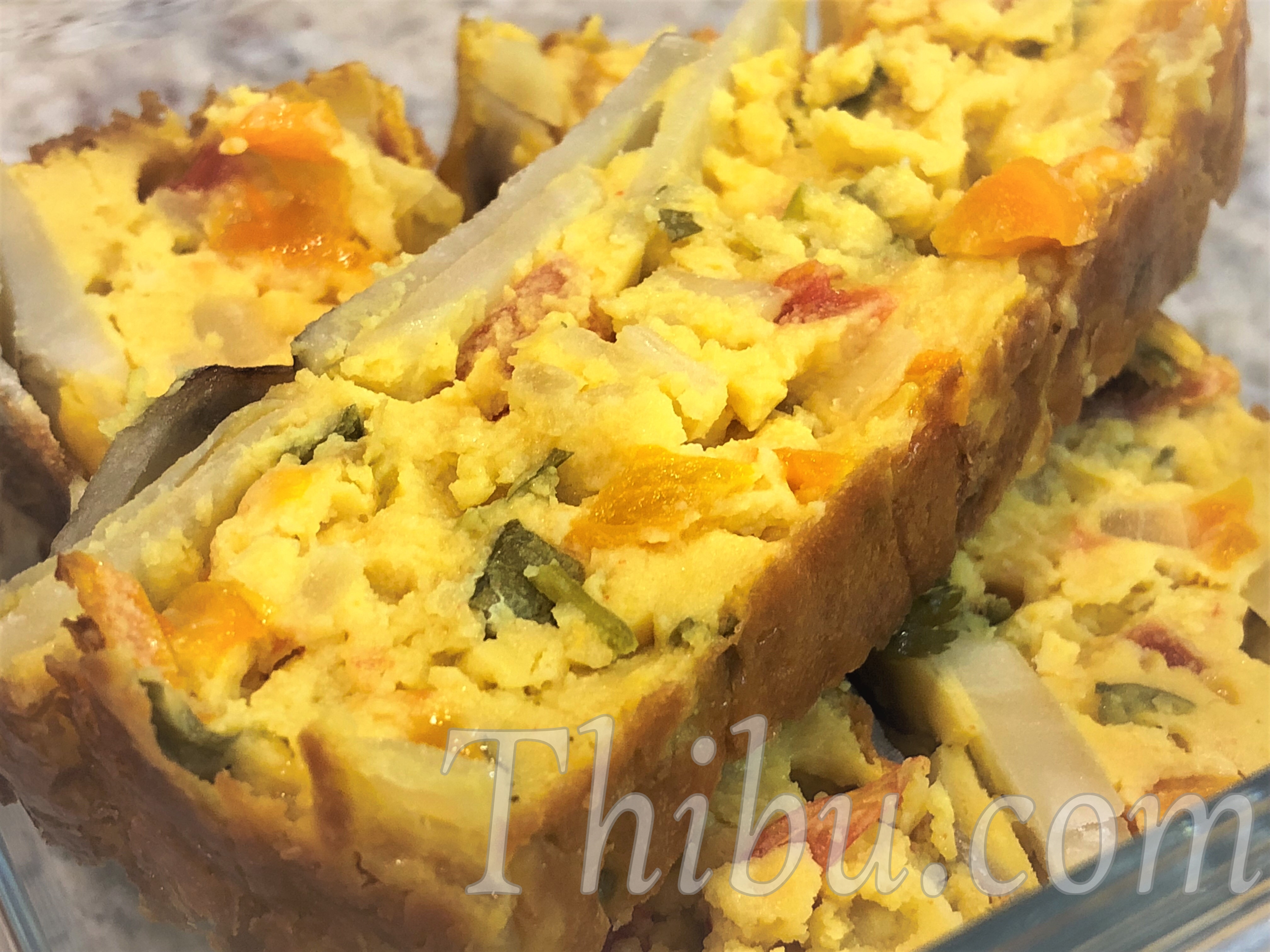 Eggless Baked Vegetable Frittata (Omelette)
In our house, my husband and one kid likes eggs and omelette, but my other kid and I don't like eggs or omelette. As an eggless alternative, I experimented making this on stove top last weekend for breakfast. Tasted awesome, kids and adults loved it. But it took a while to cook and I had to flip it (slight hassle) to cook evenly on both sides. So I wanted to try baking it instead. We LOVED it!!
Apart from a small amount of oil to brush the baking pan, I didn't really use much oil at all. And it is perfect for lunchboxes!!
I have pictures of both stove top and baked versions below.
What you'll need:
Besan/Chickpea Flour/Kadale Hittu – 2 cups
Roasted Fine Sooji (optional) – 1/2 cup

Turmeric Powder – 1/2 tsp

Red Chili Powder (pepper or chopped green chilies are good substitutes) – 1 tsp

Salt to taste

Baking powder – 1 tsp

Yogurt – 1 cup
Water – 1 cup (more to adjust consistency if needed)
Onion finely chopped – 1/2
Bell Pepper finely chopped – 1
Tomato finely chopped – 1
Small bunch Cilantro finely chopped
Potato thinly sliced – 1
Method:
Preheated oven to 400 deg in convection bake mode.
1. In a mixing bowl, mix the dry ingredients together – Chickpea Flour, Turmeric Powder, Red Chili Powder, Salt and Baking Powder.
2. Add Yogurt and Water and mix well to a smooth consistency.
3. Add chopped veggies (except potato) and cilantro. You can saute Onion first and add it in if you like.
4. Grease a baking dish with a small amount of oil and pour the batter in. Batter will be pancake batter consistency.
5. Coat the Potato slices in oil and sprinkle some salt. Layer on top. (can layer on the bottom instead too).
6. Cover the dish with foil and poke a few holes.
7. Bake covered for 30 mins. Take foil off and bake for another 15 mins (or until potatoes start to turn golden)
Options:
Change up the veggies – tiny broccoli florets, grated carrots, spinach, mushrooms, etc are all great.
Add cheese and mix into the batter, it'll nice and gooey and cheese acts as good bonding.
Can also top with cheese while baking. Add cheese towards the end, when you take the foil out.
Can add peanuts or other nuts if you like.
For Vegan, omit yogurt and use water instead.
Stove top:
Oven Baked Version:
Comments
comments