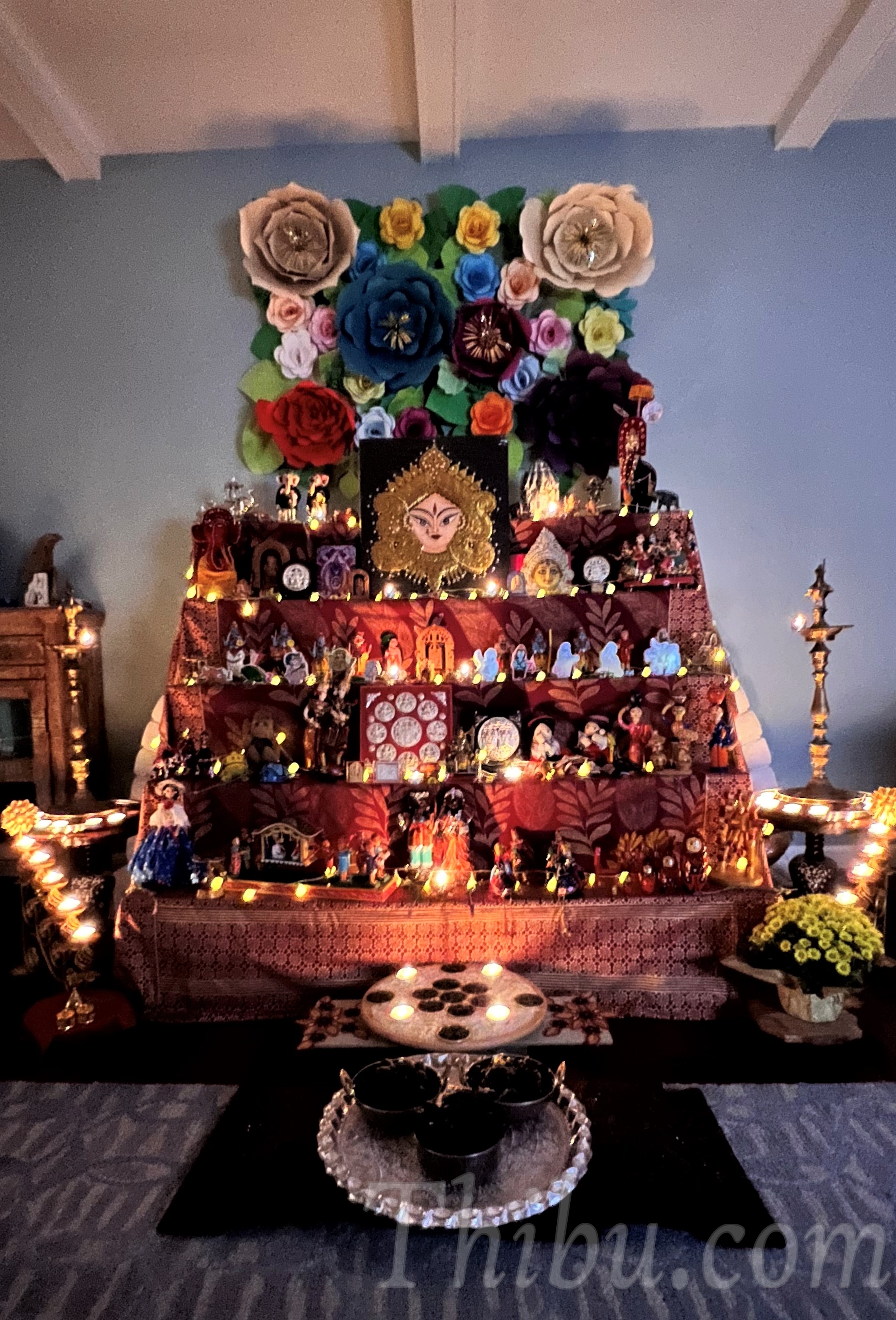 Navarathri and its significance to me
Navrathri, a 9 day festival that signifies the battle between good and evil, celebrating the victory on the 10th day, is a hindu festival that celebrates the power of the female goddess, generally called mother.
To me, this festival gives a jolt to our routine lives. It wakes us up in a way, gets us moving, gets us thinking. It is a much needed jolt. 
Preparing for this festival takes some effort, especially when you live in a country like the US, where you don't have holidays for the festival, where the festive songs are not all blasting everywhere to create the mood, all the shops are not selling things needed for the festival. You have to motivate yourself, prepare things yourself, get creative, all while juggling work and home.
My mom would say that when she was growing up, there were small festivals leading up to "the festival". These were days that were specific to prepare for the festival, like cleaning the house, filling up clean water (back then there was no running water 24/7), etc. I guess it kind of makes sense to schedule these 🙂
I was glad that this year we had the weekend leading up to the festival, which gave us some extra time to clean the house and set up the Gombe (Golu/Dolls). And my kids had the week off from school! 
Our Day 1 was simple, I had meetings until 7pm. So all I could manage was Shrikhand for prasada and found a white dress to wear. Color of the day was white.
Day 2 – Color of the day was Red.
I felt a bit more prepared. My son said I was starving the goddess by only offering shrikhand on day 1. To be fair, I'd made Idli and Sambar as well (white 🙂 ). But on day 2, I decided on a more festive sweet, Shavige Kheer (Seviyan) and Rajma, both are favorites in our house.
Festivals bring the family together. During Navarathri, my tradition is to chant Lalitha Sahasranama (the thousand names of the goddess) every evening during pooja. My parents used to chant Lalitha Sahasranama, and this connects me to them. This year I was happy and impressed that both my boys sat every day of navarathi and chanted it with me encouraging my husband to do so as well 🙂 They helped in setting up, lighting the lamps daily, and one of my sons loved striking the gante (bell) during aarti. 
Day 3 – Color of the day was Blue.
I kept thinking the whole day what I should make for prasada, something in blue. Maybe eggless blueberry cake. But at the end of the day, I did not feel like making anything, so asked my husband to pick up some ladoo. Sometimes we all need breaks. And it's ok. We cannot sweat about everything and stress ourselves out. It is important to accept that, and delegate or ask for help, there is absolutely nothing wrong in it. Navarathi is about looking deep into ourselves, understanding our virtues and our vices, our strengths and our weaknesses. It is about learning and prioritizing. 
Day 4 – Color of the day was Yellow.
I hardly get opportunities to wear my sarees. So I look forward to these festivals to bring them out. This year I managed to wear sarees in the colors of each day. And my kids did the same, with whatever they had. Some were borrowed from their dad 🙂 
Festivals force us to wear nice clothes, and even motivates us to dress in our finest. Especially after the pandemic and working from home the last 2-3 years, this is refreshing! It changes our moods when we wear something nice and dress neatly. Its nice to pull out the fancy clothes, dishes, etc., and use them rather than wait for the right time or special occasions 🙂 
For prasada, I made Lemon Rice, Garbanzo Usli, Carrot Kosambari Salad, and Moong Dal Payasa! Yumm!!
Day 5 – Color of the day was Green.
Prasada today was Green Peas Rice, Cucumber Kosambari Salad, Mung Bean Usli, Coconut Sweet Rice with Pistachio.
Music is an integral part of festivals. I think the chanting and singing and listening to music are relaxing and improve our moods. With the week off, my son has been learning a new song on the piano and he is really into it. He has been playing the song for hours and I am enjoying it (others not so much after days and hours of listening to the same song :)). 
Day 6 – Color of the day was Gray Black.
During the pandemic I spent my free time painting. Have been trying a bunch of different things, it is relaxing, creative, and satisfying. I had painted some rangoli in different colors and I had been looking forward to using them during the festival. This was one of the highlights for me during this navarathri! I loved decorating with rangoli in the color of the day each day 🙂 (you can go back and checkout the pics of the previous days if you missed it).
It is important to have a hobby. It doesn't have to be perfect, but it is the time we take for ourselves to do something that gives us joy. We all have busy lives and time is scarce. But prioritizing and finding that time is important. I give up some screen time for example to make time for painting. Or sometimes it is during my lunch break since I work from home, and then I eat my lunch at my desk.
Today I realized I didnt have rangoli in the color of the day. I used black gram dal and rice and made a rangoli using bangles. Loved how it turned out! My son helped 🙂
Prasada today was Black Sesame Seed Laddu, Kala Channa Usli, and Black Grapes.
Day 7 – Color of the day was Orange.
Weekends are the best during festivals (since we don't have holidays!). Meeting family and friends is uplifting. The days around the weekend were busy socializing, visiting friends, and hosting family, friends, neighbors. 
Festivals are about spending time with the people we care about. We often get comfortable in our spaces, and festivals force us out of that. Festivals bring people together. Sharings some good times and good food. Memories are created 🙂 We even had a couple of fur friends, puppies, who visited the Gombe 🙂 They were so cute.
I am not always in favor of technology, especially the over use of it. But I appreciate how it has enabled people to come together. My mother in law and my sister were able to join us for the pooja on a video call!
Prasada today was Eggless Pumpkin Cake, Carrot Kosambari Salad and Puliyogare. 
Day 8 – Color of the day was Peacock Green.
One of the things about Navarathri is that it requires endurance. Cleaning up and making the prasada daily. Getting dressed, setting up and doing the pooja daily. Visiting and inviting friends and family. Juggling between work. Spending time with kids. It takes a toll. It forces us to be disciplined and active. It is tiring, but you push through. We also realise how much we can handle or want to take on, we set the limits. You might compare this to any big project that we attempt.  It requires planning, prioritizing, scoping, delegating, asking for help, motivation. And this festival teaches us about these qualities. I am not a religious person, but I like this festival for some of these reasons.
Prasada today was Coconut Ladoo and Kabuli Channa Usli.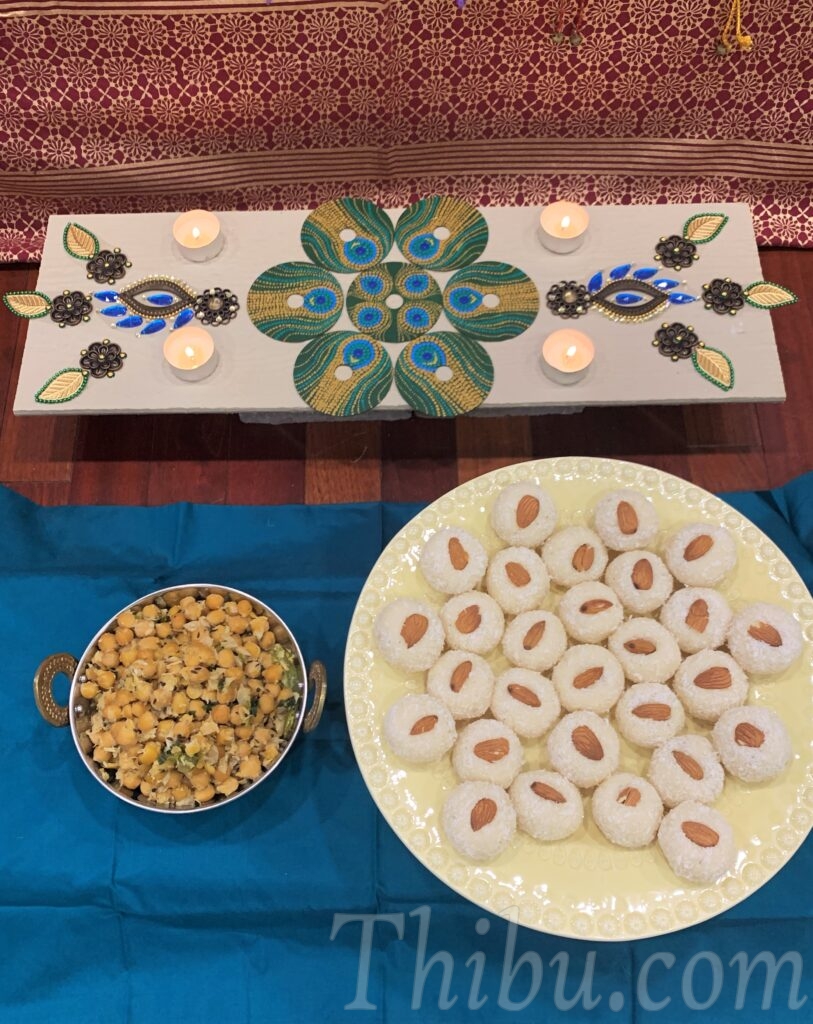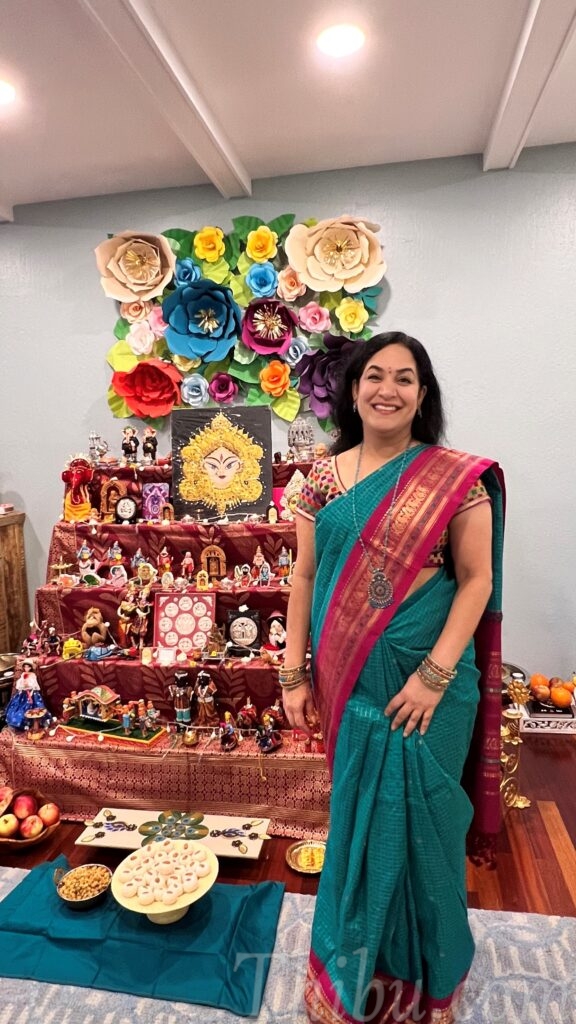 Day 9 – Color of the day was Pink.
Mysore Dasara is very famous. So today I wanted to wear my beautiful Mysore silk saree gifted by my sister. And for prasada I made Akki Kadalebele Payasa (rice and channa dal payasa) and a Salad with bulgar wheat and some veggies. 
We often stress during festivals about how we could have done this or that better, that we forgot something or didnt have the time to do something. None of that really matters. There is no use in stressing about it. It is about living in the moment, enjoying the "present". We often forget that and are striving towards something or worrying about something. I know it is difficult to practice, anyone who knows me well might say I have OCD! 🙂 More reason to enjoy all that we are, all that we have, and all that we do. 
Day 10 – Dasara, Vijayadashami!!
I read somewhere that the gods are arranged as gombe/dolls during navrathri because, apparently when the goddess was battling the demon during these 9 days, the gods stood still as statues and transferred all their powers to the goddess to destroy the demon. 
I view these 9 days as symbolic representation to look within ourselves, for introspection, to understand our strengths and weaknesses, to work through them, to take the support of family and friends who are out there ready to give, give others the support when they need it, to be disciplined and active, to push through our challenges. Ofcourse we are not going to battle all our demons in 9 days. I think that we need to take this through even after the festival, by making some goals for ourselves, to take care of ourselves, to work on overcoming our weaknesses, to prioritize on things that matter, keeping our surroundings clean, eating healthy, keeping our mind and body healthy, lifting up our moods and minds. That may be the victory, vijayadashami.
Today for prasada I decided to treat the goddess to charcuterie boards with fruits and nuts! I had to 🙂 Victory means celebration and celebration means a charcuterie board 🙂
Comments
comments