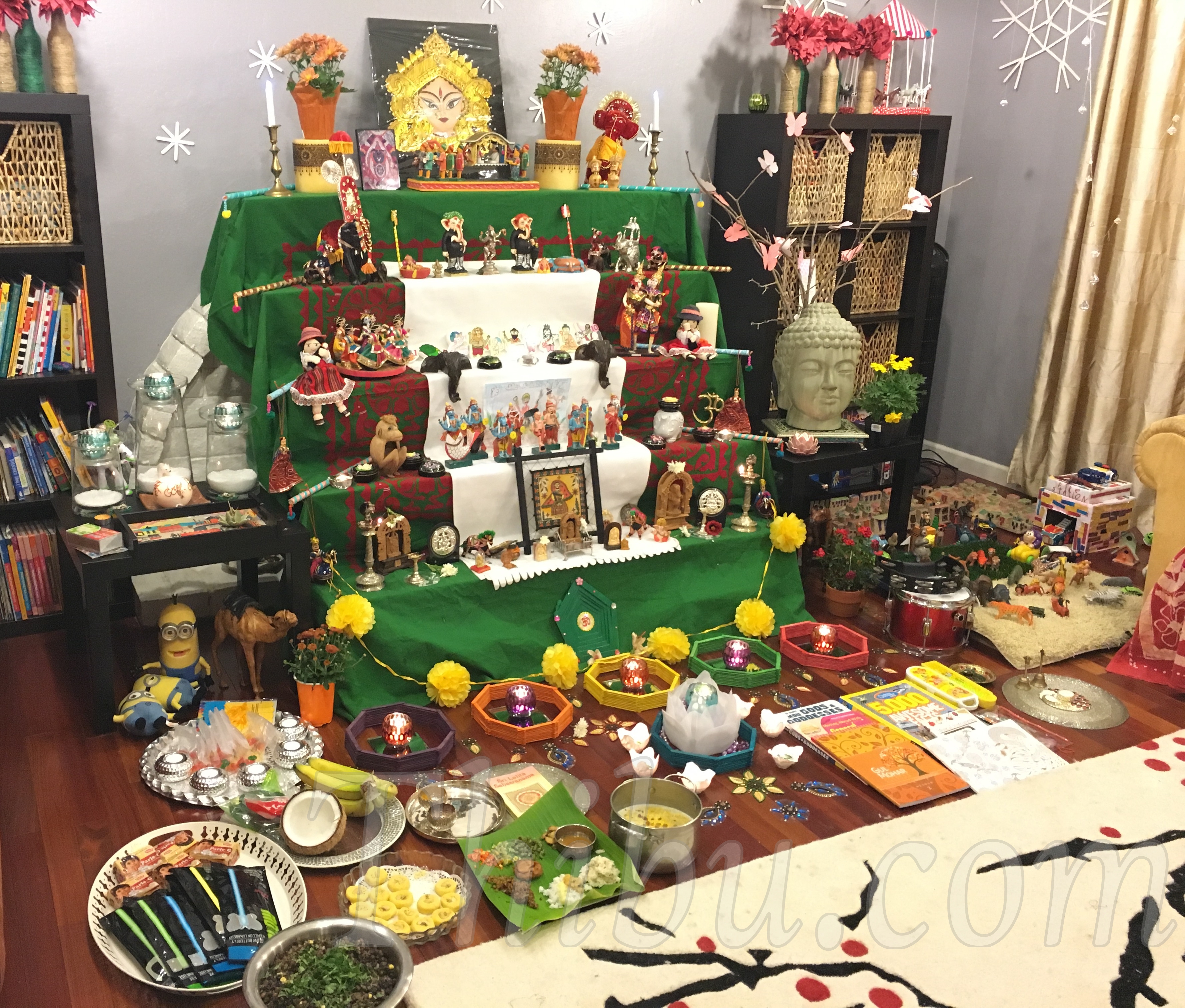 The Joy of Navarathri (2016)
I've been arranging "Gombe" (kannada word for golu/dolls) during Navarathri every year since my two little boys were born. They were 1 month during their first Navarathri. And as they grew up, they enjoyed setting up the dolls with me very excitedly, along with the visits by the few friends and family I would invite and their goody bags 🙂
I am not a religious person. I say a quiet prayer everyday and believe in doing good and living a good life. Over the course of my life I have turned to God/Goddess/Energy/Spirit/Inner Self/Whatever it is, for strength, motivation, faith, belief, hope..
But growing up, I've always loved festivals though. I love the social factor, family and friends visiting each other, dressing up, eating all the yummy foods, decorating the house, seeing the whole city in the festive mood.
This year I had a little hesitation and didnt feel very enthusiastic about setting up the "Gombe" (golu/dolls) as it does tend to be quite a bit of work, especially during the week. But the kids excitement and enthusiasm motivated me and having my mother in law to do the pooja with was nice! It really felt like a family event this year 🙂
Also, glad that Navarathri started on a Saturday. I got time to setup the "Gombe" on friday night. We got all the cleanup done on saturday morning, shopped for the pooja items (fruits, flowers etc), made the prasada (food offerings) and were able to do the pooja peacefully in the evening, albeit a bit late but it didn't matter.
And this year I also wore saree every day, something I hadn't planned on doing. It just happened and it was exciting.
I started chanting Lalitha Sahasranama during Navarathri a couple of years ago. Lalitha Sahasranama was something both my parents enjoyed reciting, and had even done Laksharchana (reciting it 100 times in one sitting) a couple of times. So it makes me feel close to them and gives peace. This year I recited it with my mother in law every day and also some of the family and friends joined in at times.
Celebrating a festival for 10 days can be difficult as we also have to go on with everything else as usual – work, school, taking care of kids, cooking, cleanup, pooja preparations, etc. It teaches discipline, and something gets me through it when I feel drained of energy, and gives peace of mind and satisfaction at the end of it. Meeting family and friends are another huge energy boost! Its also a time for introspection.
Day 1 –
I wore a gray (color of the day) chanderi cotton saree which was atleast 20 old. But the thing was that I had never worn it. And it was a nice surprise to see the price tag on it, 215 rupees 🙂
Oh and the joy of eating the prasad (kesari sooji halwa and kadale kaaalu Guguri) for breakfast the next morning!! 🙂
Day 2 –
A simple lunch of Huliyogare and Mosaruanna (yogurt rice) and Fruits.
And for prasada today I made Coconut Almond Burfi drizzled with Chocolate.
Wore an orange and red simple kanjeevarm saree that I had received as a gift about 20-22 years back as a young girl. Brought it back out 🙂
Day 3 –
Work week began! My mother in law made the prasad today. This is my most favorite sweet that she makes – atte ha halwa! I wanted to watch her make it so that I could learn, but she was just finishing up as I got home. Will have to ask her to show me another time!
And I wore my white kanjeevaram with red border, the classic combo.
Day 4 –
Mom in law made the prasad again today while I was at work, gajar halwa. She is very enthusiastic to make different sweet dishes now, we were chatting about the different south Indian sweets we make during festivals and she wanted us make them all 🙂
It was the color red today, and I managed to wear another saree! 4th day in a row!
We've been reciting Lalitha Sahasranama every evening along with a few other songs.
Day 5 –
I texted my husband this morning to say that I'll make the prasada in the evening, so that my mom in law could take a break. But by then she was already making "gulgule". She's been so excited, she's been telling about the different pahadi sweets they make around this time 🙂
So today's prasad, "gulgule by my mother in law.
I'm quite surprised with myself that for the 5th day in a row, I've been wearing sarees! Today's color was Royal blue. Blue is my favorite color and I have a few sarees in this color. And I thought I should wear something simple. But couldn't resist wearing my most favorite saree!
It has been a good festival this year!
Day 6 –
I was starting to feel tired today. But had been wanting to make Paayasa for today's prasada. So made the typical "Akki Kadalebele Paayasa", made around festivals in Karnataka!!
And to keep with the color yellow, both my mother in law and I wore yellow sarees 🙂 Me, a south Indian, wore a chiffon embroidary. And I asked my mother in law, a north Indian, to wear this silk saree that my sister in law had gifted me a while back. My mother in law commented that I've made her into a Subbalakshmi, whom she admires a lot! She loves the way South Indian women dress up during festivals and celebrations.
Some friends visited in the evening and it was a nice get together. All in all a satisfying day!
Day 7 –
Yesterday I received the sweets my nephew brought from India, sent by my sister!! So that was the prasada today. Also my mom in law made "panjeera" a prasad made in North India she said.
Today's color of the day was Green. I have a few green sarees. But decided to wear this which was also a gift from my sister!
That's me telling my husband how I want the picture to be taken while he is clicking away 🙂
Day 8 – 
It was Saturday, so had some cleaning up to do around the house. I also decided to change some of the decor around the "Gombe", some candles and rangoli. Also, as it was Saraswathi Pooja, kids helped me get their books, musical instruments etc to put near god.
And later I made Gulab Jamoon for Prasada.
Kids had to be dropped off at a birthday party. So before they left, we sang some songs on Goddess Saraswathi. And after they had left, my mother in law and I chanted the Lalitha Sahasranama and did the pooja.
I was so tired by then, had not slept well the night before and the physical exhaustion from precious week had caught up. But I was determined to drape a saree, the color of the day was Peacock Green. I could barely force a smile through for the picture that my husband was ready to click as he did each day!
Soon after the pooja, I had to change and rush to join the kids at the birthday party and was out until midnight. I don't know how I did it, I didn't think I could!
Day 9 –
Maha Navami.
I had invited my husband's side of family for pooja and dinner. I wanted to make a special Habbada Oota (festival meal) and serve on banana leaves. So was cooking all morning through afternoon!!
Prasada was Panchamruta (Milk, Yogurt, Coconut Water, Ghee and Honey). And I also made a Nava Dhravya (9 bean) Usli/Sundal.
My sister in law brought Kheer and Kesar Burfi.
We also had some friends visit for haldi kumkum.
And everyone enjoyed the prasada on banana leaves! This was truely very satisfying for me 🙂
Color of the day was Purple and I brought out another of my Kanjeewaram sarees.
It was a beautiful day!!
Day 10 –
Vijaya Dashami! Dasara! The significance of the war against the evil ending and the good shining through! I find it a good time for introspection to better myself as a human. To try to keep negatively that comes from within and from the outside world at bay. To let go. And to give room for positive thoughts and actions. These are hard to do and maybe these 10 days every year are a reminder to be mindful of it.
Today's Prasada – Panchamruta, Sabudana Upma and mom in law made Makhana Kheer
Some more friends and family visited in the evening which was so very nice. We sang Lalitha Sahasranama and several other songs together.
And 10th day in a row, I wore another saree!! Yay! I am very surprised myself about it 🙂 But thoroughly enjoyed it.
Infact I enjoyed everything about the festival this year. Doing the pooja every day with family. Kids joining in everything. Planning and making the Prasada. The "Gombe" setup and decorations. Wearing sarees everyday. Meeting and celebrating in full swing with family and friends!!
This year may have been more elaborate than I have celebrated in previous years and I don't know if I will ever do it this fancy again. But I have the satisfaction and am happy I did it this way atleast once!
Happy Dasara! Happy Navarathri!!
Comments
comments