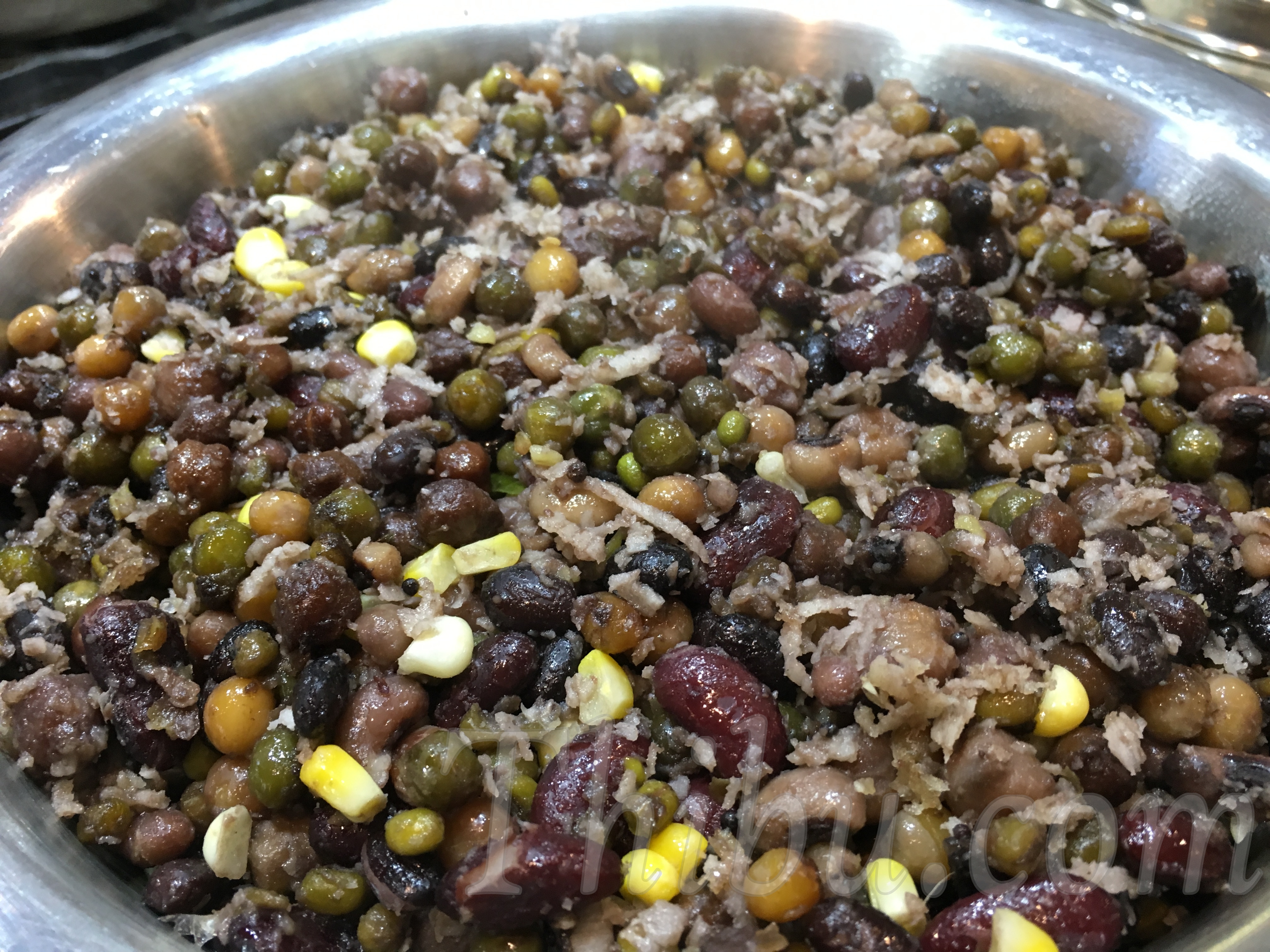 Nava Dhanya (9 Bean) Usli/Sundal
This is a nutritious side dish/snack/prasada. Usually prepared separately using a single type of bean. I decided to mix 9 different beans (Garbanzo Beans, Kala Channa, Moong Bean, Black Bean, Black Eyed Bean, Dried Green Peas, Dried Yellow Peas, Rajma, Corn) for Navarathri Prasada.
What you'll need:
Garbanzo Beans – 1/4 cup
Kala Channa – 1/4 cup
Moong Bean – 1/4 cup
Black Bean – 1/4 cup
Black Eyed Bean – 1/4 cup
Dried Green Peas – 1/4 cup
Dried Yellow Peas – 1/4 cup
Rajma – 1/4 cup
Fresh Corn Kernel – 1/4 cup
Fresh Grated Coconut – 1/2 cup
Salt to taste
Olive Oil – 2 tbsp
Mustard Seeds – 1 tsp
Asafoetida – 1/2 tsp
Green Chilies – 2 to 4
Chopped Cilantro – 1/4 cup
Method:
1. Wash and soak the top 8 beans overnight (except fresh corn).
2. Pressure cook the soaked beans with very little water (It should be dry and not soggy).
3. In a large pan, add the Olive Oil on medium heat. When it warms up, add the Asafoetida and Mustard Seeds and let it splutter.
4. Slit the green chilies lengthwise and add to pan. Add the cooked beans and fresh corn kernels.
5. Mix and add the fresh grated coconut. Add salt to taste.
6. Mix and keep on heat for about 4-5 minutes. Add chopped cilantro. Switch off heat. Enjoy!
Comments
comments