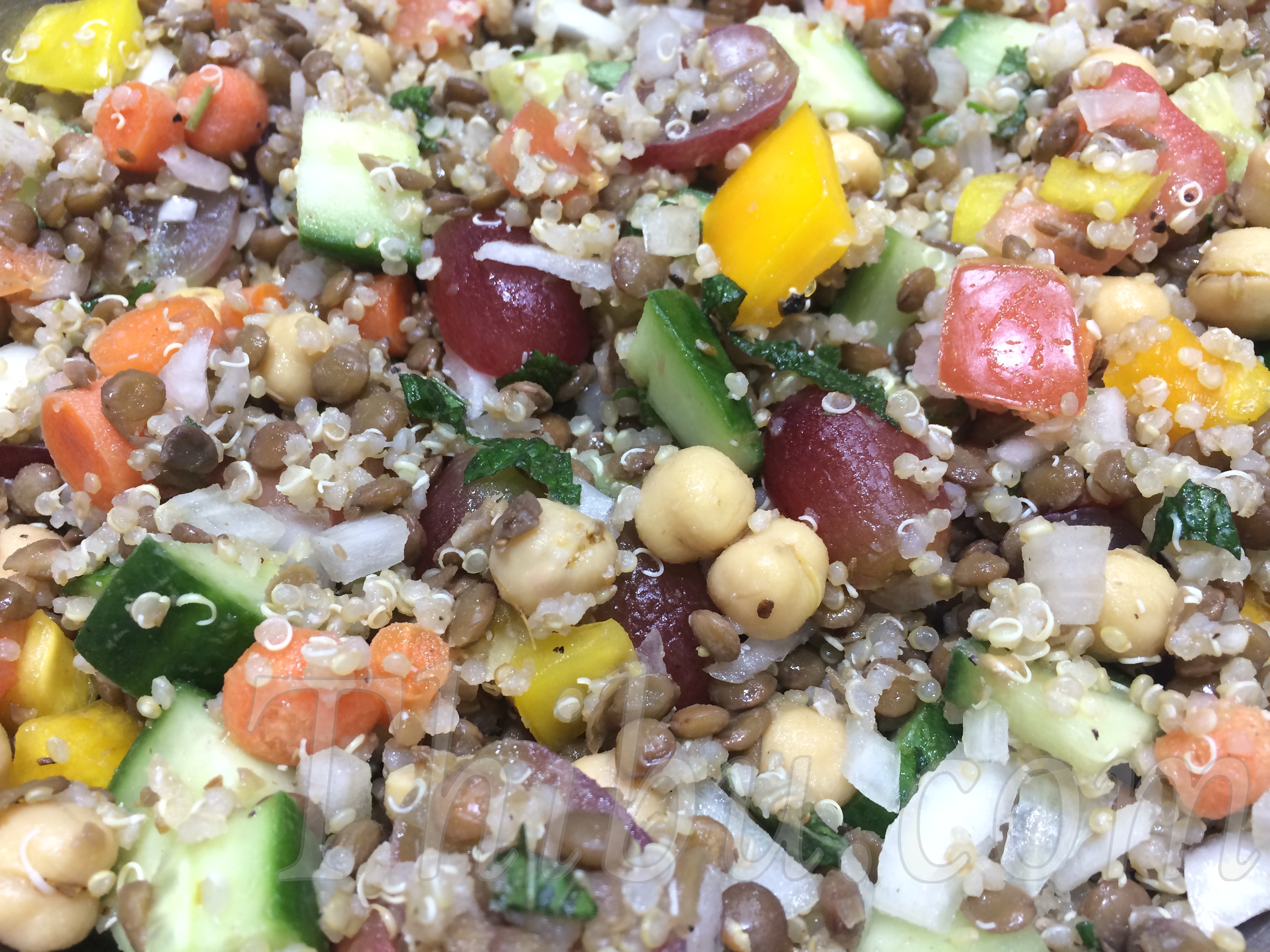 Quinoa & Lentil Summer Salad
On those summer days when the last thing you want to do is stand in front of the hot stove to cook, but still want to have a substantial and nutritious meal. Or for that Picnic Potluck or BBQ Party or just because you feel like it!
This Salad has loads of Veggies and lots of Protein! It can be made ahead of time and refrigerated.
What you'll need:
Quinoa – 1 cup
Lentil (Sabut Masoor Dal) – 1 cup
English Cucumber – 1
Sweet Bell Pepper – 1/2 to 1
Carrots – 1 cup
Tomato – 1 large
Onion – 1/2 medium sized
Grapes – 1 cup
Fresh Mint
Fresh Oregano
Garbanzo Beans – 1 can
Lemon Juice to taste
Pepper Powder – 1 tsp
Cumin Powder – 1 tsp
Salt to taste
Method:
1. Wash the Quinoa and cook covered on low flame (2 cups water for 1 cup Quinoa). Should take about 20 mins.
2. Wash the Lentils and cook covered on low flame (2 cups water for 1 cup Lentil). Should take about 30 mins.
3. Chop all the Veggies, Grapes and Herbs. Mix in with the Garbanzo beams, Lemon Juice, Pepper, Cumin and Salt.
4. Once the Quinoa and Lentils are cooked. Mix into the Salad.
One of my son does not like raw onion! So I mixed everything without the onion and took some out for him, and then mixed in the onion. If you are one of those people, you could do that too 🙂
Enjoy!! It is so yummy and the fresh herbs (from my garden) completely enhance the flavors!!
Note the quantity listed here is very generous. You can half the ingredients.