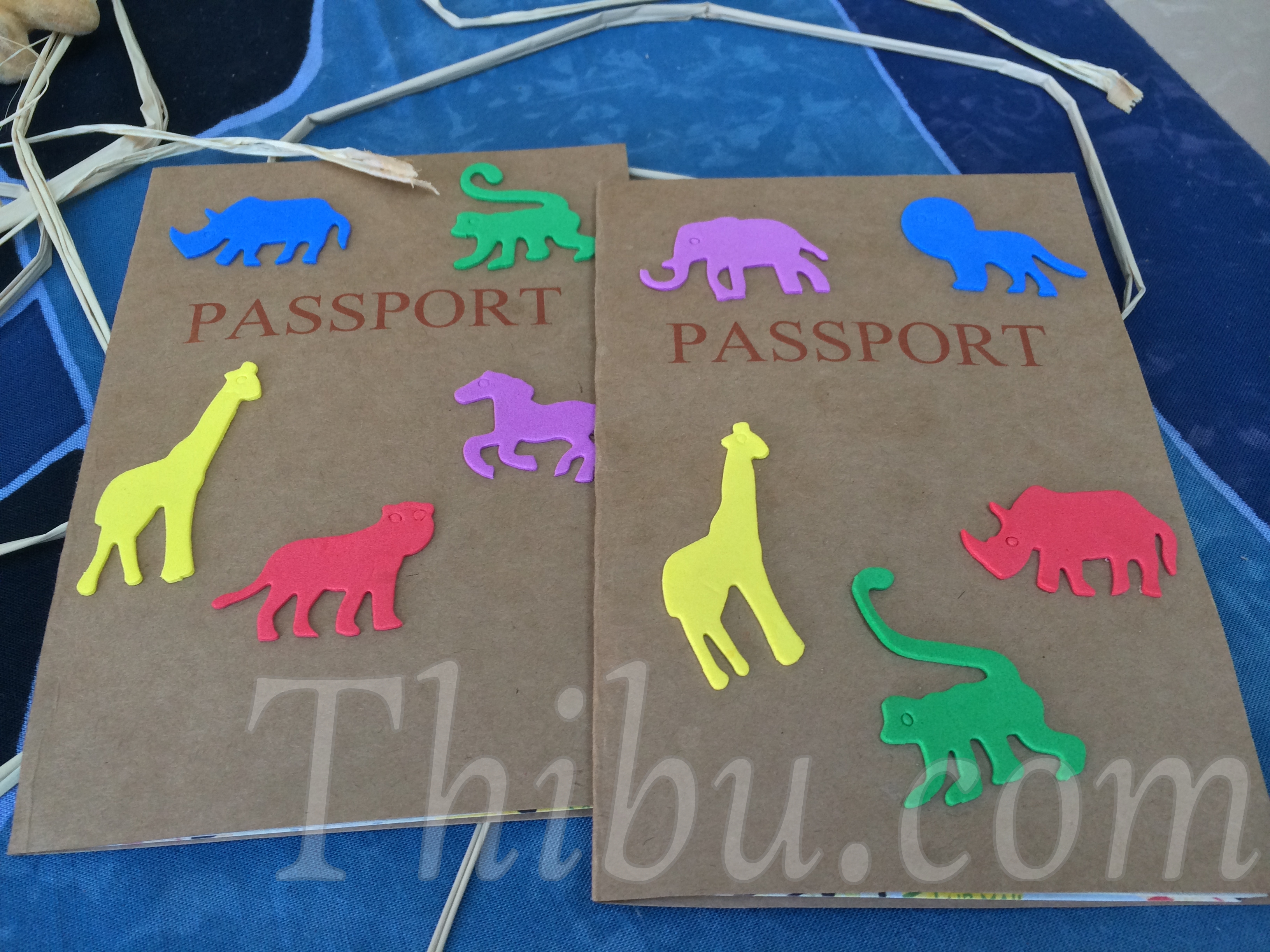 African Safari & Amazon Rainforest themed 5th Birthday Party for twins
As I may have mentioned, my two boys have been into animals for the longest time now and they read a lot of animal books. They've asked us to take them to Africa and Amazon from very young. For a while they thought Safeway (grocery store) sold plane tickets to Africa and everytime we went to safeway they would ask if we had bought the tickets! So we decided to take them and all their friends to Safari and Rainforest on their birthday right in our house.
We made passports for all kids – I collected pictures of all the kids prior to the party.
Most of the decorations are handmade with the help of kids. We started a few weeks ahead. I believe in reduce, reuse, recycle. Except for some art supplies, I don't think I spent any money on decorations.
On the door, we placed these little tiger and lion made with the kids hand prints. I pulled some leaves off of our tree and taped them around.
Since tiger was the favorite land animal of one of my little one, he picked the Rainforest theme which started from the front of the house and continued inside. And as lion was the favorite animal of the other, he picked Safari theme which was in the backyard.
I painted a tiger on a cut out cardboard box and my little one was thrilled.
In the entryway, I just placed several of their stuffed toy animals, figurines and some books. We had the green leaf vines from a previous event and hung them on the ceilings to give the forest feel.
The paintings I had made a long time ago went well with the theme.
We printed several Safari and Rainforest signs and put them at different places.
Simple things such as a bag I had saved from a while back, with Tiger on it added to the decor.
The Amazon! I had plenty of brown packaging paper collected over time which I used to make trees and vines hanging from the walls. Green pom poms hung grouped together made up the leaves of the tree.
I picked all pictures of the kids with animals through their five years and made a big 5.
Our version of the Amazon Rainforest – made of fenugreek sprouts grown in fruit boxes I'd saved. We planted it 2 weeks prior and it was a good project for the kids. And placed a blue scarf for water and little animal toys the kids had.
Green leaf vines and brown paper vines were hung all around the rooms from the ceiling.
We made several butterflies with the kids foot prints and placed them on the wall by another tree.
These were flower balls I had made for another party. But they looked good hung from the trees.
Kids made these flowers at school, and I had to include them 🙂
Food was all homemade. Main course included mixed vegetable pulav (one of my son's favorite), yogurt rice, corn & bean salad (which was a hit), plantain chips, fruits salad – everything kid friendly. I placed them on banana leaves. Pineapple and banana on the side.
I just wrapped some zebra printed paper on tin cans for holding cutlery, etc.
Made these using wine bottles and placed the kids hand puppets on them.
And as we stepped into the backyard, we were in the Safari.
The kids worked with their dad to get the paw prints of different animals and colored them.
The pink elephants were what I made for a friend's baby shower.
The birthday banner I made for their 2nd birthday! It's been used every year.
And the canvas paintings were what I had made for their room when they were born.
I wasn't too happy with how the lion painting turned out, but my little one liked it and insisted we use it.
Vests, Hats and Passports for all kids! Vests made of grocery bags, hats made of plates and bowls.
The paintings, kids toys, books, globe – all things collected from around the house.
A very fun party and two very happy explorers!!
Comments
comments