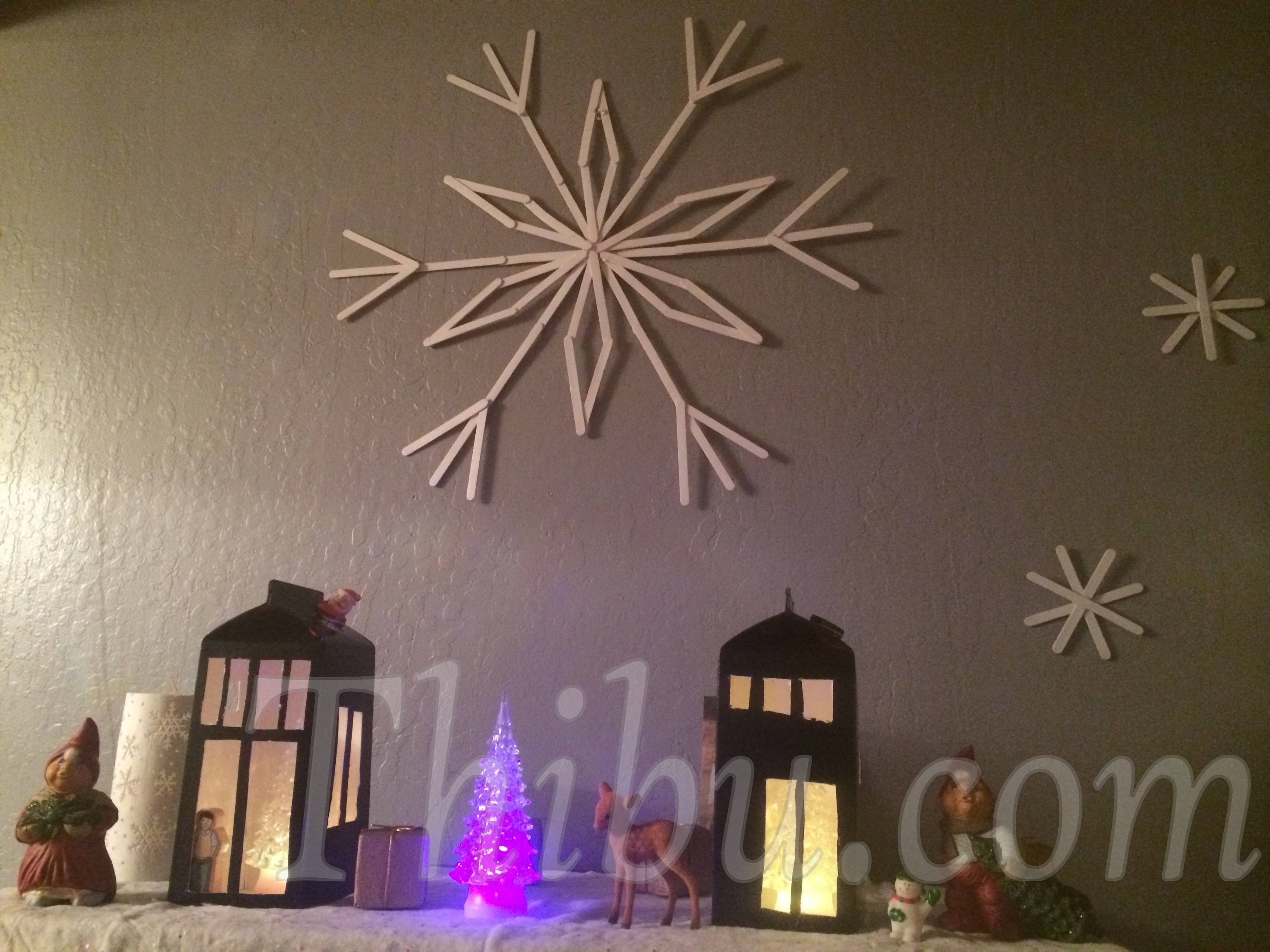 Let It Snow Christmas Party
My boys and I were looking at pictures "on this day 2 years ago" on our archive and my son said "that year was my favorite Christmas decorations. I liked everything. We need to do a better job this time". Me in my mind "what"?!! I asked him if he had any ideas and he said "you are the adult and you know Christmas more than me". Wow, that's no pressure at all kiddo!
But that truly was very beautiful Snow themed Christmas!
We made Popsicle Stick Snow Flakes to hang on the walls. I gave my then 5 year olds the sticks and asked them to make patterns of snow flakes. They made it on the floor and I later hot glued them together and my husband spray painted them.
They had fun designing their own Snow Flakes!
On one of the days my little one was home sick with a cold. I gave him some empty milk cartons to paint on as a project.
I later cut the painted milk cartons to make houses.
Placed these little Christmas trees to light up the insides of the houses.
We made tons of paper snow flakes.. a lot of cutting! 🙂 Kids learned to make their first paper snow flakes. My husband stuck them on the large windows with my directions on where each one should go.. yes I may have OCD 🙂
I think for me the way the windows looked were the best of all the decorations we did that Christmas! I loved it.
I also made a little paper snow flake wreath that went over the kitchen window.
And a few ornaments hung from the ceiling here and there. There are still some remnants of the decorations from my kids African Safari and Amazon Rainforest themed birthday, like that tree in the corner 🙂
Santa on his sleigh, riding the reindeer in the clouds.. I made the white pom pom that make up the cloud using coffee filters. These photos don't do much justice, looked so whimsical in real.
In the entryway, I kept it simple. Believe it or not, what I've used as table runner is actually packaging material I'd received with some shipping. Added a few ornaments, etc.
The room looked festive with the new lights my husband installed for me, the Popsicle stick snow flakes my kids made and of course the Christmas tree we all decorated.
Stockings hanging from the fireplace, small snowflakes over it and candles below. On the wall, a lovely note written by my 5 year old on a piece of torn sheet wishing everyone a merry Christmas and a happy new year, perfect!!
We had a cookie and candy exchange.. some very yummy treats!
I used doilies as table mats.
Last but not least, I had cut out white poster boards in the shape of Christmas trees for each kid and gave them plenty of stickers, markers, glitter, pom pom, and other media to decorate their tree! It was so much fun to see each kid's ideas.. loved it!
We had such an awesome time! Good company, good food and drinks and desserts, and plenty of memories were made!
Comments
comments