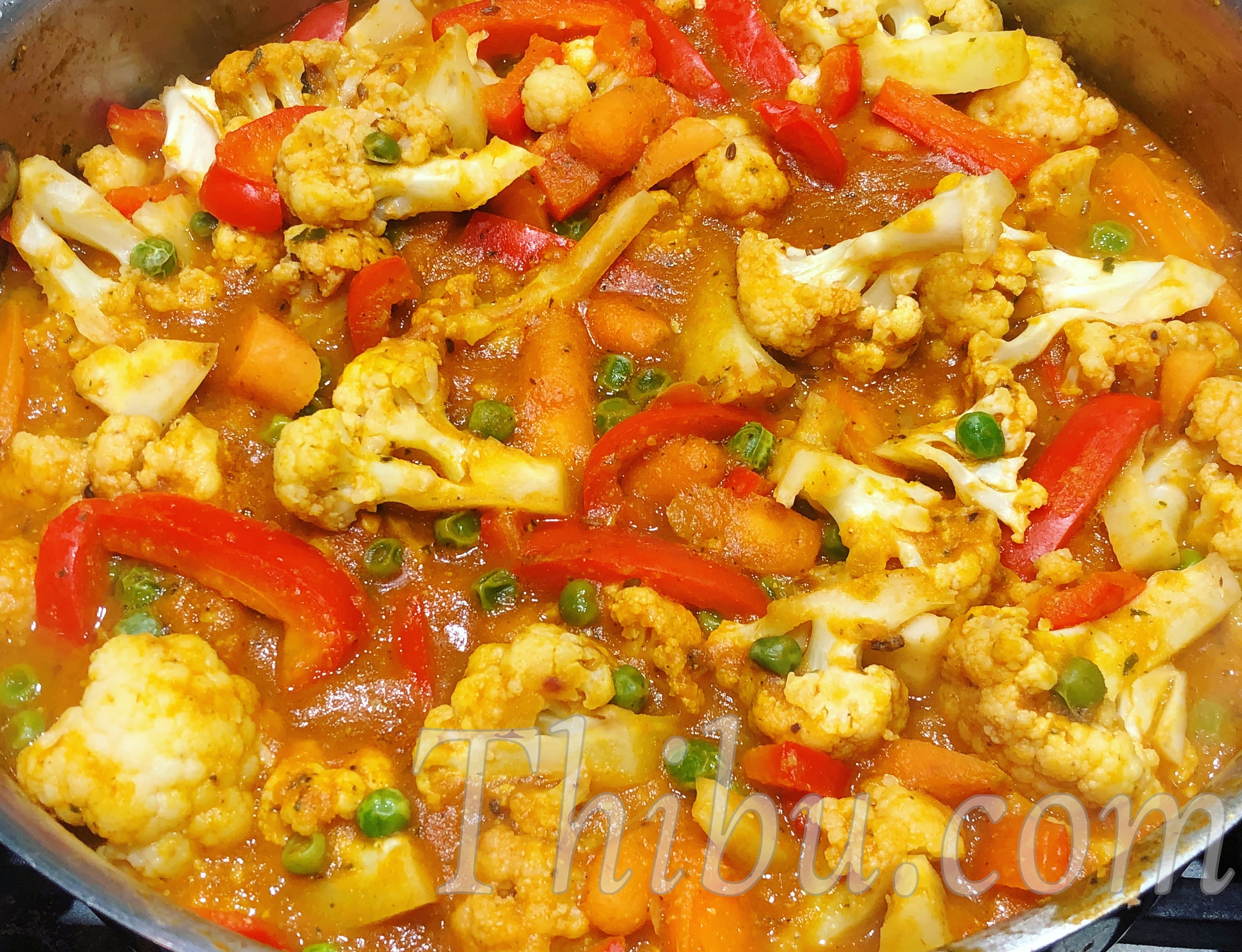 Mixed Vegetables in Spicy Coconut & Tomato Gravy
Sometimes (a lot of times maybe LOL!) I dont really know what I am cooking until its all done. I start with a general idea, taking out the vegetables I have and then add on things from the pantry 🙂 I do like to keep things simple and easy. And I have to say most of the time I am not disappointed by the experimentation. This one was a success as well..
What you'll need: 
Cumin Seeds – 1 tsp
Olive Oil – 1 tsp
Red Bell Pepper – 1
Cauliflower – 1
Frozen Green Peas – 1 1/2 cups
Baby Carrots – 1 1/2 cups
Red Onion – 1/2
Garlic Cloves – 5 to 6
Ginger – 1 inch piece
Spicy Thai Green Chilies – 2 (or to your taste)
Curry Leaves – 2 slivers
Salt to taste
Turmeric – 1 tsp
Cinnamon – 1 inch piece
Cloves – 1 tsp (about 10)
Sesame Seeds – 1 tbsp
Tomato Paste – 1 tbsp
Coconut Milk from can – 1 tbsp of creamy part plus whole can's water
Method:
1. In a large pan, add the Olive Oil and Cumin Seeds. Roast for a minute.
2. In the meantime, puree the Onion, Garlic, Ginger, Green Chilies, Curry Leaves, Salt, Turmeric, Cinnamon, Cloves, Sesame Seeds, Tomato Paste and Coconut Milk in a blender, to make a fine paste.
3. Add Cauliflower Florets, Sliced Carrots, Sliced Red Bell Pepper and Frozen Peas. Add the pureed Masala.
4. Cover and cook for about 15 mins on medium. Enjoy with steamed Rice or Roti!
I have to say that this dish tasted even better the next day! So perfect for making ahead for a party!
Comments
comments