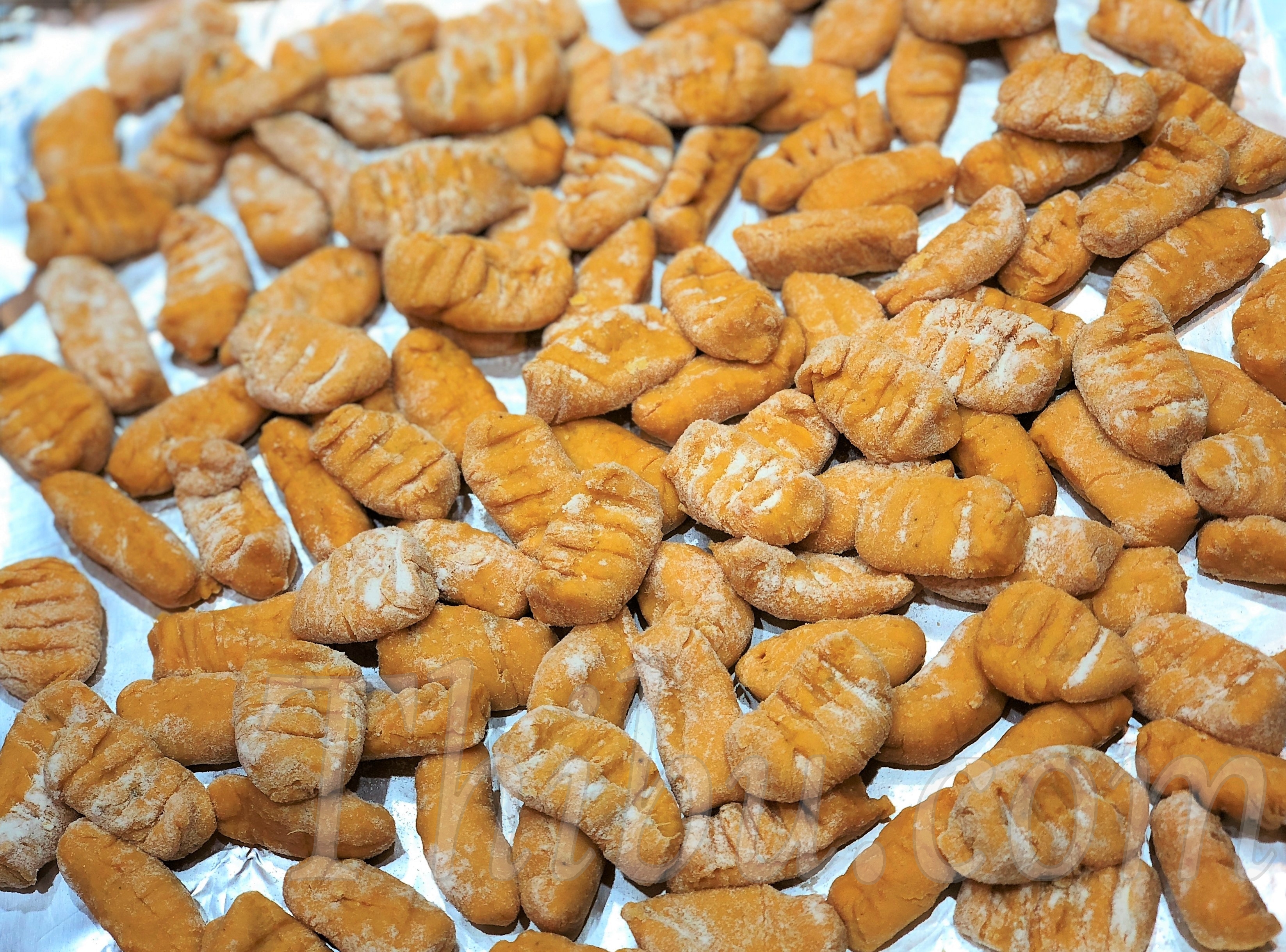 Sweet Potato Gnocchi
A great way to use Sweet Potatoes! These are perfect for lunchboxes, as appetizer, or dinner. It can made ahead and frozen. Kids love them!
What you'll need:
Sweet Potato – 1 large or 2 small
Flour – upto 2 cups
Salt to taste
Pepper – 1 tsp
Ground Cinnamon – 1 tsp
Butter
Fresh Oregano or Sage
Note: You can optionally add Ricotta Cheese to the dough. I didnt.
Method:
Wrap the Sweet Potatoes in aluminum foil and Bake  in the oven (400 deg F) until soft, about 30 mins.
Peel the skin and take the pulp out into a mixing bowl. Mash well.
Add Salt, Pepper and Cinnamon. Mix in flour, 1/2 cup at a time, until the dough comes together. It will be a soft dough.
Divide the dough into 8 parts. Roll each into a rope/stick of about 1 inch diameter. Cut into 1 inch pieces and roll over a fork. Use flour as needed for dusting.
Spread the pieces over a baking tray. If storing for later, cover the tray with plastic wrap and freeze. Once frozen, they can be put in freezer boxes or bags and put back in freezer.
For making the Gnocchi, boil water in a pot and add salt to it. Carefully drop the Gnocchi into the water and cook for about 5 minutes and take out.
In a pan, warm butter and add Sage or Oregano or your favorite herb. Add the cooked Gnocchi and saute for 3 -4 minutes. Season with Salt and Pepper. Enjoy!!
Comments
comments