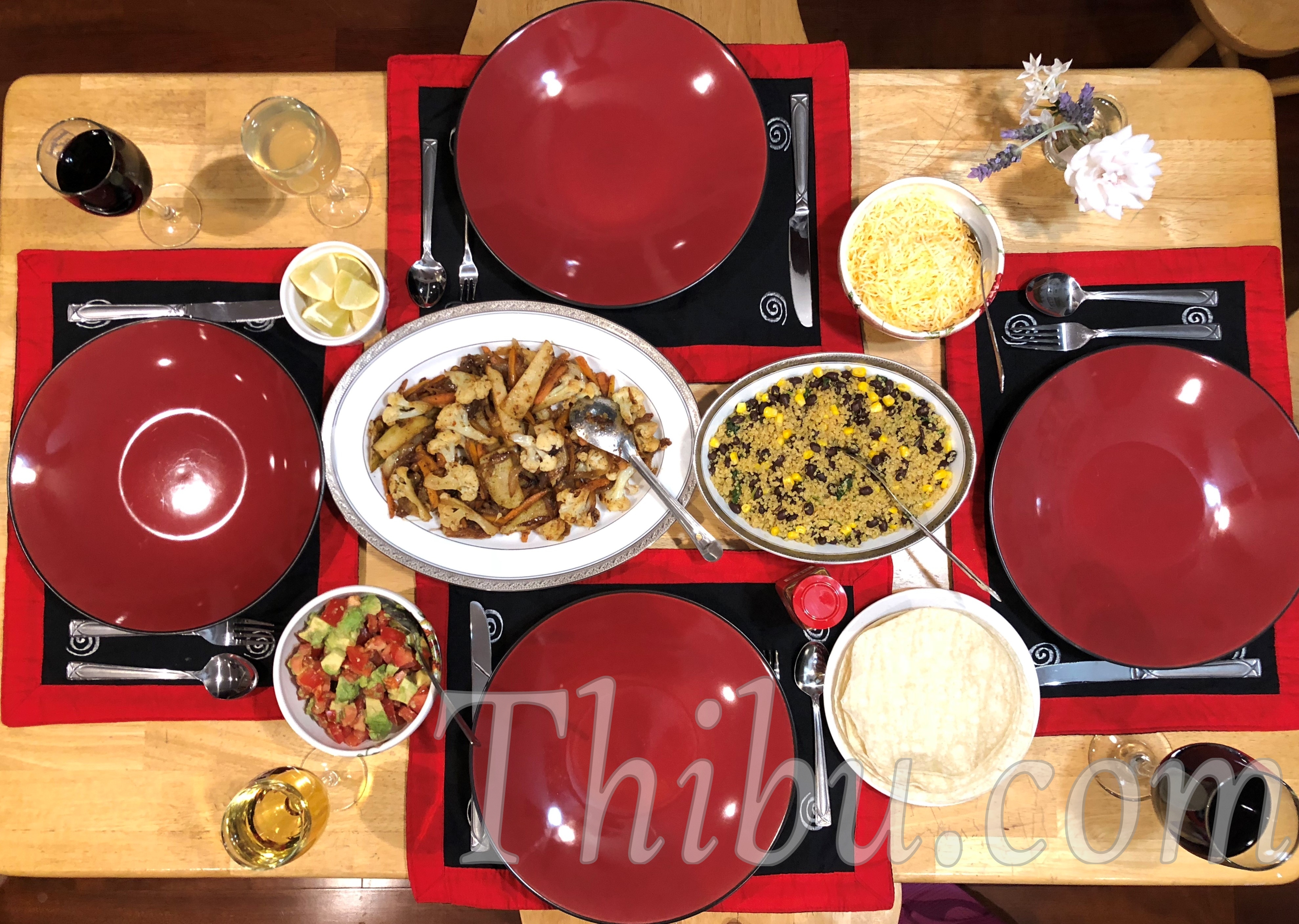 Taco Night with Family on Valentine's Day
With Valentine's day falling in the middle of the week, I had no plans for anything special. Thought of having dinner with family, and make something simple, with whatever I had at home. Kids helped in preparing the dinner and we decided on having Tacos. We got started while my husband headed to the store to pick up some Corn Tortilla, Shredded Cheese, Corn and Beans.
I had Onion, Potatoes, Carrots, Cauliflower, and figured it might work. Decided to make Fajita style veggies using those.
In a large wide pan I sauteed on medium-high heat,  1 Onion (cut lengthwise).
Once it was nicely caramelized, added 2 large new Potatoes (cut into long wedges) and continued Sauteing.
Then added on about 1 cup of thinly cut Carrots and florets of 1/2 Cauliflower, and Sauteed until all veggies were nicely pan roasted.
Added Salt and 21 Seasoning Salute. Done!
I also had Avocado and Tomatoes, so chopped those up and added some Salt and squeezed in some Lemon Juice, and it was ready as a topping.
Was thinking of making some Mexican rice, but decided to do Lemon Quinoa with Corn and Bean instead.
For this I gave instructions to my son and he took 1 cup of Quinoa and 2 cups water in a pot and covered. I cooked it for about 15 minutes on low, covered.
Next, in a large pan, I added about a tsp Olive Oil, added the cooked Quinoa. Topped with a can of Black Beans and about 1 cup Frozen Corn. Salt and Curry Powder for seasoning, squeezed in some Lemon Juice and topped with chopped Cilantro. Done!
Warmed up the Corn Tortillas..
Kids set the table while I put everything in the serving bowls.. oh and I had to put the little bunch of flowers my little one made for me picking flowers from our yard!
And we enjoyed our dinner!!
For Dessert, very simple.. made a smoothie-ice cream. I blended frozen Mango, Pineapple, Strawberries and Peaches with a little bit of sugar and a little bit of almond milk (just enough to help move the fruits in the blender) into a thick smooth puree. I put this thick puree in cups and left in freezer until serving (for about an hr while we had dinner). Then topped with fruits before serving. Very simple and turned out yummy!
Everything was prepared in about an hour, while my husband made a run to the store to pick up a couple of items. Kids helped in getting things out of the fridge, putting things back, washing veggies, making Quinoa, setting the table, and more!!
Comments
comments