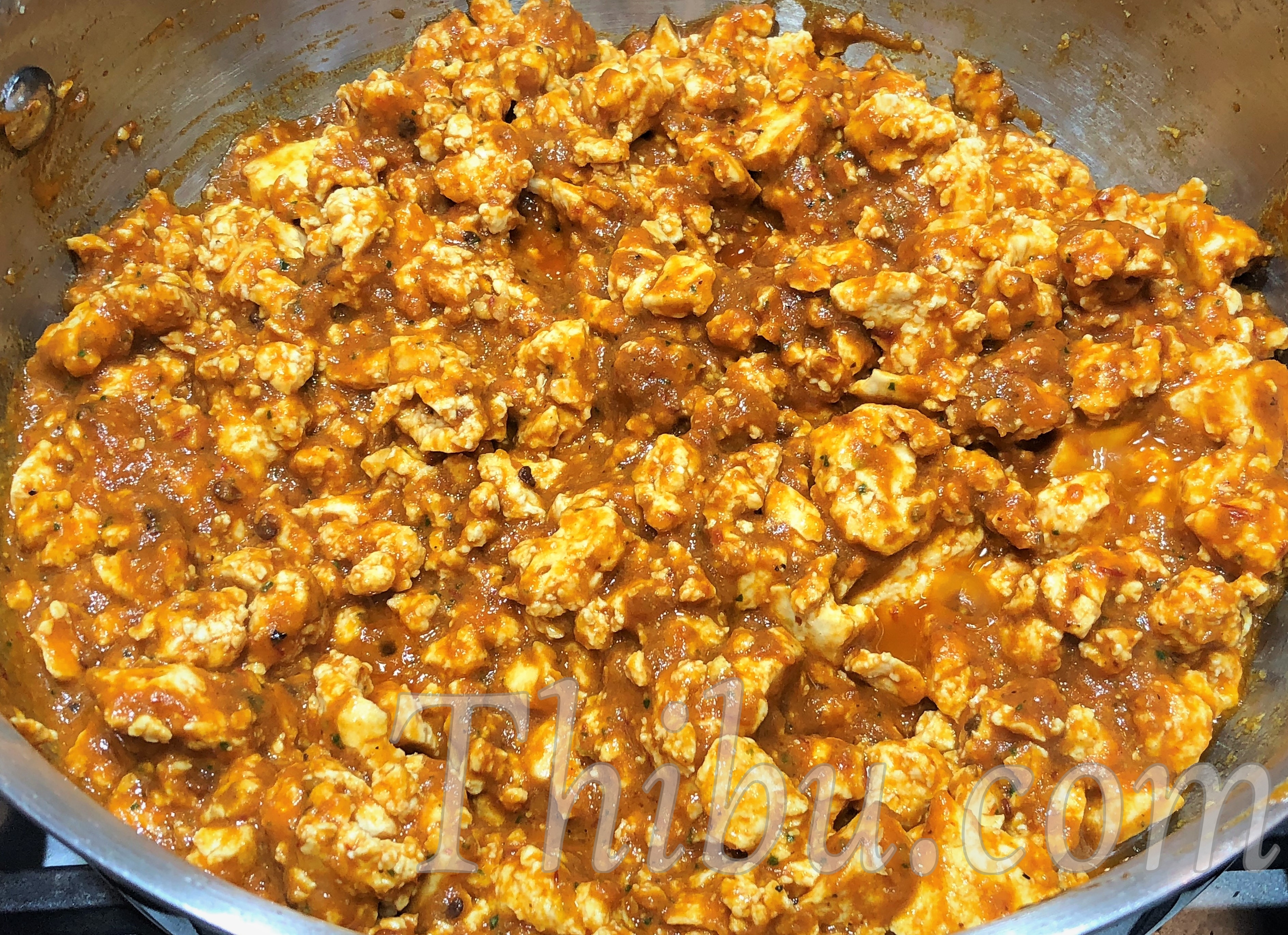 Tofu Sofritas
We love Tofu Sofrita bowl in our house, and we often pick it up from Chipotle. I even made it for the kids birthday party a couple of years ago for about 50 people (usually try to make their favorite foods for their birthdays). This time I made it on cinco de mayo to take to a get together at a friends place.
The special thing about this time was that my 8 year old did most of the work preparing the sauce! 🙂 Truly a super helper!!
What you'll need:
Firm Tofu – 2 boxes
Green Poblano Peppers – 2
Garlic – 2 to 4 cloves
Adobo Peppers (from can) – 4
Adobo Sauce (from can) – 2 to 4 tbsps
Tomato Paste – 4 tbsp
Cumin Powder – 2 tbsp
Fresh or Dried Oregano – a long sprig or 2 tbsp
Lemon Juice – 2 tbsp
Olive Oil – 2 tbsp + 2 tbsp
Agave Nectar (or sugar) – 1 tbsp
Salt to taste
Method:
1. Roast the Green Poblano Peppers on stove top flame and once it cools a bit remove the skin and seeds.
2. In a food processor, add the Roasted Poblano Peppers, Garlic, Adobo Peppers, Adobo Sauce, Tomato Paste, Cumin Powder, Oregano, Lemon juice, Olive Oil (2tbsp), Agave Nectar and Salt. Blend everything smoothly to a paste.
3. In the meantime, in a large pot, add 2 tbsp Olive Oil and crumble in the Tofu (first squeeze out the water as much as you can). Saute for about 15 mins on medium until all the water is drained and the tofu starts to brown a bit.
4. Add the blended Sauce to Tofu and mix. Cover and cook on medium for another 5 mins or so. Done!
Note: I find that the Sofritas be made ahead and stored in the refrigerator. Tastes well even the next day with all the flavors soaked into the tofu.
In the meantime, we prepared a Salad of Lettuce, Tomatoes, Cucumber, Corn, Black Beans, Cilantro. Again, kids did a lot of chopping!!
You can see why this is one of our favorite meals…
Layered with Tomato Jalapeno Rice, Tofu Sofritas, Salad, Avocado and Roasted Tomato Salsa….
Super yumm and healthy!!!
Comments
comments