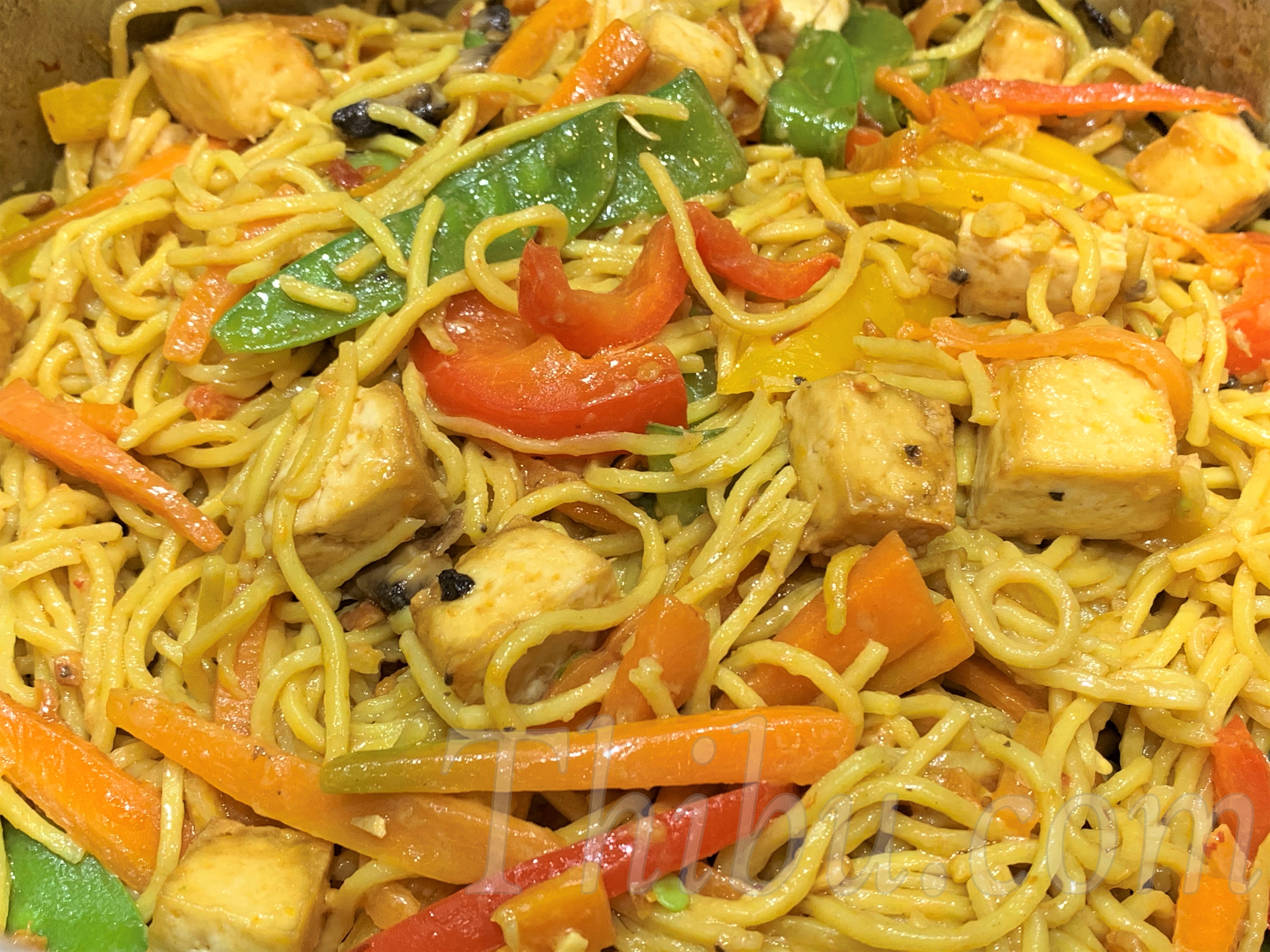 Asian Noodles with Peanut Sauce
This is a fairly easy dish to make. Chopping the veggies is probably what takes time, and baking the Tofu. Otherwise it is a pretty quick dish to make and is full of flavor! All the colorful veggies add deliciousness of the dish!!
What you'll need:
Firm Tofu, cubed – 1 box
Carrot, julienne (cut thin and long), can also used shredded – 1 large
Yellow Bell Pepper, thinly sliced – 1
Orange Bell Pepper, thinly sliced – 1
Snow Peas – 1 cup
Mini Portobello Mushrooms – 5 to 6
Extra Light Olive Oil – 2 tbsp
Taiwanese Wheat Noddles (I used precooked from Ranch 99) – 1 bag (If using dry noodles, cook as per directions on the bag)
For Sauce:
Peanut Butter – 2 tbsp
Sesame Oil – 1 tsp
Rice Vinegar – 1 tbsp
Soy Sauce – 3 tbsp
Honey – 1 tbsp
Ginger, very finely chopped – 1 inch
Chili Garlic Paste – 1 tbsp
Juice of 1/2 lime
Salt to taste
Method:
Preheat the oven to 350 deg F on roast setting. Toss the Tofu cubes in a tsp of oil and place on a baking sheet. Roast for about 30-40 minutes.
In the meantime, chop all the veggies.
Mix all the Sauce ingredients in a bowl to make the sauce. Adjust flavors.
Set a large pan or wok on high heat, pour the Oil and stir fry the vegetables for about 5 minutes.
Add the cooked Noodles and mix well. Let it heat for another 2 minutes.
Add the Sauce, mix well.
Add the roasted Tofu, mix well until all the vegetables, noodles, sauce and tofu are well incorporated.
Optionally, top with Spring Onion and Cilantro. Enjoy!!
Comments
comments