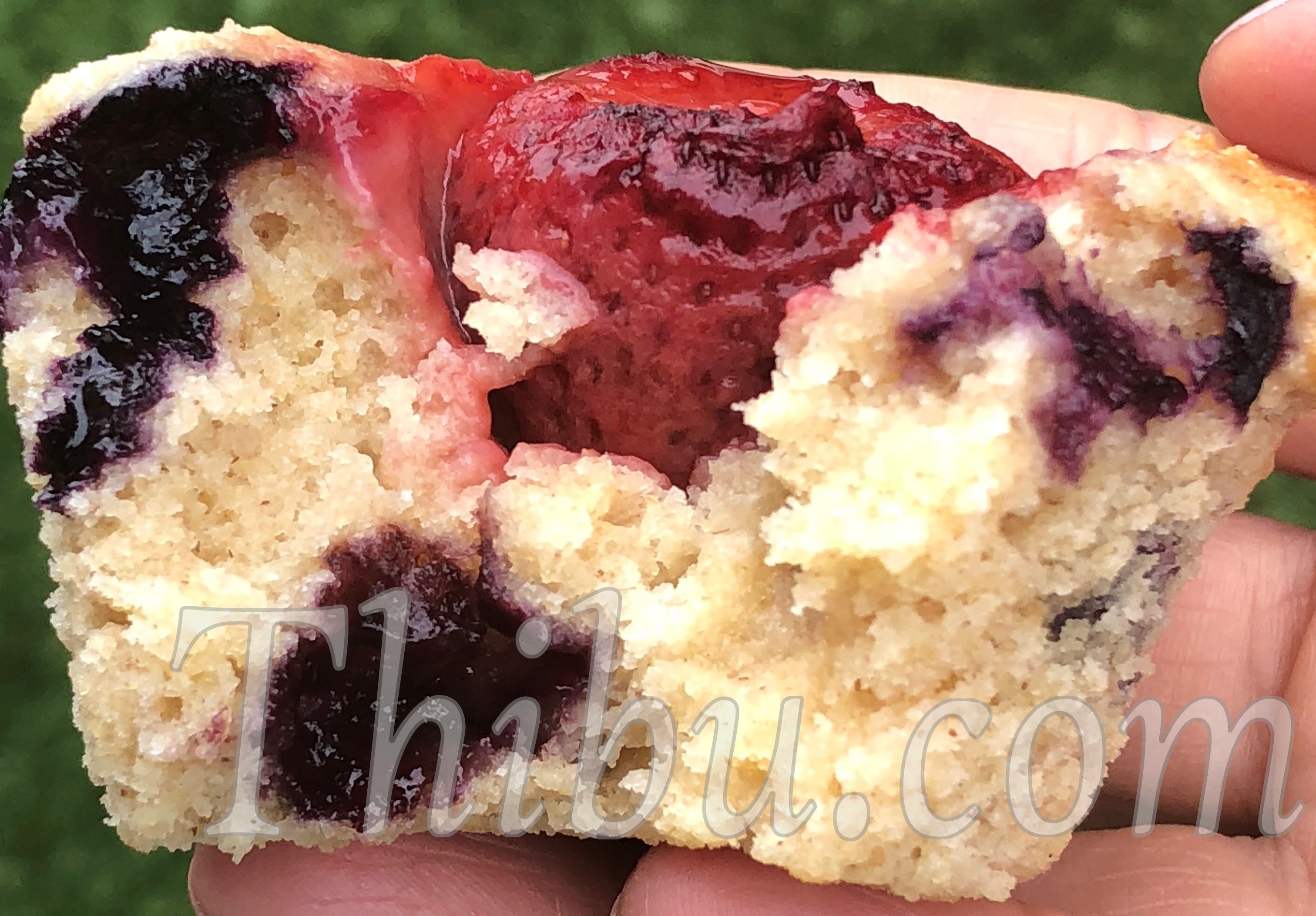 Berry Surprise Muffin (Eggless)
This recipe is super simple, inspired by smitten kitchen, with a few small tweaks. Its perfect to make with kids, my boys and I enjoy making this together. I think baking is a great learning experience for kids, to measure ingredients using measuring cups and measuring spoons. They learnt about the difference between Fahrenheit and Celsius and how to convert while setting the oven for preheating. Its like a fun chemistry project 🙂 My son told his school teacher proudly that he helps mom in the kitchen and bakes when she asked if he helps with chores at home.
These muffins disappear quickly! My kids eat 2-3 at a time 🙂
What you'll need:
Butter –  1 1/2 tbsp
Sugar – 1/2 cup
Plain Yogurt – 3/4 cup
Water – 2 tbsp
Baking Powder – 1 1/2 tsp
Baking Soda – 1/2 tsp
Salt – 1/4 tsp
Multi Grain Flour – 1 1/2 cups
Frozen Blueberries – 1 to 1 1/2 cups
Frozen Strawberries – 12
Notes:
You can use fresh or frozen berries. I use organic frozen berries which I usually have in my freezer for smoothies.
If using frozen berries, do no thaw.
You can use just blueberries or just strawberries or combo, whatever you prefer or have on hand.
I use Multi Grain Flour. But you can use All Purpose or Whole Wheat flour as well.
I add Orange zest or Lemon Zest sometimes.
Method:
1. Pre-heat the oven to 375 degrees (I use convection setting).
2. In a mixing bowl add the softened butter (I usually just microwave the butter from fridge for about 20 seconds in my glass mixing bowl to soften).
3. Add the Sugar, Yogurt, Water, Baking Powder and Salt and mix well.
4. Mix in the flour and the Blueberries. Note that this is going to be a thick batter and that's ok.
5. Line your muffin tray with liners or grease them, scoop out about 2 tbsp of batter into each cup (for mini muffins), and fill into 12 cups. If you are using large or regular sized muffin tray, you may get fewer muffins.
6. Press in a whole strawberry in the middle of the cup, inside the batter. Optionally, sprinkle some sugar on top of the muffins.
7. Bake for about 25 minutes – do a toothpick test. Take out and let it cool on the rack. (This is the tricky part in our house! Kids are waiting in front of the oven and want to eat as soon as it comes out :))
Enjoy!!
And the surprise…. a whole strawberry appears in the middle!
Another variation – Blueberry Muffins with Orange Zest.
Comments
comments