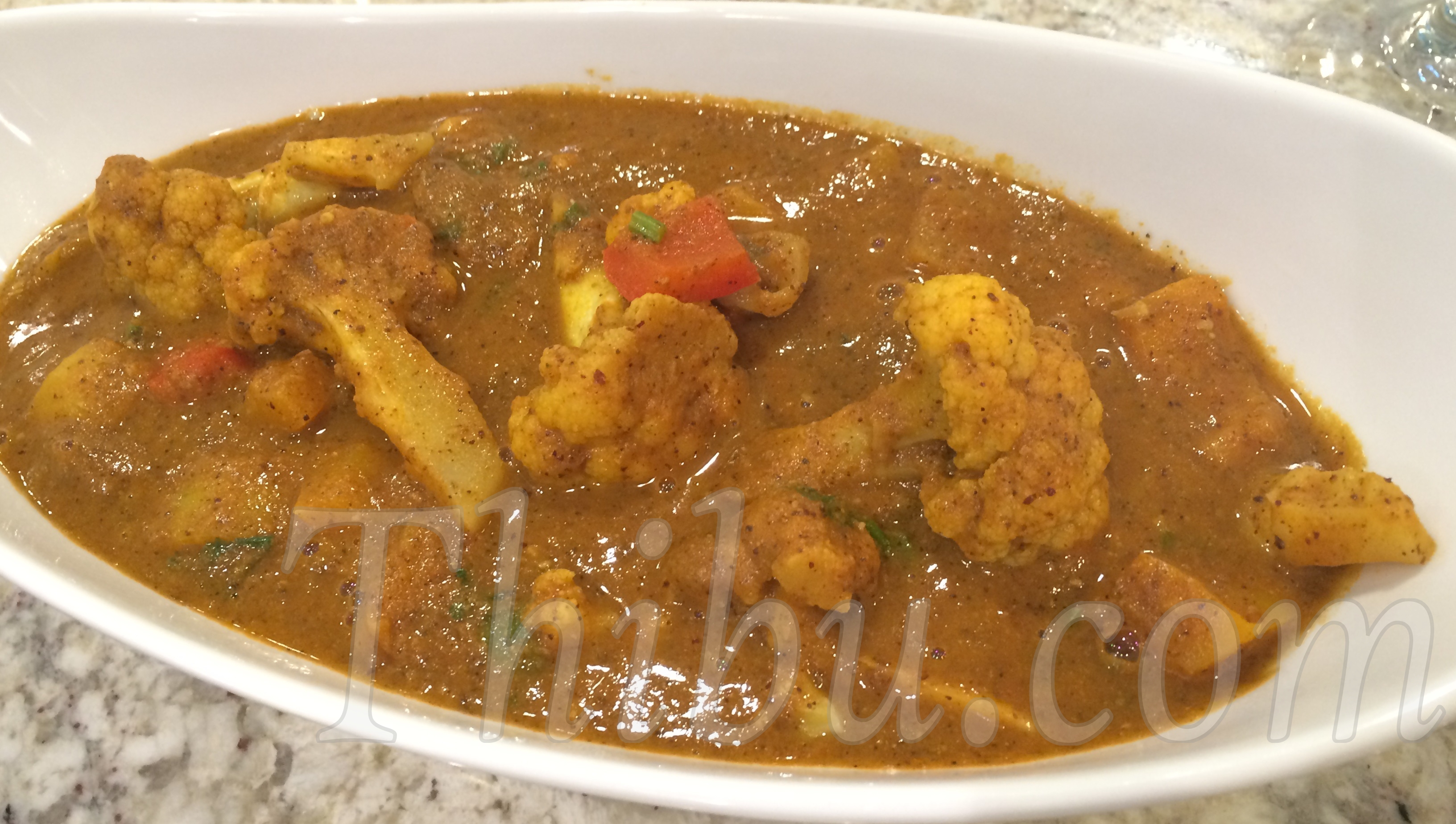 Cauliflower and Bell Pepper Curry with Hemp Seeds
This recipe is very similar to the Okra Curry recipe with a couple of minor changes. The Channa and Urad Dals have been replaced with Hemp Seeds and Orka with Cauliflower and Sweet Bell Peppers. Its an easy and very yummy dish!
What you'll need:
Hemp Seeds – 3 handfuls (approx 6 tbsp)
Coriander Seeds – 1 handful (approx 2 tbsp)
Methi Seeds – 1 tbsp
Cumin Seeds – 1 tbsp
Mustard Seeds – 1 tbsp
Black Peppercorn – 1 tsp
Cloves – 5 to 6
Cinnamon stick – 2 inch piece
Black Cardamom – 1
Red Chilies – 2
Sesame Seeds – 1 tbsp
Onion Chopped – 1 large
Sundried Tomatoes – 4 tbsp
Turmeric Powder – 1 tsp
Salt to taste
Oil to saute
Cauliflower florets of 1 head
Sweet Bell Peppers (Red, Orange & Yellow) – 4
Cilantro Chopped –  a small bunch
Method:
1. Wash and cut the Cauliflower into florets. Cut the Bell Peppers into approximately 1 inch pieces. Set aside.
2. In a large pan, warm about 1 tbsp oil and saute all the spices listed above, upto sesame seeds, until they turn golden brown and start spluttering.
3. Add the onion and saute till it turns translucent. Switch off heat.
3. Grind the sauteed mixture along with Sundried Tomatoes, Turmeric and Salt, to a smooth paste.
4. In the same pan, add a couple of tbsp of oil and saute the Cauliflower and Bell Peppers. Cover and let cook for about 5 minutes.
5. Add the ground Masala to the vegetables.
6. Add the chopped Cilantro. Enjoy with hot steamed rice or roti!
Comments
comments