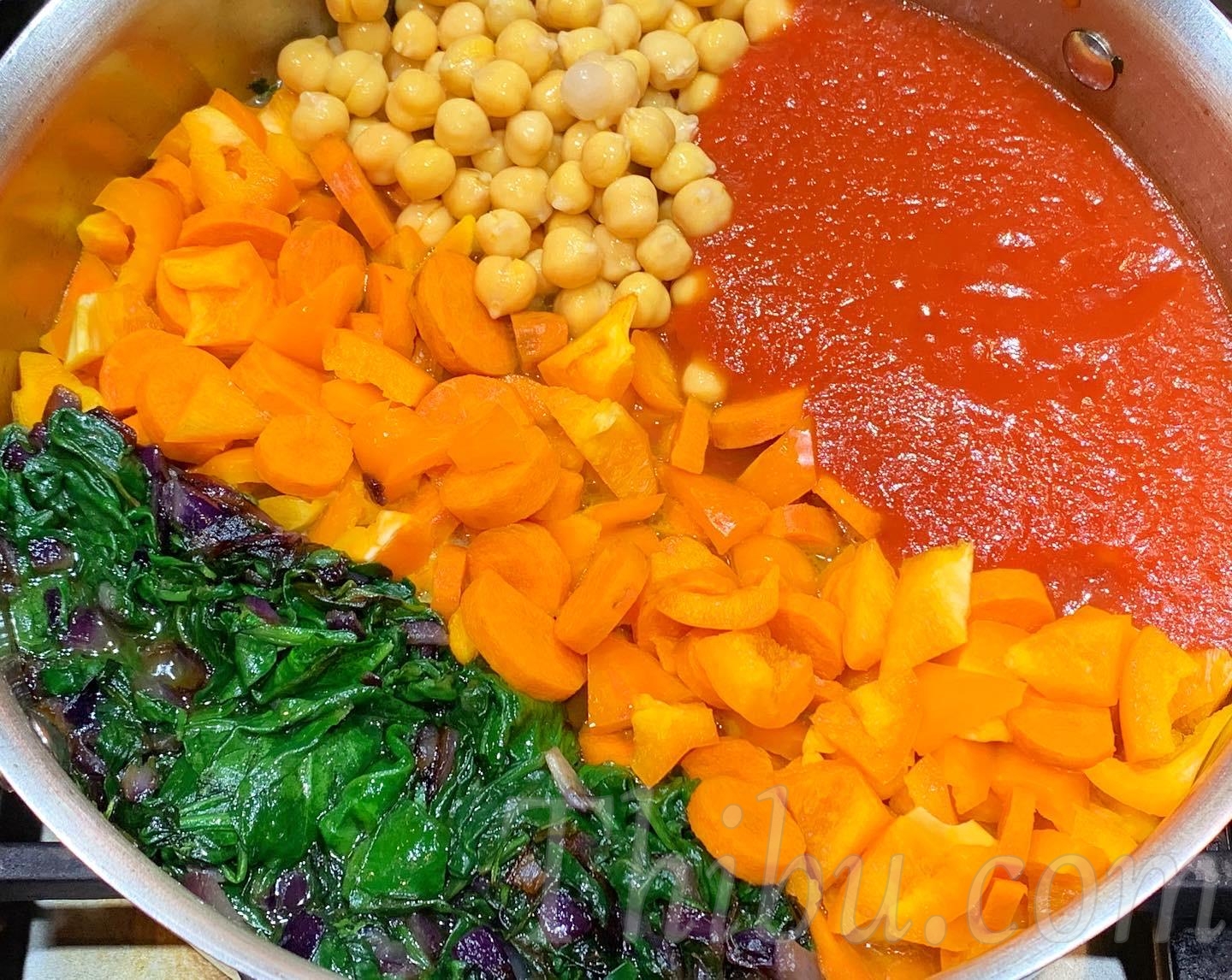 Hearty and Healthy Vegetable Stew
When the weather turns cold, a favorite around here is a hearty Stew!! And this one is a hearty vegan stew full of goodness
It has started to feel like fall here, crisp air, breezy and full of beauty all around. I was looking around in my garden, and there are these beautiful yellow orange chrysanthemums in full bloom! The squirels have been running around collecting nuts for winter. And I just added some fall decor in parts of my home, including a variety of squashes and pumpkins 🙂
Nature is so inspiring!! And the cool night called for this hot stew.
Here's my formula for Stew, Vegetables + Beans + Tofu/Vegan Chorizo/Vegan Sausages (optional) + Spices and Herbs. Use what's in season, use what you have on hand 🙂 There are a few other Stew/Chili recipes on my page, check them out for inspiration!
What you'll need:
Red Onion, finely chopped – 1 small or 1/2 large
Fresh Baby Spinach – 4 cups
Carrots, sliced – 4
Orange Bell Pepper, chopped – 1
Garbanzo Beans – 1 can
Tomato Sauce – 1 can
Firm Tofu – 1 block
Cumin Powder – 2 tbsps
Chili Powder (hot) – 1 tsp
Paprika – 1 tbsp
Cinnamon Powder – 1 tsp
Italian Herb blend (dried) – 1 tbsp
Salt to taste
Note: I added about a cup of leftover cooked rice, just because I wanted to use it up. You could add quinoa or pasta as well. Or totally leave it out.
You can use fresh herbs if you have. You can also add garlic if you like.
Method:
In a large pot or pan, add some Oil (I use Extra Light Olive Oil), and saute the Onion.
Once the Onion starts to soften and caramelize, add the Spinach and cook. (In the meantime, I chop my carrots and bell pepper)
Add the Carrots and Bell Pepper, Garbanzo Beans and Tomato Sauce. Mix.
Now add the Spices – Cumin Powder, Chili Powder, Paprika, Cinnamon Powder, Herbs and Salt. Mix.
Crumble the Tofu and add. Mix, add 1-2 cups of water, cover and cook on medium low until the vegetables are cooked.
Taste, adjust flavors, add water if needed, bring to a boil. Turn off heat and Enjoy!! Some bread on the side would  be awesome 🙂
Isn't that a lovely Fall Color Pallet??
Add some color to your food! Get inspired by nature. Use local, seasonal, fresh ingredients and have a hearty and healthy meal!
Comments
comments