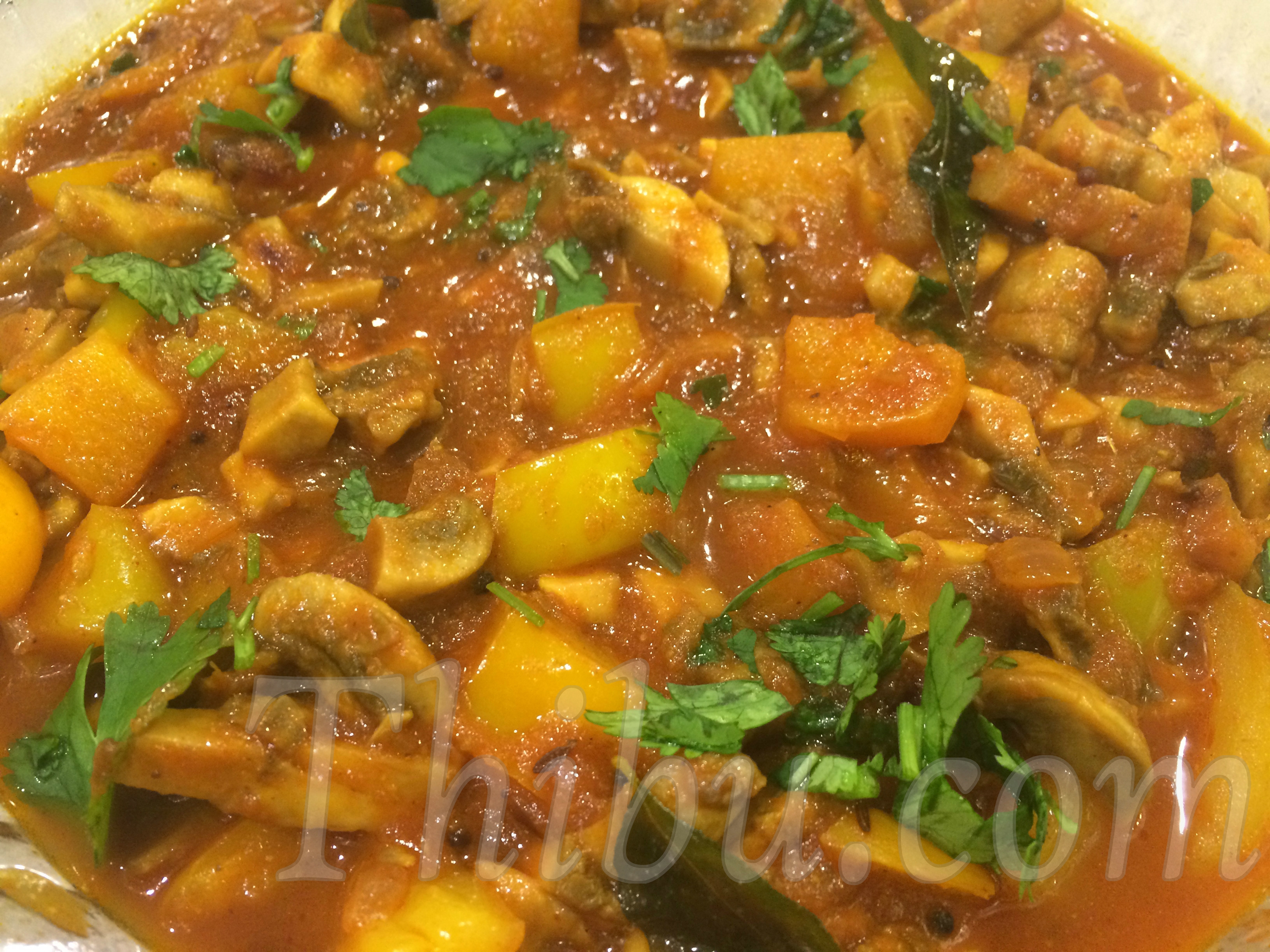 Mushroom Curry
I'm not too fond on mushrooms, I like a few dishes like mushroom empanadas, stuffed portabello, etc. But recently I was reading about the benefits of mushrooms – they are high in antioxidants that help strengthen the immune system, and they are the only source of Vitamin D found in plant foods. So I wanted to start incorporating mushrooms more in our everyday foods and tried this mushroom curry today which turned out great.
What you'll need:
Oil – 3 to 4 tbsp
Mustard – 1 tsp
Cumin Seeds – 1 tsp
Red Onion (medium) – 1 finely chopped
Ginger – 1 inch piece
Garlic – 4 cloves
Curry Leaves
Pav Bhaji Masala – 2 tbsp
Bell Peppers (any will do, I used one yellow and one orange) – 2 chopped
Tomato Paste – 1/2 can (or 3 oz)
Button Mushrooms – 1 tub (24 oz or 680 gms)
Salt to taste
Paprika or Chili Powder – 1 tsp
Cumin Powder – 1 tsp
Turmeric Powder – 1 tsp
Cilantro chopped
Don't be intimidated by the long list of ingredients! They are all basic things and the steps below should simplify it for you.
Method:
1. Warm up oil in a large pot. Add the Mustard Seeds and Cumin Seeds. Let it splutter. Add the chopped Onion and saute.
2. Make a paste of the fresh Ginger and Garlic. Add it to the pot. Also add Curry leaves and Pav Bhaji masala.
3. Add the chopped bell peppers and give it a mix.
4. Add the Tomato paste and the chopped Mushrooms.
5. Next add Salt, Paprika, Cumin powder and Turmeric powder.
6. Stir the mixture and cover the pot. Cook on medium-low for about 10 minutes.
7. Add chopped Cilantro. Serve it over some Lemon Quinoa or with Multi Bean Adai or Roti or Rice. Enjoy!
Comments
comments