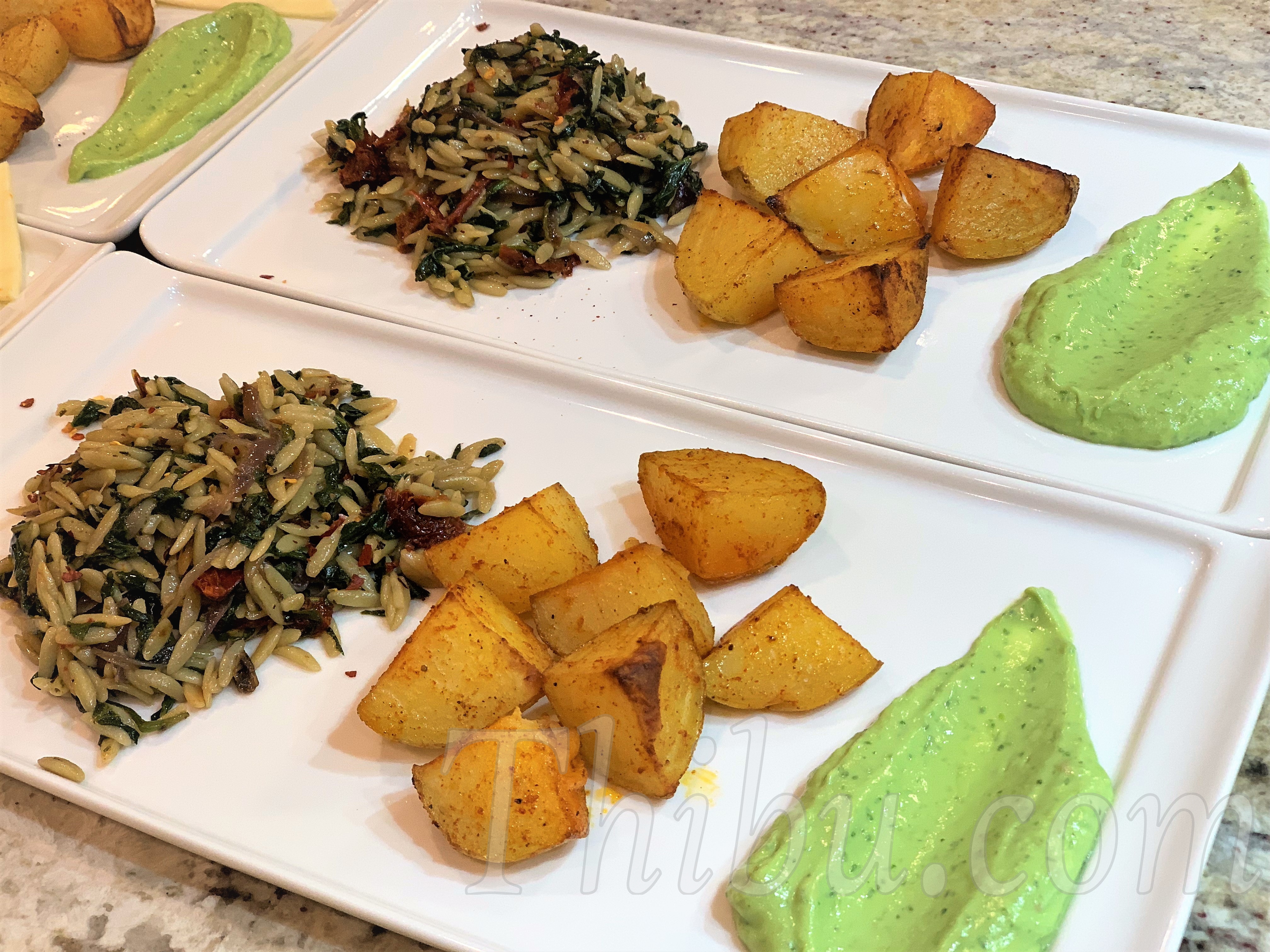 Orzo Pasta and Roasted Potatoes with Avocado Crema
It was a weekend dinner, and we cooked as a family!  Kids like to take charge.. and so I let them 🙂
I asked one of my son to cook Orzo pasta following the directions on the package, while I sauteed veggies for it.. and my other son made Chocolate Brownies for dessert, Ghirardelli 🙂  Since the oven was going to be on, I made some Roasted Potatoes and Avocado Crema to go with it.
Kids were so excited, they set the table and wanted fancy plates! And loved the food "they" made 
Orzo Pasta:
What you'll need:
Orzo Pasta
Onion finely chopped – 1
Sundried Tomatoes – 1/2 cup
Spinach chopped – 5 to 6 cups
Italian Herb Mix – 1 to 2 tsps
Red Chili Flakes – 1 tsp or to taste
Salt to taste
Method:
Cook the Orzo pasta per directions on the package.
In a large pan, saute the Onion in oil until it starts caramelizing.
Add the Sundried Tomatoes and Saute a couple of minutes.
Add the Spinach and Saute until it wilts.
Add the Herbs, Chili Flakes and Salt and mix.
Add the cooked Orzo pasta, mix well. Enjoy!!
Roasted Potatoes:
Cube the Potatoes, toss in a some oil, paprika, optionally chili powder, and salt. Bake in 400 deg oven for about 30 minutes.
Avocado Crema:
Chocolate Brownies:
Follow directions on the box 🙂
Comments
comments