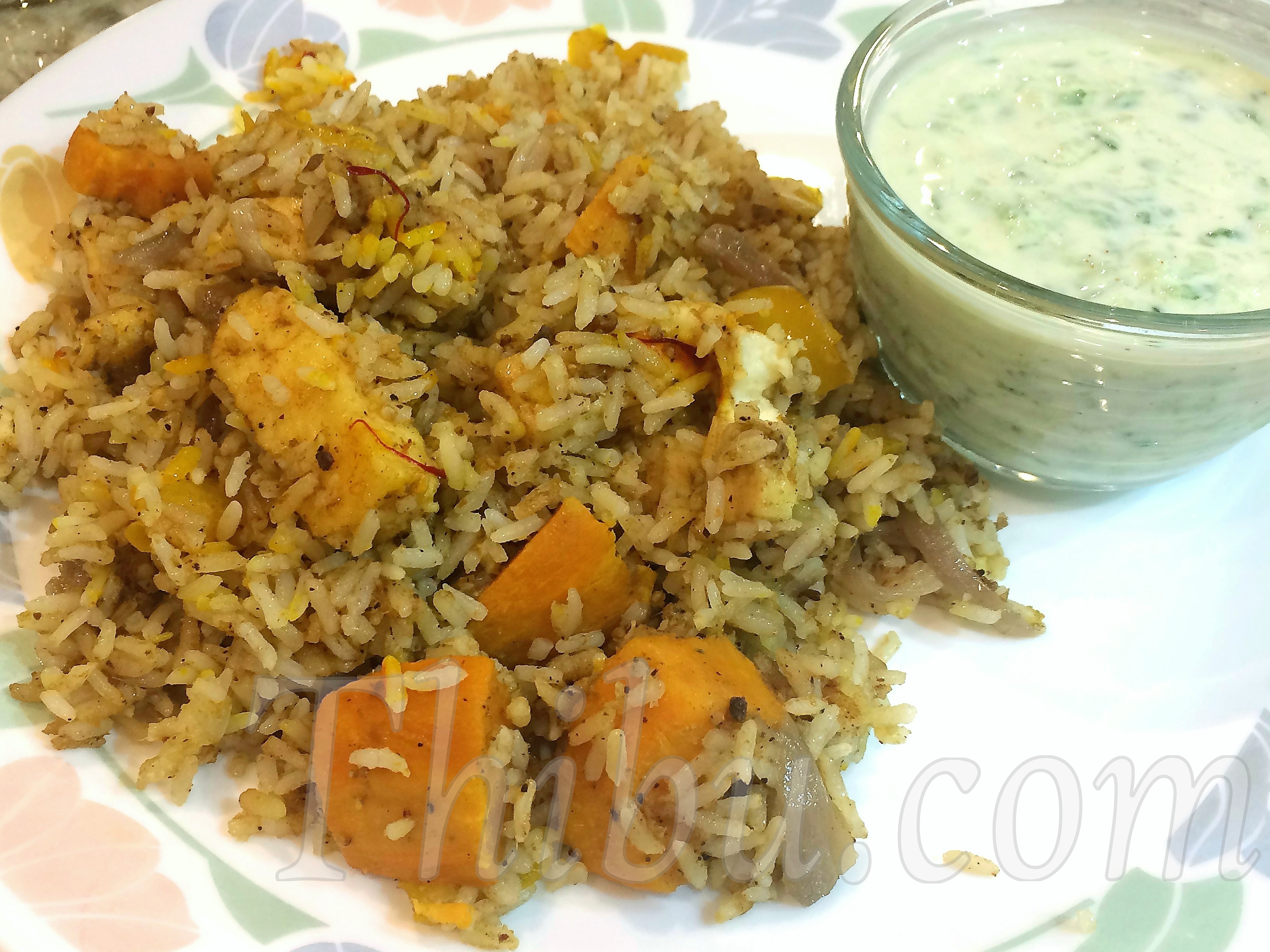 Paneer and Vegetable Biryani
So I started to make Paneer and Vegetable Biryani for dinner and once I had my veggies chopped and ready, realized that we were out of Biryani Masala.
The only other time I've made Biryani from scratch, was for a potluck at a friend's place, after spending 4 hrs in the kitchen! I had decided I would never do that again!!
I quickly did some searching and came up with this quick Biryani masala. Dinner was ready within the hour, including cooking time! 🙂
What you'll need:
For Masala:
Bay Leaf – 1
Fennel Seeds – 1 to 1 1/2 tsp
Green Cardamom – 6 to 8
Black Cardamom – 1
Peppercorn – 1 to 2 tsp
Cinnamon Stick – 1 large
Nutmeg Powder – 1 tsp
Cloves – 1 tsp
Jeera – 2 tsps
Tomatoes – 2 medium
Ginger – 1 inch piece
Garlic – 5 pods
Paneer and Veggies of choice – I used Sweet Potatoes, Bell Peppers, Onion.
Basmati Rice (I had run out of this as well, so used my day to day Sona Masoorie Rice).
Method:
1. Cook Rice about 90% with a bit of excess water and drain the water to remove starch. Set aside.
2. Grind the ingredients listed under Masala to a smooth paste. Note that you could dry roast the spices a bit, I didnt.
3. In a large pot, saute the Onion in Olive Oil until translucent.
4. Add the remaining Veggies and saute. Add Paneer. Dont cook fully.
5. Add the Masala and Salt to taste and mix with the Veggies and Paneer. Move contents to another bowl.
6. In the same pot, layer the Rice and Paneer Veggie mix. Rice on the bottom, Paneer and Veggies in the middle, and Rice on top again.
At this time I also mix some Saffron with Rice. Its optional.
7. Cover the lid and cover the lid with a clean kitchen towel. Cook on the lowest heat setting for about 15 minutes, until Rice is fully cooked.
Enjoy! We had it with a side of Cucumber Raita.
Comments
comments