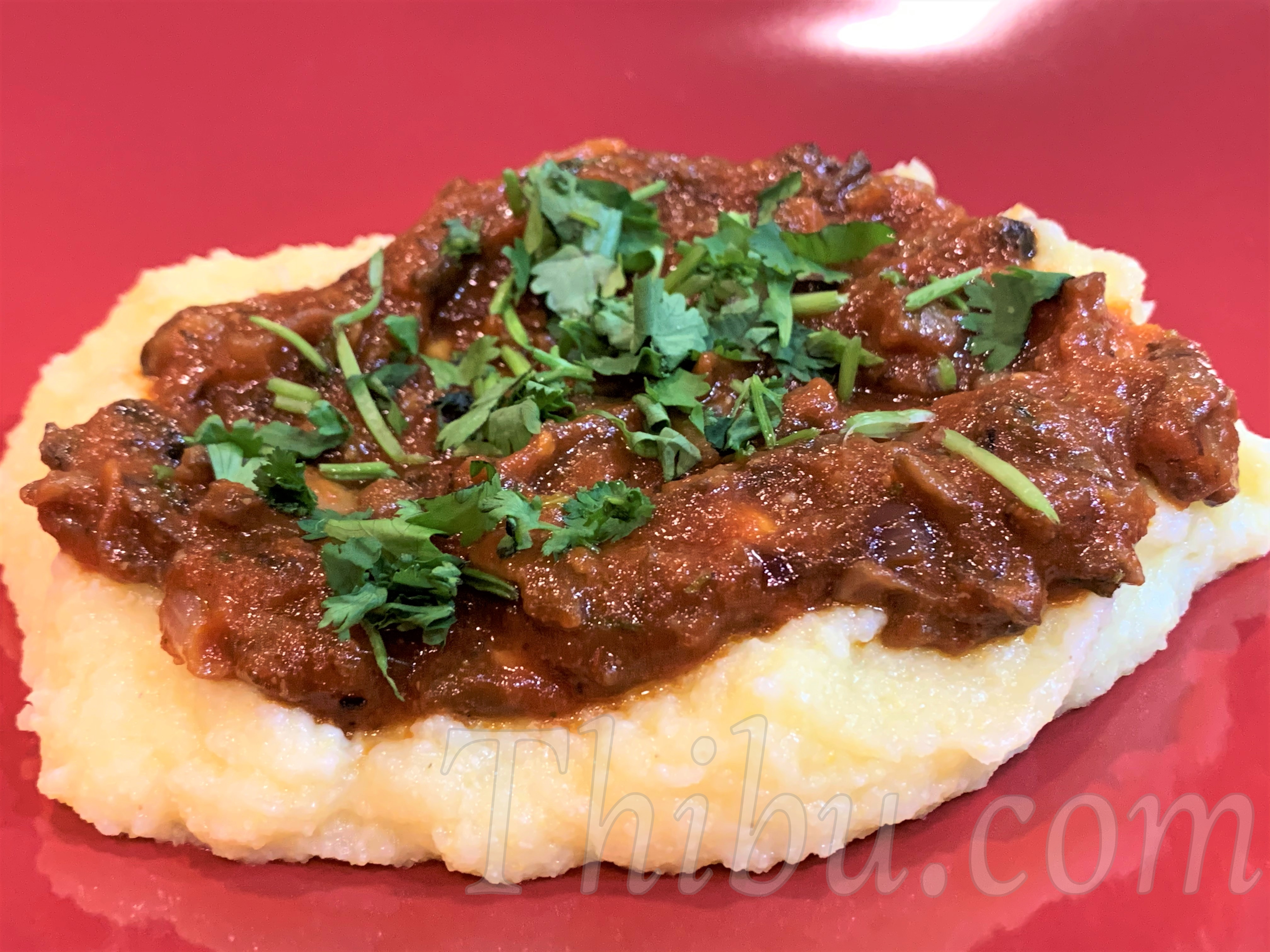 Spicy Mushroom Ragu on a bed of Creamy Polenta
This dish is so delicious!! Not difficult to make, and everyone is going to love it. The warm and creamy Polenta and the spicy Mushroom Ragu over it is just perfect!!! We love this dish! It is one of my son's favorite! And he wants me to make this for his next birthday party!
You know I dont like to write a big story, so lets just get to the recipe 🙂
Recipe for Polenta at https://thibu.com/stovetop-creamy-polenta/
What you'll need:
Mini Portabella Mushrooms, chopped – 2 cups
Red Onion, thinly sliced – 1/2
Tomato Sauce –  1 can of 15 oz
Garlic, chopped finely – 4 cloves
Chili Powder – 1 tsp
21 Spice Blend (from Trader Joes) – 1 tbsp (Note: you can substitute with your favorite spice blend)
Cumin Powder – 1 tsp
Salt to taste
Cilantro, chopped finely – a good bunch
Extra Light Olive Oil – 2 tbsp
Method:
In a shallow pan, add Oil and fry the Onion until they caramelize.
Add the chopped Mushrooms and Garlic and continue to fry for another 5 minutes.
Add the Tomato Sauce, Chili Powder, 21 Spice Blend, Cumin Powder and Salt. Continue to cook the ragu on low heat for another 10 minutes until well cooked.
Garnish with Cilantro. Serve over warm Polenta. Enjoy!!
Comments
comments