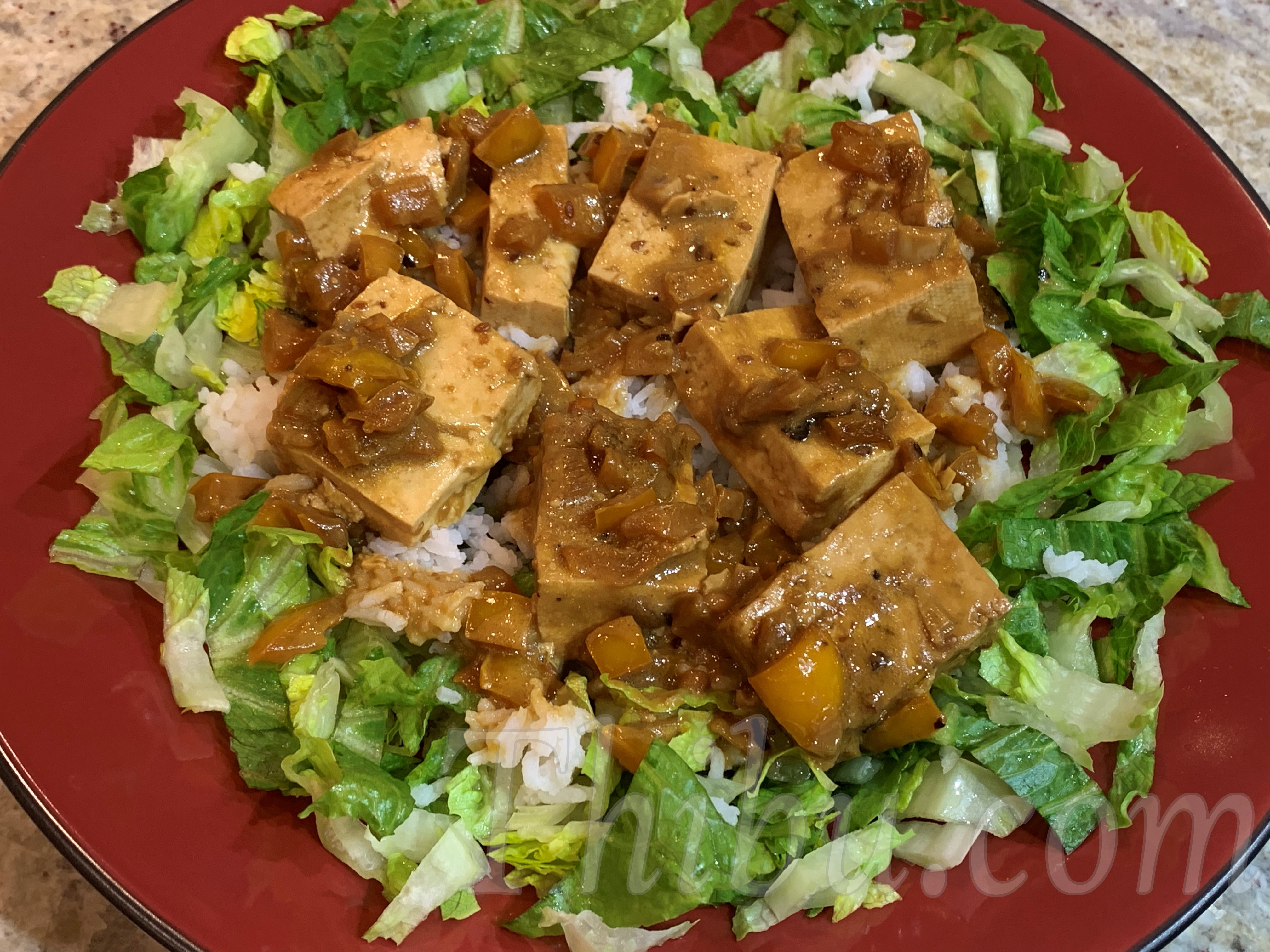 Tofu "Bird's Nest" Salad
I set out to make some grilled Tofu, and planned on putting it over Salad Greens for dinner. But as I went along, it turned into this delicious creamy peanutty tofu dish!!
Laid over Salad Greens and a small amount (1/2 cup) of Rice, it was easily one of the best "no guilt" salad meals!!
I tend to have an early dinner. Kids werent ready yet for dinner. But once they saw my plate, they couldnt wait for their plates and wanted it exactly like mine 🙂
What you'll need:
Bell Pepper (cut finely) – 2 (I used orange, any will do)
Firm Tofu (drained and cubed) – 2 boxes
Oil – 2 tsps
Sesame Seeds – 2 tsps
Red Chili Flakes – 1 tsp or to taste
Garlic (finely chopped) – 2 cloves
Soy Sauce – 2 to 3 tbsp
Crunchy Peanut Butter – 1 tbsp
Coconut Milk – 1/2 cup
Salt to taste
Wasabi (optional) – 1/4 tsp or to taste
Romaine Lettuce (chopped) – 2 heads
Cooked Rice – 1/2 cup per serving
Method:
In a large wide pan, add the Oil and Sesame Seeds and Red Chili Flakes. Saute for a couple of minutes.
Add the chopped Bell Peppers and Garlic. Saute well on med-high heat.
Reduce heat and add Soy Sauce and Peanut Butter. Mix well.
Add the Wasabi paste, Coconut Milk and Salt. Mix well.
Now place the Tofu cubes over the sauce and simmer. Flip to coat all sides and cook some more.
Optionally top it with chopped Cilantro (I didnt have it on hand). Enjoy!!
Can be had with Steamed Rice. I wanted a healthier option, so plated it over chopped Romaine Lettuce and some steamed Rice!! You can skip rice completely and have it with just the greens!
Its all about fresh ingredients and natural flavors! Keeping it simple.. eating healthy, flavorful foods!
Comments
comments