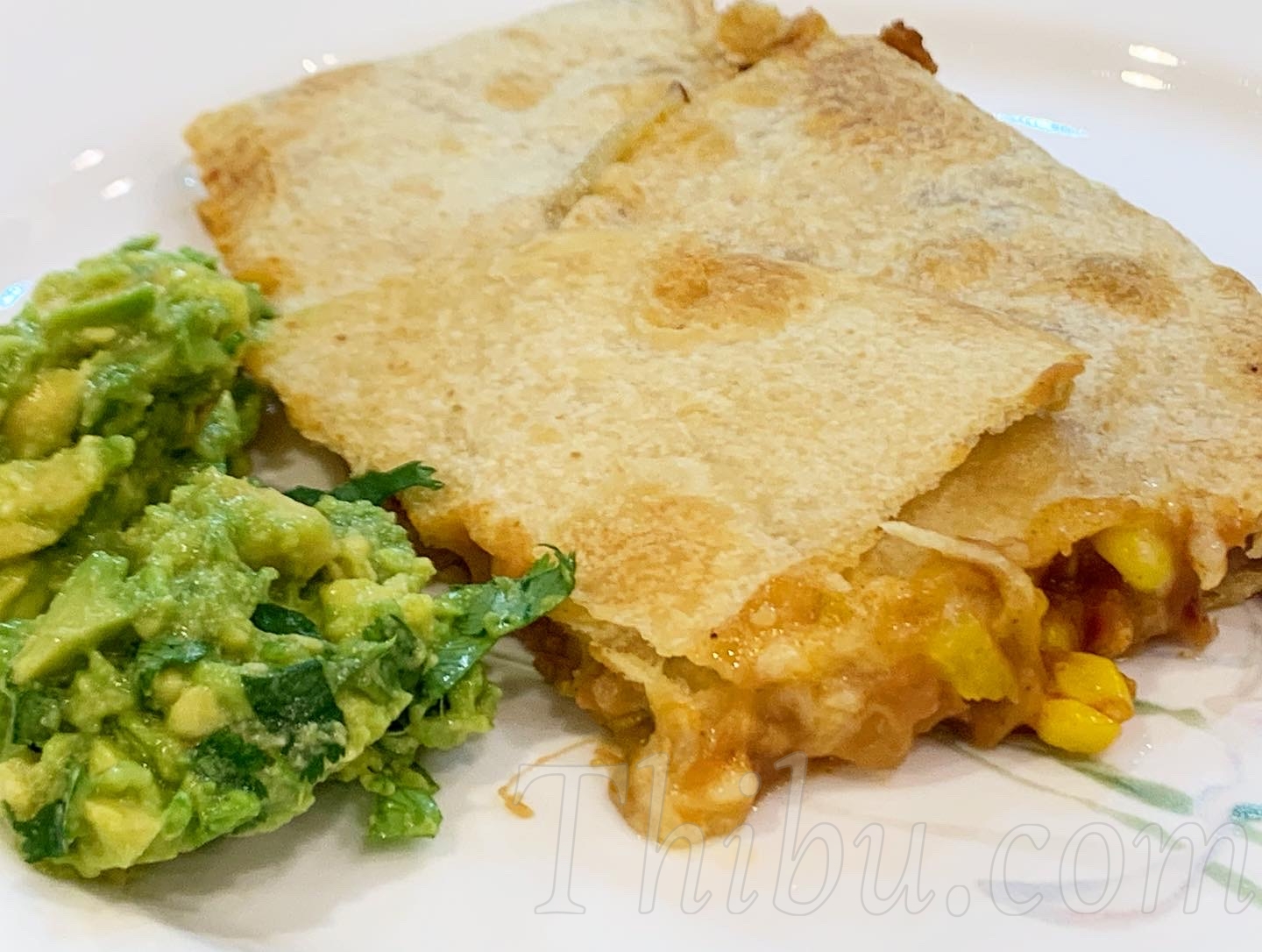 Tray Baked Quesadilla
We love Mexican food and this was a super hit!! A tray bake that can be customized depending on your preference and what you have on hand. Makes a delicious Vegan option!
Super Easy, so Tasty, Healthy and Quick, Baked Quesadilla!! With a simple Guacamole! Everyone wanted more 🙂
Good as leftover too!
What you'll need:
Flour/Multigrain Tortilla – 10
Vegetarian Refried Beans – 1 to 2 cans (I used 1 1/2)
Chopped Red Onion – 1/2
Chopped Bell Pepper – 1
Chopped Tomato – 1
Corn – 1/2 cup
Taco Seasoning – about 2 tbsps or to taste
Tapatio Sauce (or other hot sauce) to taste
Shredded Cheese (optional) – 1/2 cup
Oil for brushing – 1 tsp
For Guacamole:
Avocados – 2
Juice of Lemon – 1
Salt to taste
Chopped Cilantro
Method:
Pre-heat oven to 400 F.
Grease a baking tray with half the Oil and lay out the 8 tortillas.
Spread the vegetarian refried Beans all over.
Spread the vegetable toppings – Chopped Onion, Bell Pepper, Tomato and Corn.
Sprinkle the Taco Seasoning and Tapatio Hot Sauce all over.
Spread the Shredded Cheese over it. You can use Vegan Cheese or if you prefer, skip cheese completely.
Fold the Tortilla over and top with 2 more Tortillas.
Brush lightly with the remaining Oil.
Use another baking tray of same size and stack on top.  Press down.
Bake in the oven for 25 mins. Remove the top tray and bake for another 5 mins to get a crispy flaky top.
While the Quesadilla is baking, Mash the 2 Avocados, Lemon Juice and Salt together in a bowl. Mix in the chopped Cilantro to make a simple Guacamole.
Serve the Quesadilla with Guacamole on the side. Enjoy!!
Comments
comments