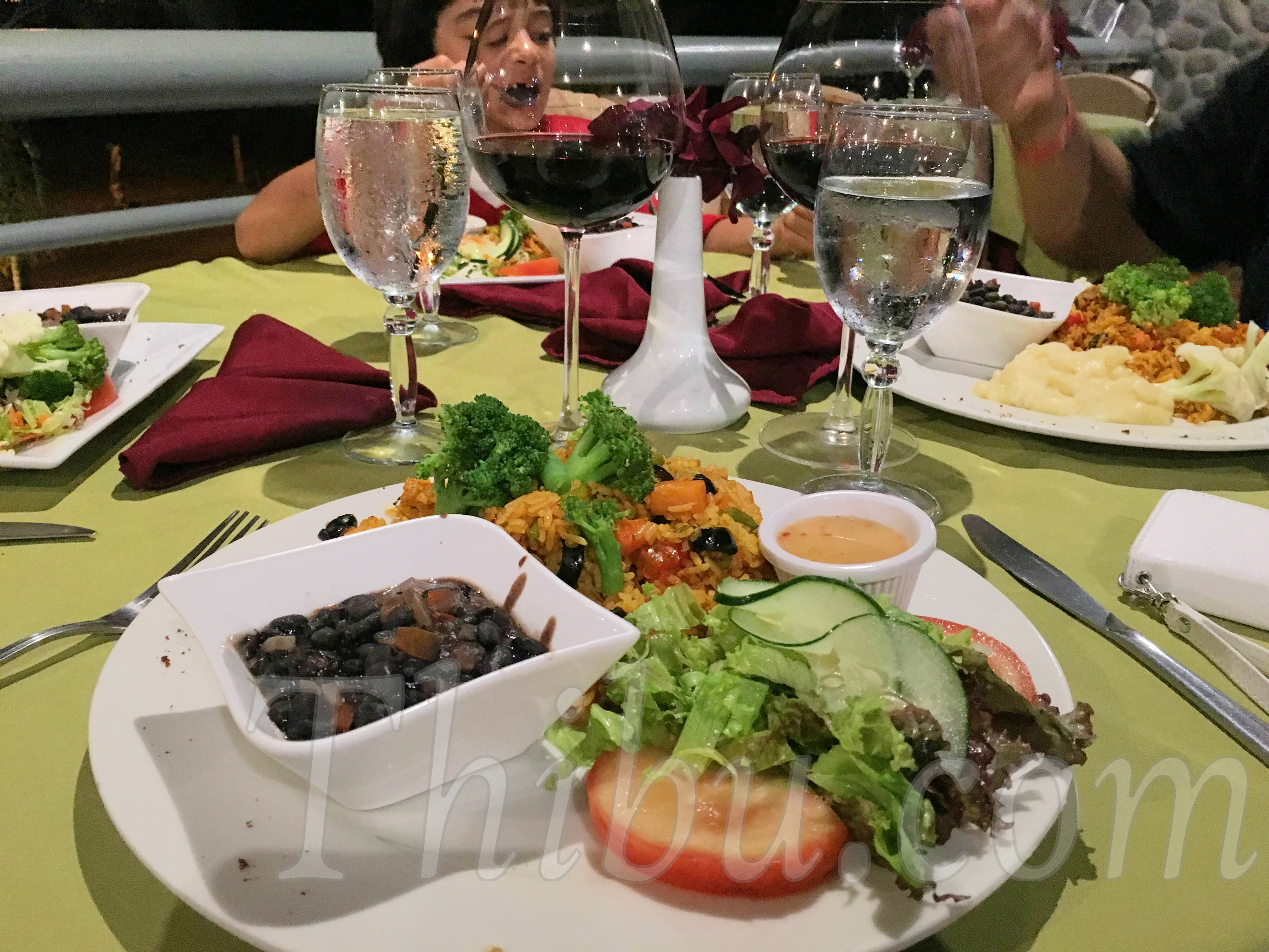 Costa Rica – Vegetarian Food and Drinks
We enjoyed some delicious foods of Costa Rica while touring the country. During our drives we saw several farms and plantations of papaya, pineapple, coconut, plantain, cattle farms, etc. We also visited some plantations – coffee, cacao, vanilla and other spices. And ofcourse we got to taste many of these. We are a vegetarian family, but we had no issues finding good foods. People were more than happy to make something vegetarian for us even when there was nothing on the menu. Language wasn't a barrier.
This travelogue is about the places we visited, restaurants we ate at, breakfasts at the hotels and all the vegetarian foods and drinks we had.
As we excitedly started out our trip, food was a disappointment on the flight. I was expecting vegetarian meals during our 10 hour flight to Costa Rica, which were all confirmed but we never received any. Not happy about that Copa Airlines! I felt so bad when my 7 years olds kept saying that they were hungry and asking when they would be getting their food. I was so glad that I had taken the Trail Mix and Energy Balls which they gobbled up. And we made do with the dinner rolls and juices on flight.
Day 1 –
After we had landed, rented our car and checked into our hotel, we headed straight to this restaurant for a late afternoon lunch.
The folks who worked at the restaurant spoke little to no English and the menu was in Spanish. We used whatever broken Spanish we knew, some sign language and Google translator helped us very much!
While we ordered Guanabana Con Leche (Guanabana milk shake), my soda deprived America kids wanted Fanta and GingerAle. But once they tasted our drink, loved it and drained most of it.
And this Cassado lunch is Costa Rica's very typical food, ours was vegetariano. Cassado means Married. Rice and Beans married style, which means not mixed but served together. Accompanied by Salad, Veggies, Tortilla, Cheese, Fried Plantain. Yumm!!
We headed off to a coffee plantation for a tour and sampled some coffee. On our way back to the hotel, we picked a bottle of Chilian wine at the local market.
Day 2 –
The next morning, the bed and breakfast we stayed at served us a lovely breakfast while we enjoyed the gorgeous green surroundings and rain. While the rooster popped in as well 🙂
As soon as we went in to the breakfast room, they brought in bowls of tropical fruits – Papaya, Banana, Pineapple, Watermelon. And Orange juice.
Followed by a typical breakfast which included Gallo Pinto (Rice and Beans mixed together), along with Tortilla, Fried Plantains, Cheese, Eggs, Toast with Guava Jam.
My kids also picked up Cereal boxes. And ofcourse Coffee and Tea followed.
While visiting places and driving around, we stopped at a local roadside market and picked up some snacks and drinks. Their Plantain chips, lime flavored, are very tasty.
For lunch we stopped at Los Ranchos in Sarchi.  A large local family sports bar, with a play area outside for kids that had a large trampoline, swings, slides, etc.
Again Google translator app was very handy. We ordered some fresh yummy drinks – Guanabana Milk Shake, Mango Juice, Strawberry Juice, Mango Milk Shake.
And for lunch we had wraps with grilled and fresh veggies, rice and beans. The tortilla was toasted to crispness. Even the kids gobbled these up.
We drove on to Sarapiqui and ordered salads for dinner at Tirimbina where we were staying.
Day 3 –
The next morning, at La Tirimbina Lodge, we had another good breakfast before heading into the rainforest for a hike and chocolate tour. We ate at this restaurant many times and I loved the view of the forest, watching the birds, the rain, listening to the sounds.
We came back for a relaxed lunch before heading into the forest again for another long guided walk.
Just to mix things up, we ordered a couple of  Vegetarian Cassado and a couple of Vegetable Pasta. The chef and the kitchen staff were very friendly and made us some customized food outside of their menu. They were so tasty that we suggested that they should add these items into their menu.
Imperial and Pilsen are the two popular local beers we tried.
Believe it or not we had worked up an appetite after our 2 1/2 hr walk in the rainforest. The one nice thing for me about staying at the forest lodge was that we didn't have to drive anywhere all day. We walked around all day and ate all meals at the restaurant. And it was not tourist season, so we pretty much almost had the place to ourselves. Did the mention the wonderful staff?
So we went early and hung out at the restaurant over drinks, while kids played pokemon.
For dinner we had Tomato Soups, Vegetable Rice with Fries and Salad and Grilled Vegetable Pesto Sandwich which the birthday boy (my husband) loved!
And the chef sent us ice cream dessert, on the house.
Day 4 –
After a quick breakfast at our Tirimbina restaurant, we drove to La Paz waterfall garden and wildlife refuge. It had rained heavily the night before and there were several mud slides and the roads were bad in some area. But fortunately rains had stopped and we had a dry day.
At the La Paz Casita, old farm house, we got to taste some milk pudding, fresh cheese, and sugarcane tea. They were yummy!
We had a buffet lunch at La Paz. Although totally over prized, they had a good variety of food and the view was great.
We were back in Tirimbina by dinner time, and had a light dinner as no one was really hungry. We enjoyed a vegetable soup with toast. Husband liked their sandwich so much that he went for it again.
And our chef with whom the kids had become friends with by now made these yummy Chocolate Mousse, on the house.
Day 5 –
Our last breakfast at Tirimbina. Along with the usual gallo pinto, fruits, toast, eggs, etc, they had also made corn and vegetable empanadas stuffed with cheese. And our chef made some chocolates for the kids 🙂
We drove to Arenal and had a quick on the go lunch before our horse riding to La Fortuna water falls. And then a 400 step climb down to the water falls and back up. Back on the horse for another 40 minute ride back  to our starting point. That was tiring.
Back at our hotel, while the husband and kids went to the hot springs, I went to the spa for a hot stone massage and facial! It was great to start with some warm tea with honey and trail mix.
Dinner was at the restaurant at Arenal Springs Hotel where we stayed and all of us devoured it!
Stir fried veggies with Rice, Fettuccine pasta with Pesto, and Pizza. We were now in the touristy area which catered different types foods.
And dessert! Papaya halwa with ice cream, Chocolate cake with Chocolate ice cream, Vanilla ice cream, and Coconut Flan.
Day 6 –
We had a very early morning to go zip lining. Had a quick breakfast at the hotel restaurant, which had a lot of options.
Later we went out to the town and ate lunch at Lava Lounge.
We tried Yucca Fries, Guanabana Milk Shake, Veggie, Rice and Bean Burrito, Veggie Fajitas and Bean & Cheese Burrito. Food was ok, kind of bland and lacked seasoning and flavor.
Later we went on another Hanging Bridge tour and walk for over a couple of hours in the forest.
In the evening we went back to the town and ate at a place that claimed they served the best vegetarian food in town. The owner who was a guy with oriental background had migrated from Canada. He said he owned a lot of land and grew a lot of produce which he uses in the restaurant. But I somehow did not care for this owner or his attitude. He had such an air about him that was a put off.
The food tasted good, was flavorful. They used some asian flavors. We had Pumpkin curry, Noodles, Stir Fry etc. The Mango salsa we ordered was more of a salad. Sandwich was no good.
Day 7 –
It was time to leave Arenal and head south. We had a nice relaxed breakfast at the hotel before starting our long drive through the countryside. Cereals and fruits, hot waffles and tortillas, eggs and other Costa Rican breakfast items. Btw breakfasts were free at all the hotels we stayed at.
On our way to Bejuco we saw several signs to a German Bakery. When we reached it, it was almost lunch time and we picked up some baked items to eat on our way. Very overprized!!
We made another stop to see crocodiles and alligators on the way. And had some milk shakes and coconut water at a roadside shop.
My son giving me the thumbs up on coconut water 🙂
I had seen these Rambutan fruits being sold on the roads at several places and finally we made a stop to pick some up and try. They taste very similar to Lychee but are not as juicy.
This was Thanksgiving Thursday. And this was our Thanksgiving dinner at the Playa Bejuco Hotel restaurant. I was happy to have a traditional Costa Rican Casado dinner.
Oh, I forgot to mention that some of the hotels, they welcome the guests with a glass of tropical juice as we come in. Its kinda nice.
Day 8 –
After an early morning visit to the beach, we had breakfast at our hotel before heading to a Vanilla and Spice plantation for a tour. Kids had pancakes but we had Gallo Pinto for our last breakfast of the trip (or so we thought).
At the Spice tour, we got to try some yummy treats made using different spices. Cinnamon Tea, Vanilla Bean Cheese Cake, Cardamom Ice Cream with Chocolate Brownie, Spiced Chocolate Drink (with vanilla, chili powder), and Cacao nibs Biscuit.
After shopping for some spices etc, we went back to the hotel. And made one last visit to the beach before having lunch. Kids wanted Pasta and Sandwich while my husband stuck to Casado and I tried Heart of Palm salad.
We checked out and headed on the road towards San Jose Costa Rica. We stayed there for the night close to the airport to catch our flight the next morning. Dinner was at Denny's which was in the same complex. I noticed later that I somehow didn't bother take pictures of our burgers 🙂
Day 9 –
As our flight was delayed for over 5 hours, we had a breakfast at the hotel, and I must have been in a rush as I didnt take any pictures. We had a stop over in Panama for a few hours where we had a pizza and teriyaki lunch and some Haagen dazs ice cream before boarding our flight back home. Glad we did that as there was again no vegetarian food (confirmed several times) provided on flight. I don't think I'll be flying copa airlines again 🙁
All in all we enjoyed some wonderful vegetarian food and drinks at Costa Rica. And it was easy. The locals were very nice and accommodated to our diet even with all the language barriers and even at remote places. I would sometimes even ask them for a recipe and we would somehow communicate using signs, they speaking in Spanish, me in English and thanks to the translator app!
Comments
comments