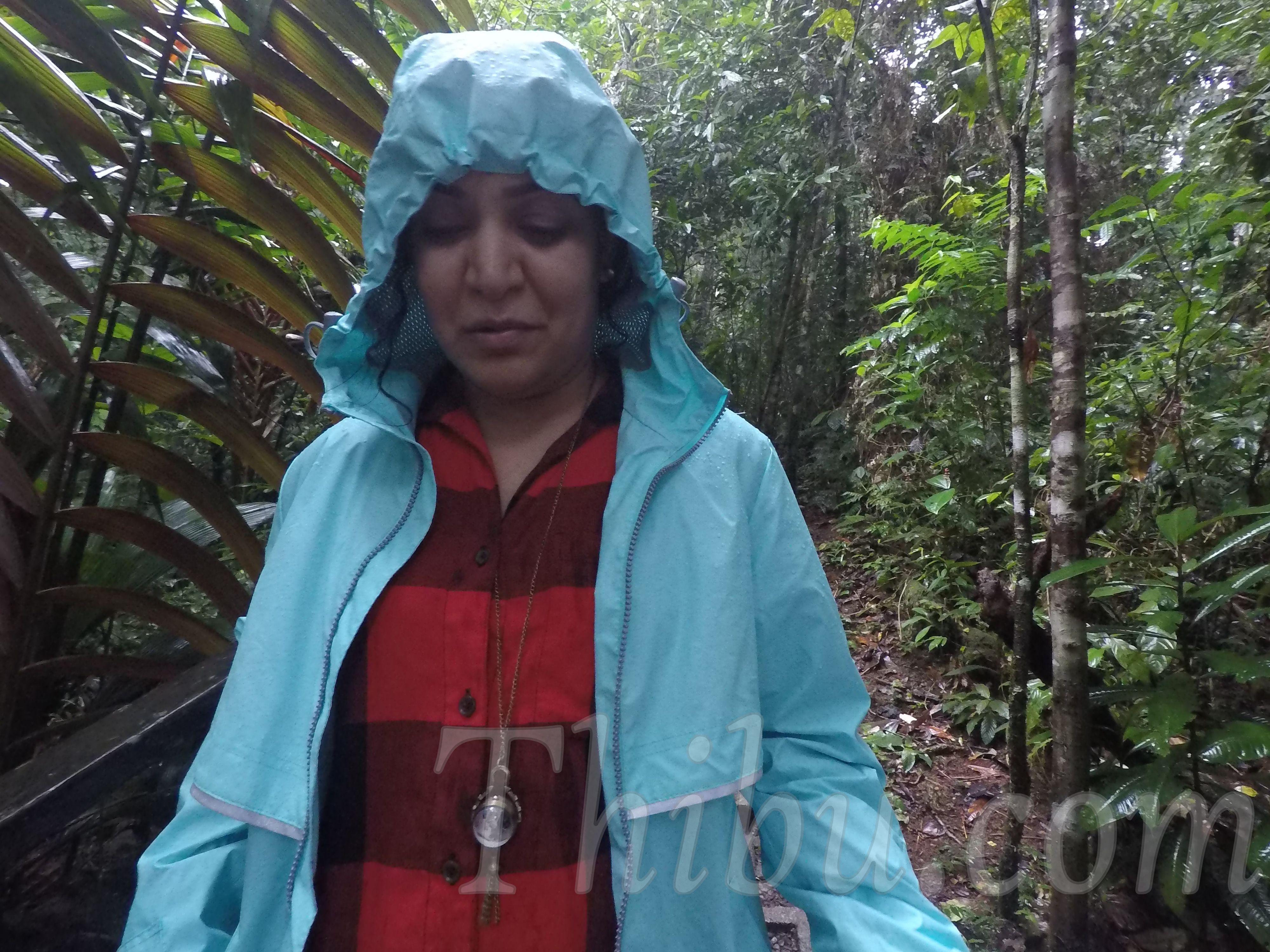 Costa Rica – Zip lining, Horse Riding, Nature Walks, Beach and More
We had stayed at a bed and breakfast very close to Poas Volcano. So we were able to get there very early. Unfortunately there was fog that morning. We were told about it at the gate before we bought the tickets, which was nice. We decided to still go in and check out. It was a beautiful walk to the Crater and back. Kids enjoyed it and took their own time checking out things all along the way. I loved the freshness, all that greenery, flowers, rain etc. Somehow rain becomes normal. Its not cold and it doesn't bother. It just adds to the experience 🙂
That's the Poas Volcano crater behind us 🙂
We stayed at Tirimbina. It is a non-profit organization created to conserve the rainforest and to provide environmental education and scientific research. This Private Wildlife Refuge protects 345 hectares of mid-elevation forest and its 9 kilometers of trails pass through several ecosystems of the forest and river.
We went on a couple of guided tours here. First was the Chocolate Tour and the same afternoon we went on this 2 1/2 hr Nature hike.
We crossed one of the tallest and longest hanging bridges over a river flowing high with all the recent storm water.
We were the only family on the tour and we had a guide who was local, and very well informed about the forest and its ecosystem. All along the way he explained to us about the different animals, types of trees, about the rainforest, and much more. My kids asked non-stop questions and he answered all of them patiently. He appreciated their enthusiasm and energy.
The light raincoats we had brought with us were very helpful as it did start raining during our hike. Also the rain boots we had borrowed from our hotel (free), were helpful.
Kids were looking forward to seeing spider monkeys in the wild, but due to rain we didn't see too many animals. We did see large ant hills and many types of ants – Bullet ants, Leaf Cutter ants, Army ants. We also saw a few different types of birds, agouti, some poison dart frogs, wild duck, etc. All in all it was a great hike enjoyed by everyone.
Talking about animals in the wild, we accidentally came upon a sloth on one of our drives. It was moving on a cable on road side. That was cool to see 🙂
For this we had booked an early slot, at 7.30 am, and had arranged for them (Ecoglide) to pick us up from the hotel. It gave us time for an early breakfast. When we reached Ecoglide, only two others joined us for the 7.30 slot. It was perfect.
We had to wear our rain jackets as there was rain predicted, hurricane Otto was making its way. We were fitted into our gear and did a test ride first before hopping on a van and heading up into the mountains all excited. Kids were asked if they wanted to do tandem, but they refused and wanted to go solo. We've been very proud and pleasantly surprised at how brave they were in all the activities, enjoying each one of them without any complaints.
There were about 13 zip lines and we had a Tarzan swing in between. The rain picked up while we were out there. But it was lovely, so much greenery all around us, early in the day, and in a small group, we enjoyed very much. Our guide and the team were very nice. They kept saying "esso!" which translates to "thats it!" or "alright!" each time we were to take off. And the kids had fun repeating it.
We saw a deer in the middle of the woods watching us zip through one by one. It was cool.
By the time we returned, rain had really picked up and there was a larger crowd for the next round. We were happy we started early.
We had taken our go pro which we attached to the helmet they provided. But they also have a photographer who took pictures and video which we bought for $35 for all of us. That was great!
We were given some Beer/Juice/Water and then taken back to our hotel.
On our way to Bejuco, we passed the Croc Bridge where we got to see many alligators and crocodiles.
We spent one day at Playa Bejuco prior to leaving Costa Rica. Our hotel was on the beach, so it was an easy walk in the afternoon and the next morning. It was a beautiful long beach. There were only a couple of other folks when we went there. The water was warm and clear. The weather was very pleasant. The sand was soft to walk on. And there were shells all over the place which the kids loved collecting. We watched the sunset on this lovely Thanksgiving!
We went back early the next morning, around 7-7.30 am. It was already getting pretty hot. We spent a few minutes walking around, collecting more shells before heading for breakfast.
And I had to sneak in another visit to the beach before we checked out 🙂 It was great to see an army of leaf cutter ants on the way. You just see all these leaves moving systematically, and then notice the ants that are moving them. Very cool.
There is so much to see and do at Costa Rica and we had a great time there! No one was in a mood to go back home 🙂
Comments
comments