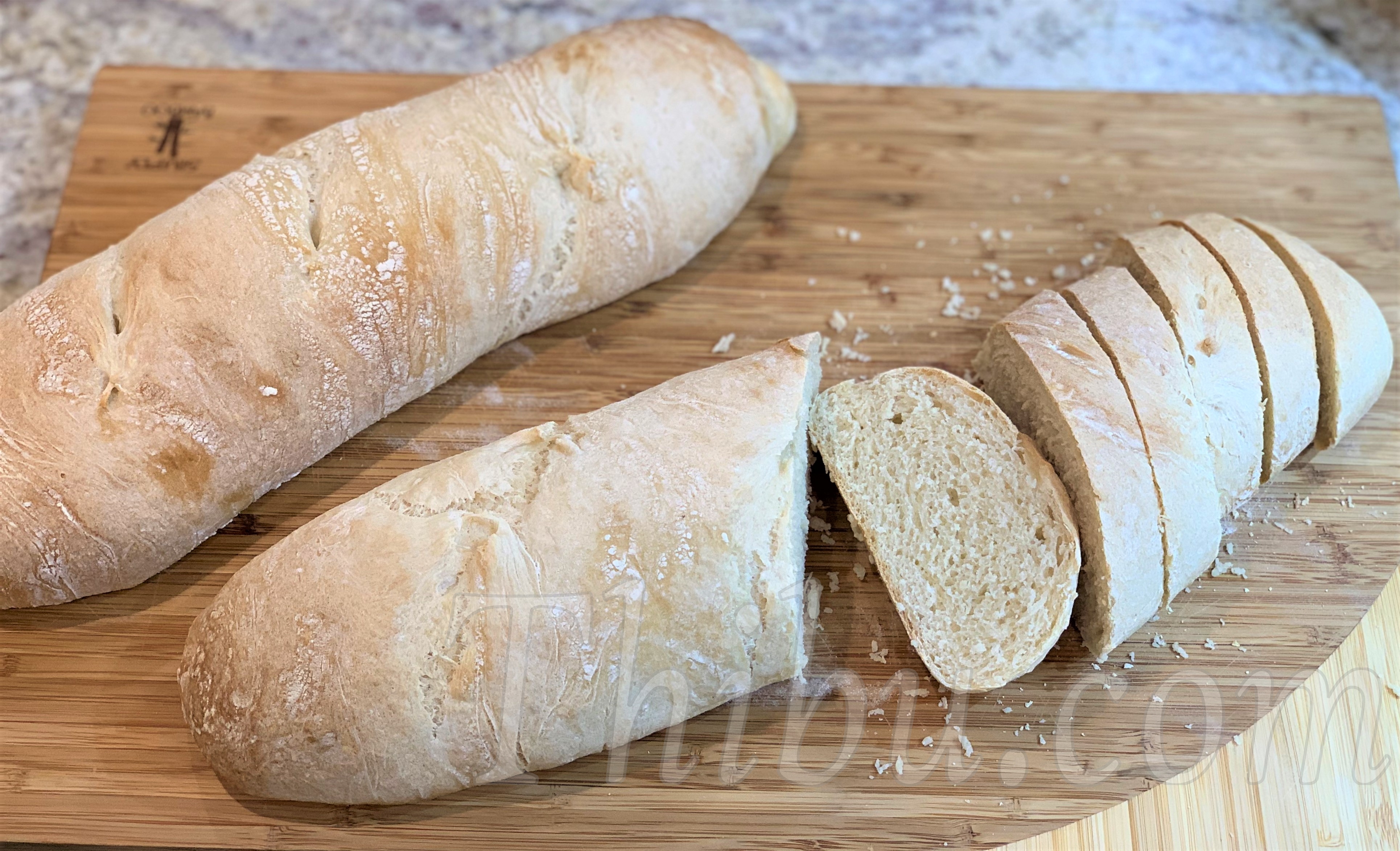 French Bread
This is a super easy bread to make, and is relatively quick as well. This recipe makes 2 loaves.
My son loves French Bread and two loaves go super fast 🙂 Freshly baked hot bread with butter is irresistible.
The crust is crispy and the inside is soft. We love this bread!
What you'll need:
All Purpose Flour – 6 cups
Warm Water (110 deg) – 2 cups
Sugar – 2 1/2 tsp
Active Dry Yeast – 1 tbsp
Salt – 2 1/2 tsp
Olive Oil – 1 tsp
Note: If the water is too hot, it'll kill the yeast and the bread wont rise. So make sure it is just slightly warm to the tough.
Method:
Add the Sugar and Yeast to the Warm Water and mix. Set aside for about 5 to 10 minutes.
In the meantime, add 2 cups of flour and salt to a stand mixer (can also mix by hand).
Add the water yeast mixture to the flour and mix on lowest speed.
Continue to add the remaining flour 1/2 cup at a time, until the dough comes together without getting dry. It may still be slightly sticky to the touch.
Place the dough ball in a bowl greased with Olive Oil, coating the dough with oil on all sides. Cover and let it sit for about 15 minutes.
Flour a work surface and take the dough out on it. Punch any air bubbles with fingers and make 2 equal parts.
Roll one of the dough half into a rectangle, can be done by hand as well. Start from one long end and roll the rectangle into a cylinder. Pinch the edge with fingers to secure the seams. Place on a Baking tray sprinkled lightly with flour.
Do the same with the other half of the dough to make another loaf.
Cover and let it prove for for about 30 to 45 mins. Make 3 cuts on top diagonally just before baking.
Preheat the oven to 400 deg F, place the tray (uncovered) in the oven. Bake for 20 minutes, until the tops starts to brown.
Take the loaves out onto a cutting board and try to wait for about 5-10 mins – very difficult in our house 🙂
Enjoy with butter!
Comments
comments