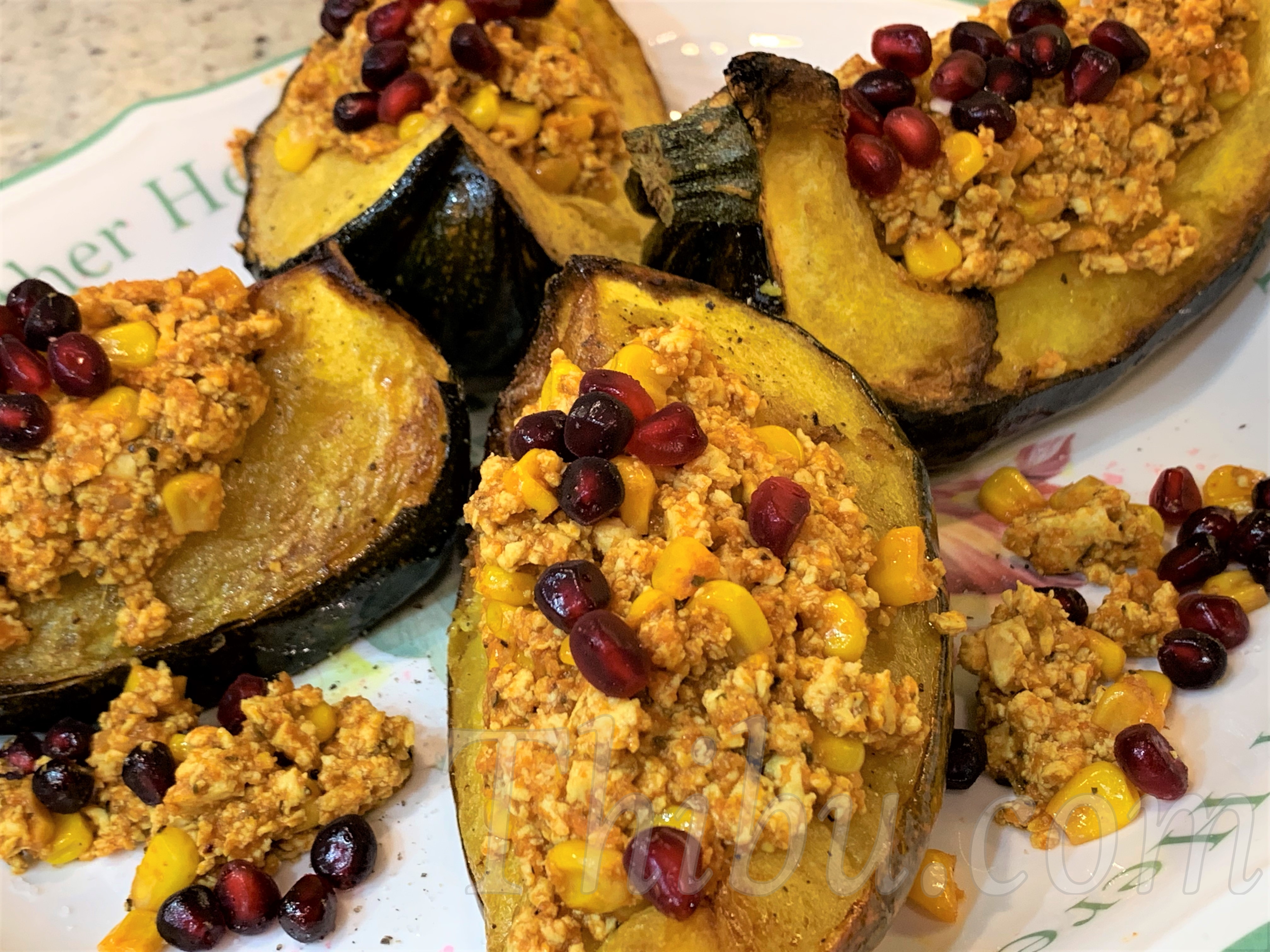 Stuffed Roasted Acorn Squash (Vegan)
The only vegetable I had left was Acorn Squash and an Onion. So I decided to roast it and make Stuffed Acorn Squash for a filling but healthy dinner. The Tofu is cooked in almost a Mexican style, I added the bag of frozen corn that I had left. And topped off with the the Pomegranate seeds harvested from our tree over the weekend.
It would make a great entree for a vegan/vegetarian Thanksgiving dinner. And kids loved it too 🙂 They wanted extra stuffing!!
What you'll need:
Acorn Squash – 2
Red Onion – 1
Garlic – 2 cloves
Ginger – 1 inch
Green Chilies – 2
Tomato Paste – 1 can
Cumin Powder – 2 tsps
Coriander Powder – 1 tsp
Firm Tofu – 2 boxes
Frozen Corn – 1 bag
21 Spice Salute – 2 tsps
Dried Herbs Blend – 2 tsps
Salt to taste
Method:
Pre-heat oven to 375 deg F.
Cut the Acorn Squash lengthwise into quarters, brush with Olive Oil, and place cut side down on a baking tray. Place in oven and bake for 45-50 mins.
In the meantime, puree the Onion, Garlic, Ginger and Green Chilies (all raw).
In a wide pan, add about 1 tbsp extra light Olive Oil. Add the puree and saute.
Add the Tomato Paste, Cumin Powder, Coriander Powder and continue to saute until the raw smell is gone.
Crumble the Tofu and mix. Continue to cook for another 5-10 minutes, until the moisture is absorbed.
Add the Corn, Herbs, Spices, Salt and cook until everything is well combined.
To plate, Place the roasted Squash cut side up on a plate. Sprinkle with Salt and Pepper. Top it with the stuffing and a few Pomegranate seeds. Enjoy!
Comments
comments