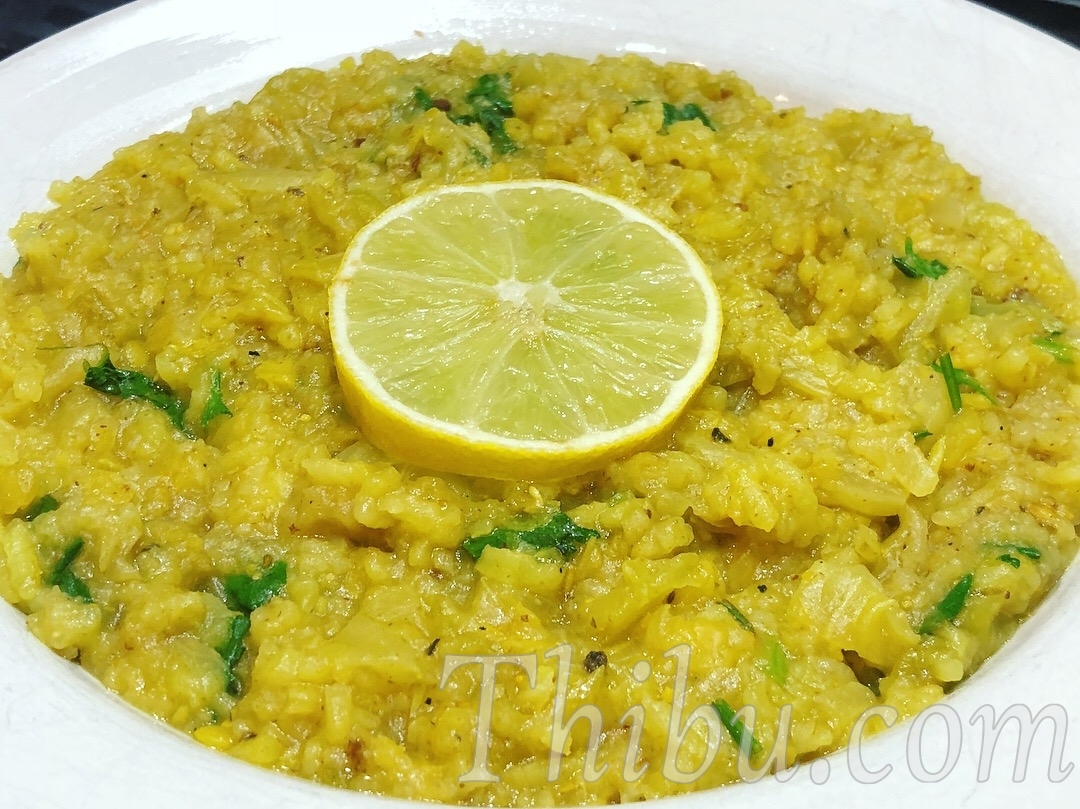 Jadoo ki Kichadi (Masala Kichadi)!
My son has a cold and cough and asked me for Jadoo ka Mishran and Kichadi for dinner. I just combined the two and made Jadoo ki Kichadi 🙂
It has a lot of goodness that I add in the Jadoo ka Mishran, tastes very yummy, and is very comforting!
What you'll need:
Onion, cut into large cubes – 1/2

Olive Oil – 2 tbsp

Ginger – 1 to 2 inch piece

Ajwain (carom seeds) – 1 tsp

Fennel Seeds (Soanf) – 1 tsp
Black Peppercorn – 1 tsp
Cinnamon Stick – 1
Cloves – 1tsp
Cumin Seeds – 2 tsps
Fenugreek (Methi) Seeds – 1 and 1/2 tsp
Black Cardamon (Badi Elaichi) – 1
Coriander Seeds – 2 tsps
Turmeric Root – 1 inch piece  (or 1 tsp Turmeric Powder)
Garlic Cloves – 5
Cabbage, thinly sliced – 1 whole
Moong Dal and Masoor Dal – 1 cup total (I mixed both, but can be made with just Moong dal)
Rice (Sona Masoori. Jasmine would be fine as well) – 2 cups
Salt to taste
Lemon – 1
Cilantro, finely chopped – 1 small bunch
Method:
1. In a large pressure cooker, add oil and saute the Onion. Add Cumin Seeds, Ajwain Seeds, Fenugreek Seeds, Peppercorn, Black Cardamom, Cinnamon Stick, Cloves, Fennel Seeds, Coriander Seeds. 
2. Add the Turmeric Root and Garlic Cloves. Continue to Saute until Onion turns golden.
By this time it was already smelling like Jadoo ka Mishran! 🙂
3. Blend this into a fine paste, including the fresh Ginger.
4. Add the chopped Cabbage to the pressure cooker.
5. Wash and add the Dal/Lentils to the pressure cooker.
6. Wash and add the Rice to the pressure cooker.
7.  Add the ground spice paste and sufficient water, about 8 to 10 cups. Add Salt and mix everything together.
Cover and pressure cook on medium high for 3 whistles. Can be made the same way in an Instant Pot, use appropriate settings.
8. It should have cooked well and be on the softer side once cooked through.
9. Add the juice a full Lemon and a bunch of chopped Cilantro.
Comments
comments