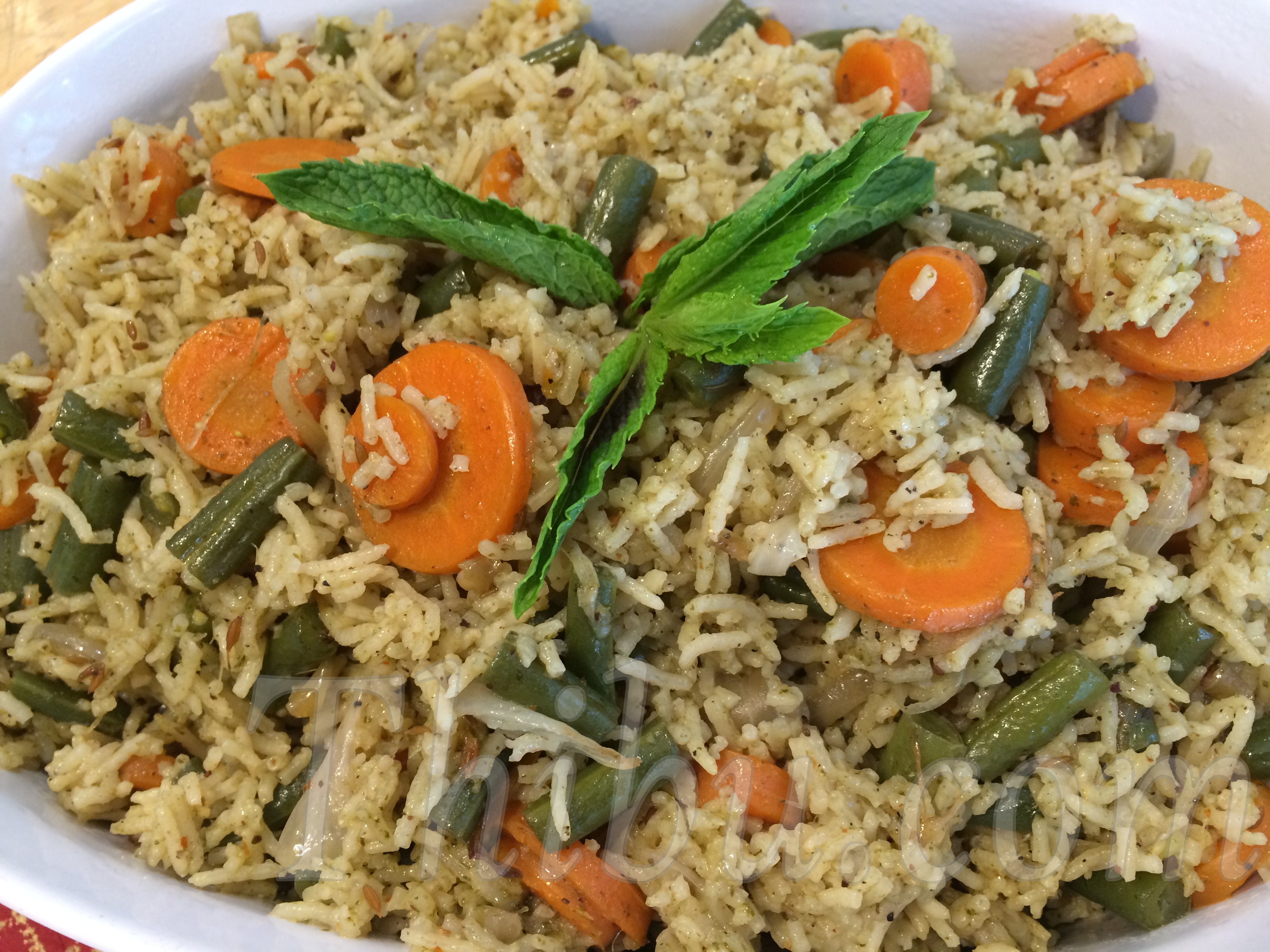 Mint Vegetable Pulao
A weekly trip to the farmer's market and its so hard to resist over buying all those fresh produce! Today I picked up some fresh mint, carrots, and beans among other things. So, came home and made a quick mint vegetable pulao.
What you'll need:
Bay Leaves – 2 to 3
Cinnamon Stick – 1
Cloves – 1 tsp
Peppercorn – 1 tsp
Black Cardamom (badi elaichi) – 1
Red Chilies – 2
Garlic Cloves – 5
Mint Leaves – 1 good bunch
Cumin Seeds – 2 tsps
Onion, thinly sliced – 1
Carrots, sliced – 4
Beans, cut – a bunch
Basmati Rice – 2 to 3 cups
Salt to taste
Note: Substitute the vegetables with any combination of what you have on hand. Also for a quicker version, add Garam Masala in place of the spices, along with Chili Powder.
Method:
1. In a large pan, add olive oil or other oil, and add Bay Leaves, Cinnamon Stick, Cloves, Peppercorn, Black Cardamom, Red Chilies and Garlic Cloves and saute.
Note: Adjust the quantity of the spices to your liking and you can also add any other spices you like. Or add Garam Masala if you like.
2. Take out the spices into a blender (I like the bullet). Add a bunch of fresh Mint leaves and Salt. Grind to a smooth paste.
3. To the same oil in the pan, add Cumin Seeds and after a minute add the sliced Onion and Saute till golden.
4. Add the sliced Carrots and Beans (or any other mix of vegetables to your liking).
5. Add the washed Rice.
6. Add the ground mint masala. And add sufficient water – usually 1 cup of rice would need 2 cups of water.
7. Mix and cover the lid of the pan. Bring to a boil and reduce heat to low. Cook for about 25 to 30 minutes or till done.
The whole house will smell minty. Enjoy!
Comments
comments