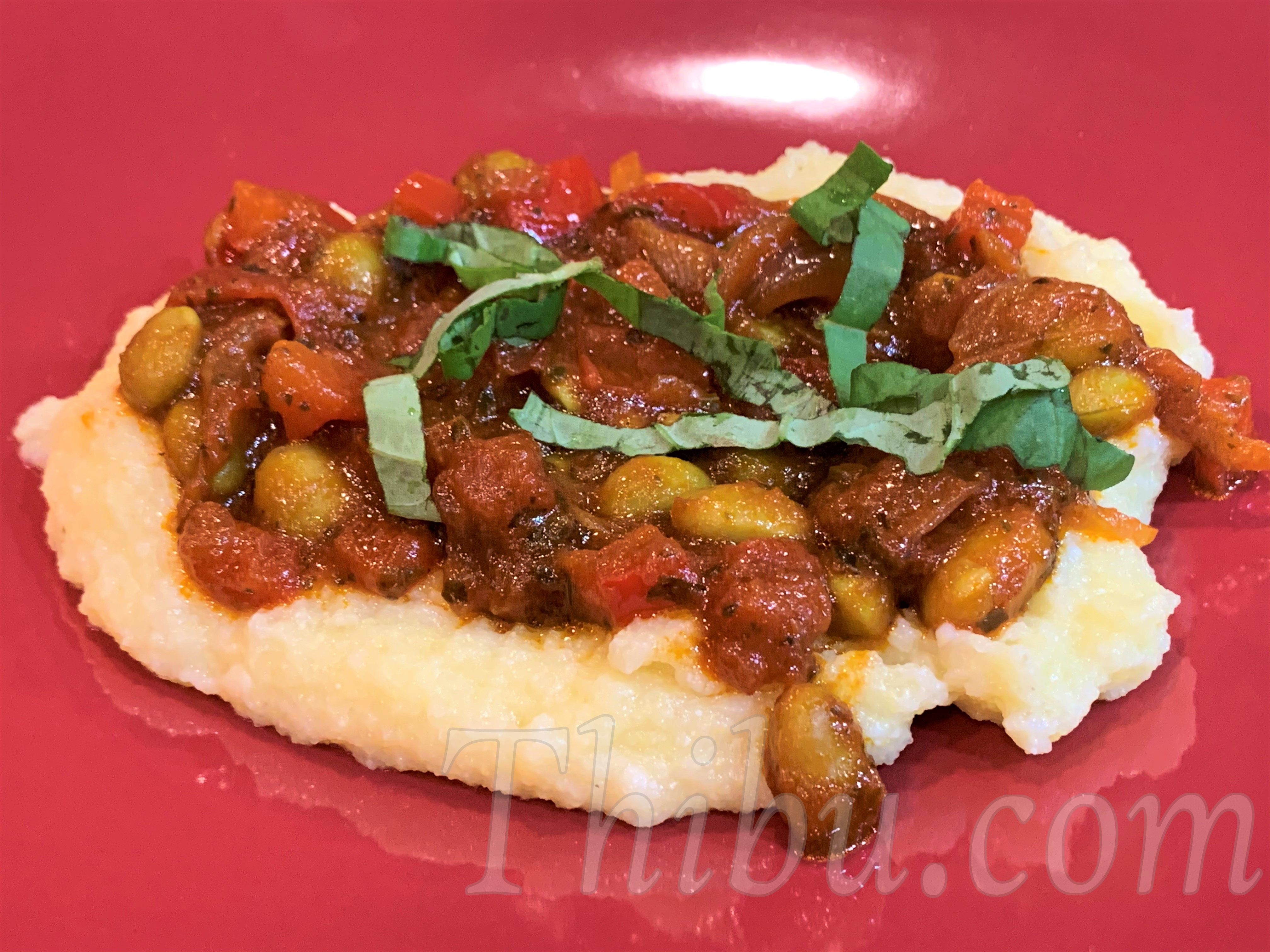 Red Peppers, Edamame and Caramelized Onion Ragu over Creamy Polenta
If you like mushrooms, try the Spicy Mushroom Ragu over Creamy Polenta! And if you dont like mushrooms, this one is just as awesome!! 🙂
They are both Super delicous!! I have one son who loves mushrooms and one who just does not, so I make both 🙂
My son actually asked me while eating this, if I had written the recipe for this dish. He loved it that much. haha!
So lets get to making it!
Oh, you can fing the Recipe for Polenta at https://thibu.com/stovetop-creamy-polenta/
What you'll need:
Red Onion, thinly sliced – 1/2
Red Bell Pepper, chopped into small cubes – 1
Shelled Edamame Beans – 1 cup
Tomato – 1 large
Tomato Basil Sauce –  1/2 jar or 2 cups
Chili Powder – 1 tsp
Dried Basil – 1 to 2 tbsps
Salt to taste
Fresh Basil Leaves, julienned – a few leaves
Extra Light Olive Oil – 2 tbsp
Method:
In a shallow pan, add Oil and saute the Onion until they caramelize.
Add the Red Bell Peppers, Edamame and Tomato and continue to saute until cooked, 7-8 minutes.
Add the Tomato Basil Sauce, Chili Powder, Dried Basil, Salt and continue to cook, for another 5-6 minutes.
Turn off heat. Pour over Creamy Polenta and garnish with Fresh Basil Leaves. Enjoy!!
And if you like, make both the Spicy Mushroom Ragu and this and have a little bit of both on your Polenta!! 🙂 Thats what I did!
Comments
comments