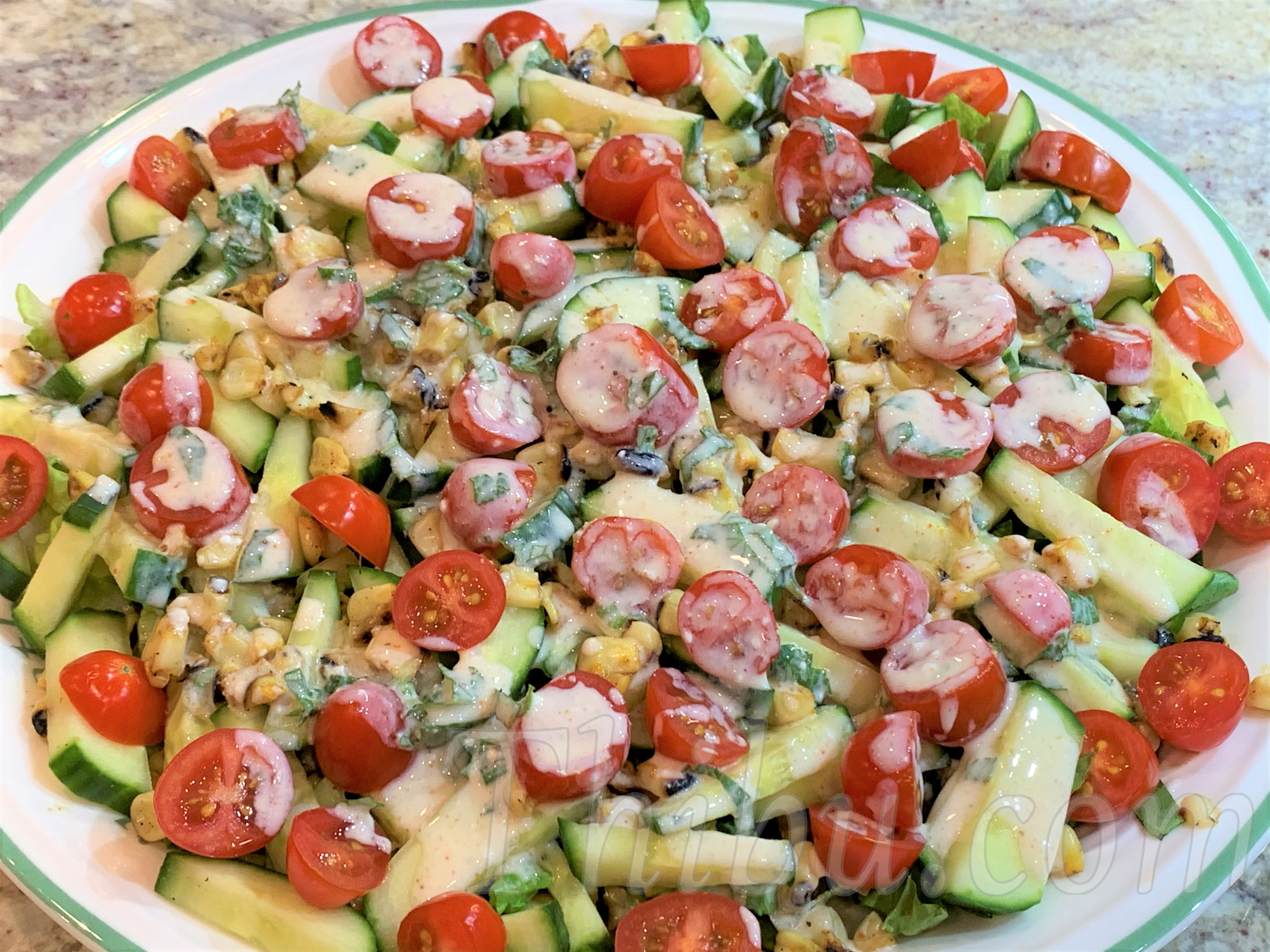 Simple 5 Layer Salad with Yogurt Dressing
I believe that whether it is a party, get together, you are entertaining guests, or just having a regular meal at home with family or by yourself, dress up your plate! Pretty up the presentation! We all eat with our eyes first. So why wait for a special occasion. Let everyday be special!!
I made this quick and simple salad by layering the veggies as I chopped them onto a platter. Then pour the dressing over it before serving/eating. Plate and enjoy!! No extra dishes to wash either 🙂
What you'll need:
Romaine Lettuce, chopped (Use any greens you have) – 2 cups
Roasted Corn – 1 cup
Cucumber, cut into bite size pieces – 1 large
Cherry Tomatoes, halved –  18 to 20 ( about 1 1/2 cups)
Roasted Nuts – 1/2 cup
For Dressing:
Plain Yogurt – 1/2 cup
Chili Powder – 1/2 tsp
Chaat Masala – 1 tsp
Salt to taste
Mint, chopped – few leaves
Method:
Wash, Dry, Chop and place the Lettuce onto your Serving Platter.
Next, I had corn of the cob roasted on the bbq the day before. You can use frozen roasted corn, works perfectly fine! Warm up the corn for about 30 seconds to a minute in the microwave with a teaspoon of butter. Mix in a teaspoon of Chili Lime Salt. This was to flavor it a bit. You can also just add fresh corn directly! Totally works 🙂
Layer 3/4 of the Corn over the Lettuce. Layer the Cucumber over the Corn. Layer the remaining 1/4 Corn over the Cucumber. (Just to mix things a bit)
Now layer the Cherry Tomato halves over it. Again, you can totally use any tomatoes you have!
To make the Dressing, mix all the ingredients listed under Dressing above in a bowl. Done!
I like to pour the dressing over the Salad just before serving. And I like to sprinkle the nuts directly on the plates. But you could do this ahead as well.
Don't want to have all the right ingredients.. I hope this is a inspiration to use what you have, substitute to your liking, and make something healthy!
Enjoy!! Makes a great side. We had it with some Quesadillas.
Comments
comments