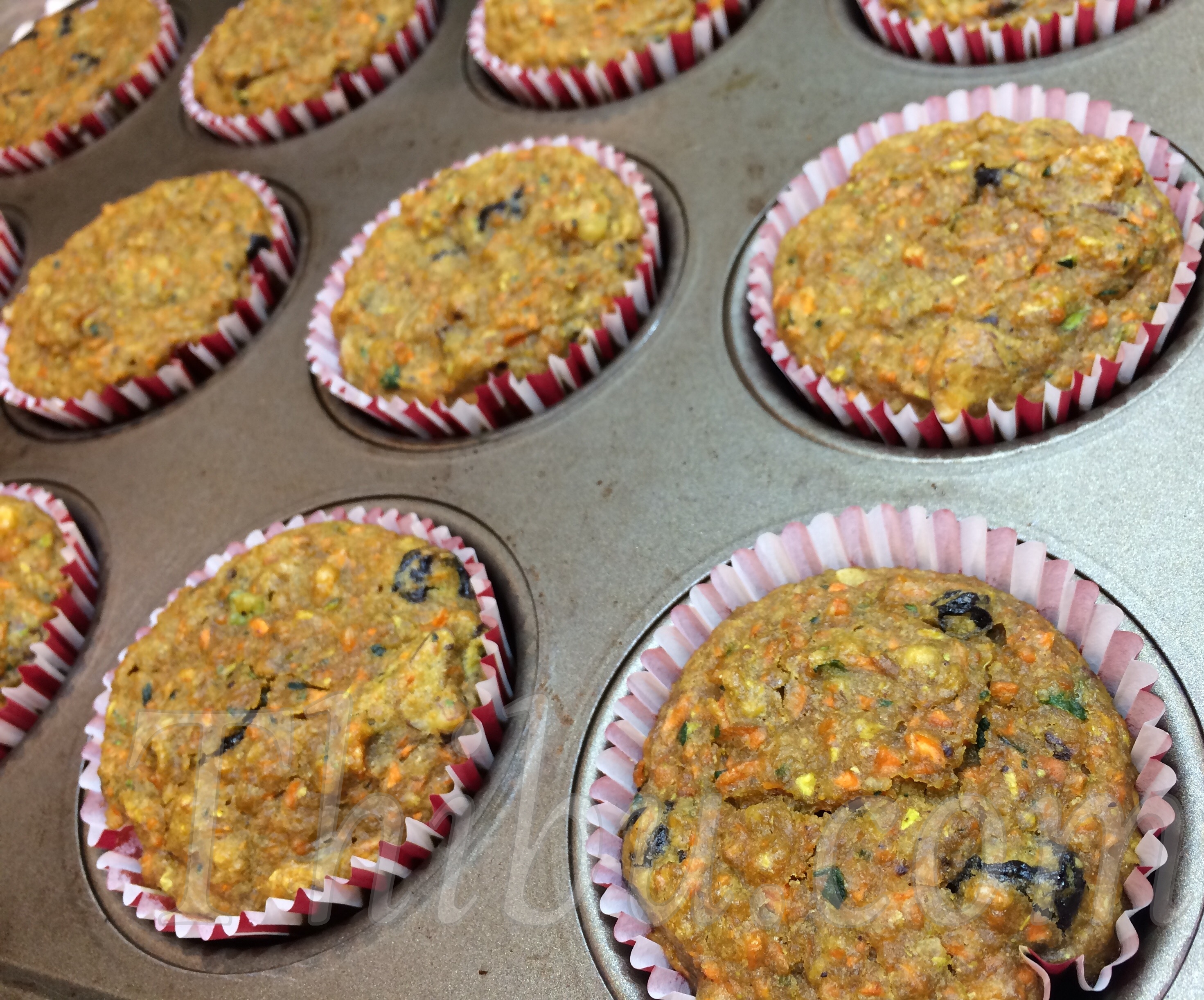 Zucchini Carrot & Apple Muffins
Zucchini Carrot and Apple Muffins with Blueberries (dried) and Walnuts. Made with Whole Wheat and Oats Flour!! If that sounds healthy enough, you should taste it! It is even more yummy!!
My 7 year old said, "I don't like this". "I love this" 🙂
The recipe is very similar to Red Carrots and Apple Muffins with Raisins and Walnuts, with very slight variations in ingredients. I love this recipe!
What you'll need:
Dry Ingredients –
Whole Wheat Flour – 2 cups

Oats Flour (I make my own) – 1 cup (optional. Another cup of whole wheat flour instead. Adding oats makes the muffin a bit sticky)

Sugar – 1 cup  (can add more if you want. But there is sweetness from carrots and apples as well)

Baking Soda – 3 tsp

Salt -1 1/2 tsps

Nutmeg powder – 2 tsp (can add/swap with cinnamon too)

Walnuts (chopped) – 1 cup

Dried Blueberries – 1 cup
Wet Ingredients –
Eggs (beaten) – 4

Vanilla Extract – 3-4 tsp 

Avocado Oil – 1/2 cup (can substitute with a vegetable oil. I've even used olive oil)

Baby Carrots (shredded) – 2 to 3 cups

Zucchini (shredded) – 2

Apple (shredded) – 1
Note: I use the food processor to do all the shredding. Its very quick!
Method:
1. In a mixing bowl, mix all the wet ingredients.
2. Next add the dry ingredients one by one, starting with Walnuts, Blueberries, Salt, Nutmeg, Baking Soda and Sugar. Finally add the Flour little by little and mix.
3. Pour into muffin tray lined with liners. And bake for 22 to 23 minutes in oven preheated to 350 degrees.
Enjoy!
Comments
comments