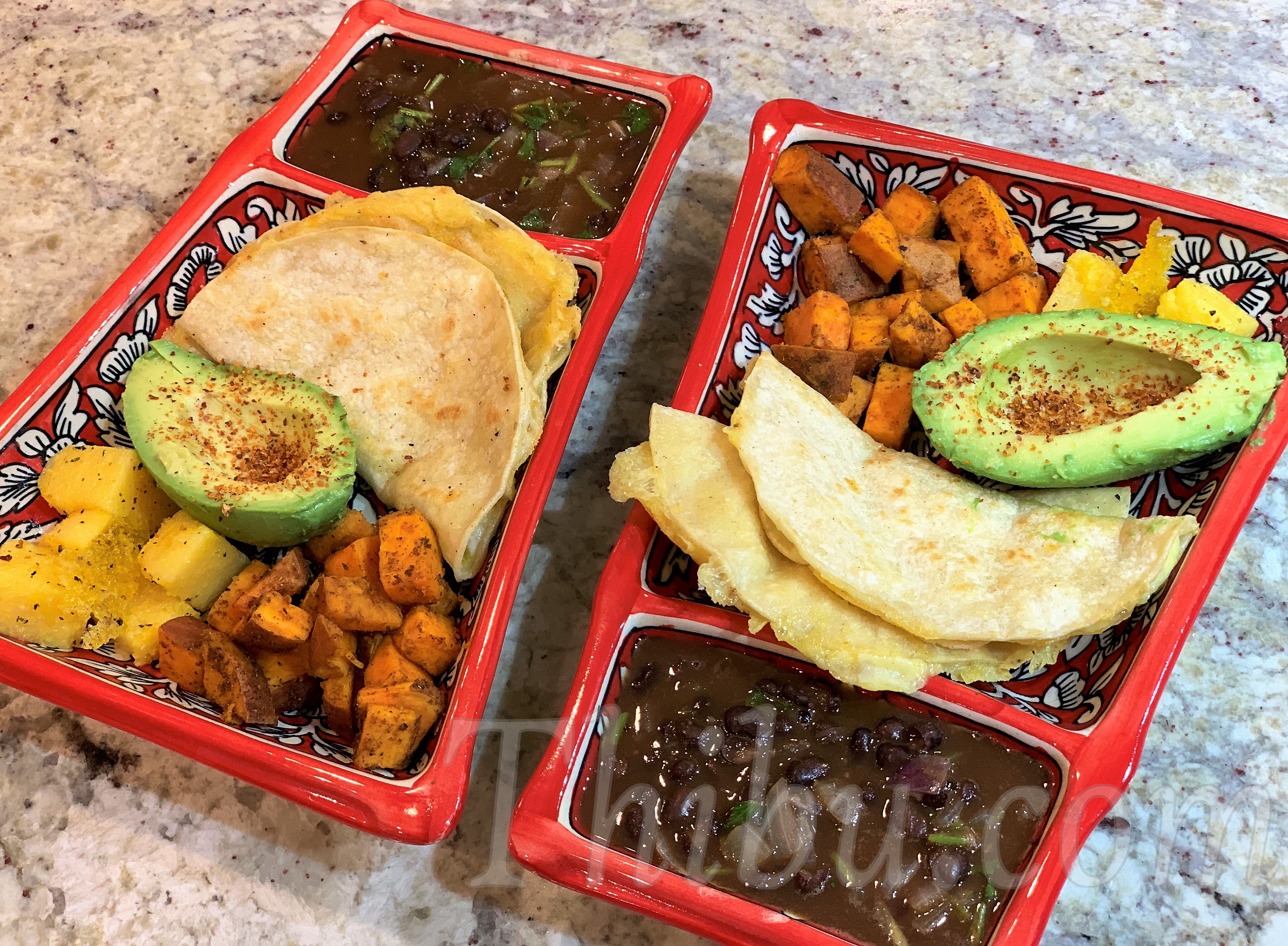 A Colorful Plate Full of Flavor!
Avocado love! 🙂
And to go with the avocados, made Roasted Sweet Potatoes with Paprika and Curry Leaf powder, Roasted Polenta Bites sprinkled with my favorite 21 spice salute from trader joe's, Cheese Quesadilla, and Black Beans with Ginger Chili and Onion!!
Black Beans:
What you'll need:
Black Beans – 2 cans
Red Onion finely chopped – 1
Ginger finely chopped – 1/2 inch piece
Green Chilies – 1 or more to taste
Salt to taste
Cilantro finely chopped, a small bunch
Method:
Saute the Onion until translucent, in a pot.
Add the chopped Ginger, slit Chili, Black Beans and the Salt.
Add water as needed, but keep a thick consistency. Simmer for about 4-5 minutes.
Garnish with Cilantro.
Roasted Sweet Potatoes:
Wash and cube the Sweet Potatoes (I leave the peel in). Toss in some oil, Paprika and Salt, and spread on a baking tray. Bake at 400 degrees for about 35-45 minutes. Sprinkle Curry Leaf powder over it and serve!
Roasted Polenta Bites:
I used the Trader Joe's Polenta. Cube it, and Roast in the oven or Stovetop, tossing in a bit of oil. Sprinkle with Trader Joe's 21 Spice Salute and Salt. Enjoy!
Cheese Quesadilla!
Kids favorite 🙂 Corn Tortilla folded over Pepper Jack Cheese (or use any of your favorite cheese).
When I cook these, I first preheat the oven. In the meantime, I chop and prep the Sweet Potatoes. I might even prep the Polenta and toss then the oven. In the meantime, make the Beans on stove top. Finally make the Quesadilla. And ofcourse Fresh Ripe Avocado sprinkled with Chili Lime Salt!!!
Comments
comments