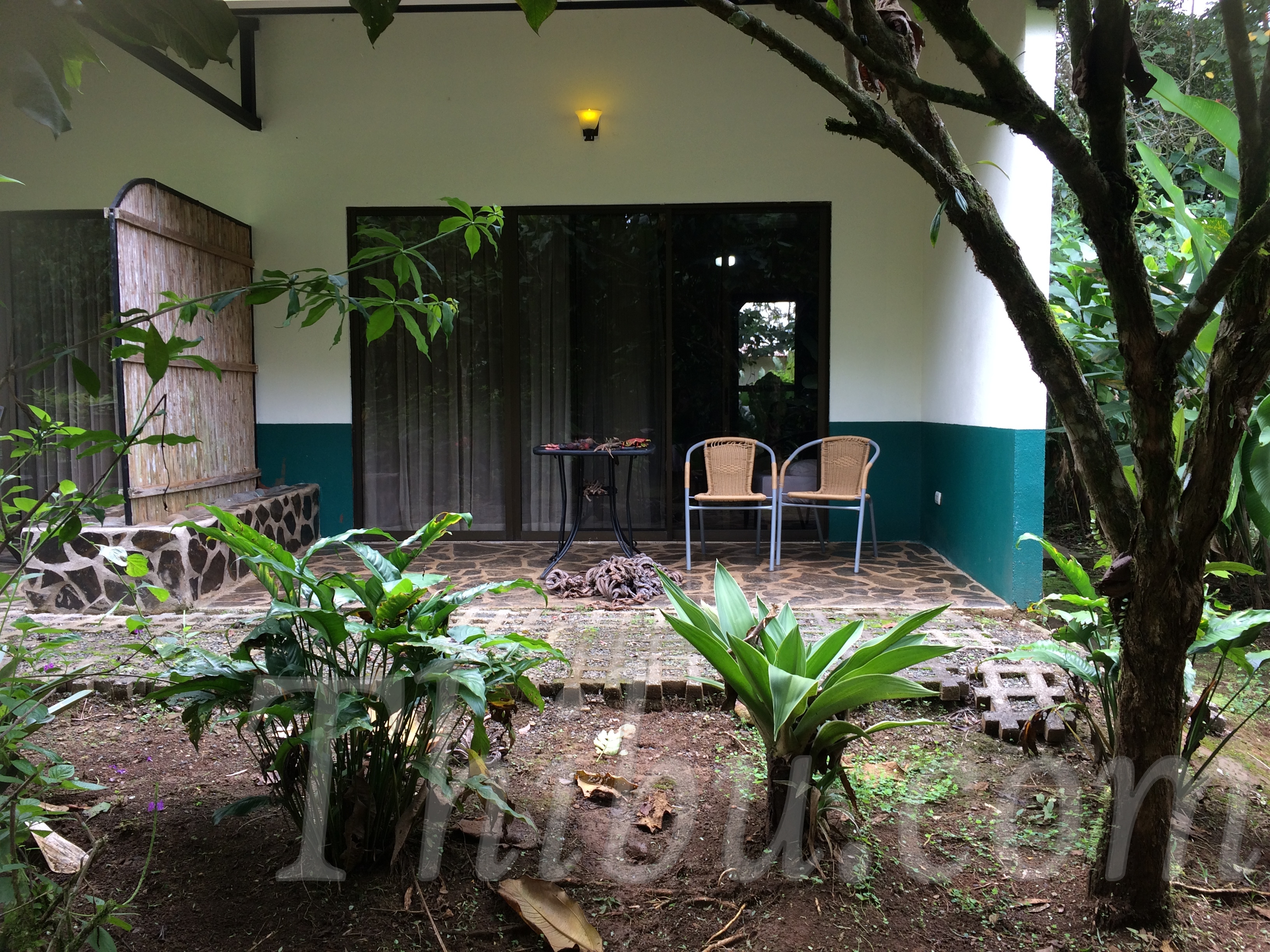 Costa Rica – Hotels
I really must say that my husband did an awesome job in planning the whole trip. I had been busy to look at all the information he had been sending me, so I just gave him my main requirements. Some of the places I really wanted to see, some of the activities I wanted to do, etc. He took it from there to look up and reserve activites and tours, and everything else! He booked different types of hotels, we stayed in 5 different places.
Altura Hotel near Poas Volcano
The night we arrived at Costa Rica, we spent at Altura Hotel which had a more of a bed and breakfast type feel to it. Its tucked away in the green mountains and is only a few minutes drive to Poas Volcano. When we saw the sign on the main road and turned into the drive that takes us to the hotel, we were a little surprised – its a narrow gravel lane. The hotel is next to farm.
Once we reached the hotel, there was no one to be found. My husband was looking around and finally found the lady to check us in.
We had an upstairs room with beautiful views.
There was an attic with a bed that the kids loved! There were 2 more beds in the main level along with plenty of shelves and hanging space for clothes, a fireplace, AC, locker, and also a sitting space with a couch and a small TV. We did use the fireplace.
The bathroom was nice and updated as well. The only thing I didn't like was the basin style sink, that's my personal preference though.
We had breakfast the next morning which you can read about here. The staff were nice. We had forgotten to pick up water bottles from the market and they were nice enough to come by and give us a couple of bottles.
Did the mention the views!!
Tirimbina Rainforest Lodge at Sarapiqui
This place was comfortable and was inside the Rainforest. We had the end unit in the row of rooms, and there were plants and trees on all three sides of us. It was peaceful.
Although on the inside the rooms were nothing spectacular, it was comfortable with 3 beds and a large bathroom. The bed did give me a backache! They have a ceiling fan, AC and a locker inside which we used. Forgot to take pictures of the inside. Here is the front.
The back of the room opened up to a patio area with table and chairs overlooking the forest. There were mesh doors on both sides, but occasionally a small bug or fly did get inside the room.
There was a restaurant which had some awesome food and free breakfast. You can read more about it here.
There were several guided tours which started from this place and folks staying at other places come here for that. We enjoyed the convenience of not driving around. We were also able to borrow rain boots, and had the option of exploring the trails on our own.
The staff were awesome! From the folks working at the front desk to the restaurant staff to the tour guides, each person was very friendly and helpful.
One note, the parking area is a short walk from the room. But they do assist by taking our luggage in a cart.
This is a large resort style hotel with some awesome views of Arenal volcano from every room. The rooms are laid out in the style of individual/duplex homes. There are multiple lanes, and each unit has a front yard and open space all around. We forgot to take pictures again, but the views and the inside of room is exactly as shown in their photo gallery. The bathroom was very nice as well with a small tropical garden next to the shower. They pretty much had all amenities in the room and also provided complimentary drinks and water bottles each day.
As soon as we arrived at the main reception, we were given some Tropical drinks while we checked in. They have golf carts which we could request to take us back and forth from our room to the main building where the restaurants, spa, hot springs were and also where we were picked up for our tours.
Staff were very nice, both my boys were guided on how to drive the cart which they were excited about. We dined at the restaurant one night, food was great but a bit on the high end. The free breakfast was awesome with lots of options, you can read all about it here.
We went to the hot springs both nights we were there. Kids loved it! And the pool bar was great too.
I went to the spa for a hot stone massage and facial. They welcomed me with hot tea and snack. Massage was great, facial could have definitely been skipped.
All in all a wonderful stay at an awesome place.
From Arenal we drove south to this beach hotel. The small road that takes us from the main highway to the hotel is gravelly. The hotel gives privacy with trees all around. The beach which is a minute walk from the hotel is beautiful and not crowded at all.
We had an upstairs room which was very spacious. It had an attic area with two beds and stairs to get up there. Kids loved it ofcourse. The main level had two additional beds, a seating area with couches and plenty of storage space. There was AC and locker inside the room. The bathroom was a bit dated. There was a very large patio area on the front of our room.
The restaurant at the hotel was quite nice for dinner and lunch the next day. We were able to take our own wine, but they also had several drinks available. Breakfast the next morning was ok, nothing fancy. More on our dining experience can be found here.
Staff were very nice again. Kids loved playing at the foosball table. There was a swimming pool and outdoor shower which we didn't use.
The very last night of our trip we stayed here, very close to the airport. We originally had an early morning, 5am, plane to catch. The hotel provides shuttle service to the airport and is in the same complex where we rented our car. There were also a couple of restaurants including Denny's, so we could grab a quick dinner. So it was very convenient.
Our plane was delayed to 11am, so we had breakfast before checking out and taking the shuttle.
The room was enormous and it looked like any hotel room in the US. My kids asked if we were still in Costa Rica 🙂 A nice and convenient place to stay if catching a plane.
Vamos Car Rental
We rented a 4 wheel drive from Vamos at the San Jose airport in Costa Rica. They picked us up at the airport and took us to their office which was 5 minutes away where we did the paper work and picked up our car. The staff were very nice again! My husband had done all the homework and booked the car from the US.
The car we got was a brand new Mitsubishi Outlander with exactly 5 kms on it! The protective coverings were still on. We drove a lot and on many a highways. Many roads as I mentioned have potholes and we had to take several gravel connecting roads. Some parts of the highway, especially from Sarchi to Sarapiqui and to La Paz were winding and had 35 degree sloping curves. The car was very reliable and we had no issues.
Gas stations are not hard to find and it is full service.
Copa Airlines
A couple of quick comments on Copa Airlines. Our experience was not great.
The flights were delayed 2 of the 4 legs we had. First one was from San Francisco to Panama due to a crew member being sick. They had to wait for the backup. Fortunately we had enough levy on our connecting flight, so we didn't miss it. On our way back from San Jose Costa Rica to Panama, it was again delayed from 5 am to 11 am. Unfortunately that meant we didn't make it to our connecting flight to SF! We were unsure until we reached the airport for check in. They were able to put us on an evening flight. Extremely slow check in process btw!
Second thing that really frustrated me was the food. We are vegetarians and while booking we had selected Vegetarian food. We called before our flight to confirm the same. We checked with their staff at the airport during check-in. But we didn't get Vegetarian food on any leg of our flight!! Not nice Copa Airlines, especially when travelling with kids and on a long flight.
They did give us some airport food money at Panama due to our flight delay.
I really appreciate my husband's efforts in finding different types of hotels and in planning our trip. We had an awesome experience everywhere. I am not an easy person to please! 🙂
Trip Advisor and the reviews found there were very helpful. Costa Rica is not a cheap place to travel, you pay as you would in the US and dollars are accepted by all.
Comments
comments