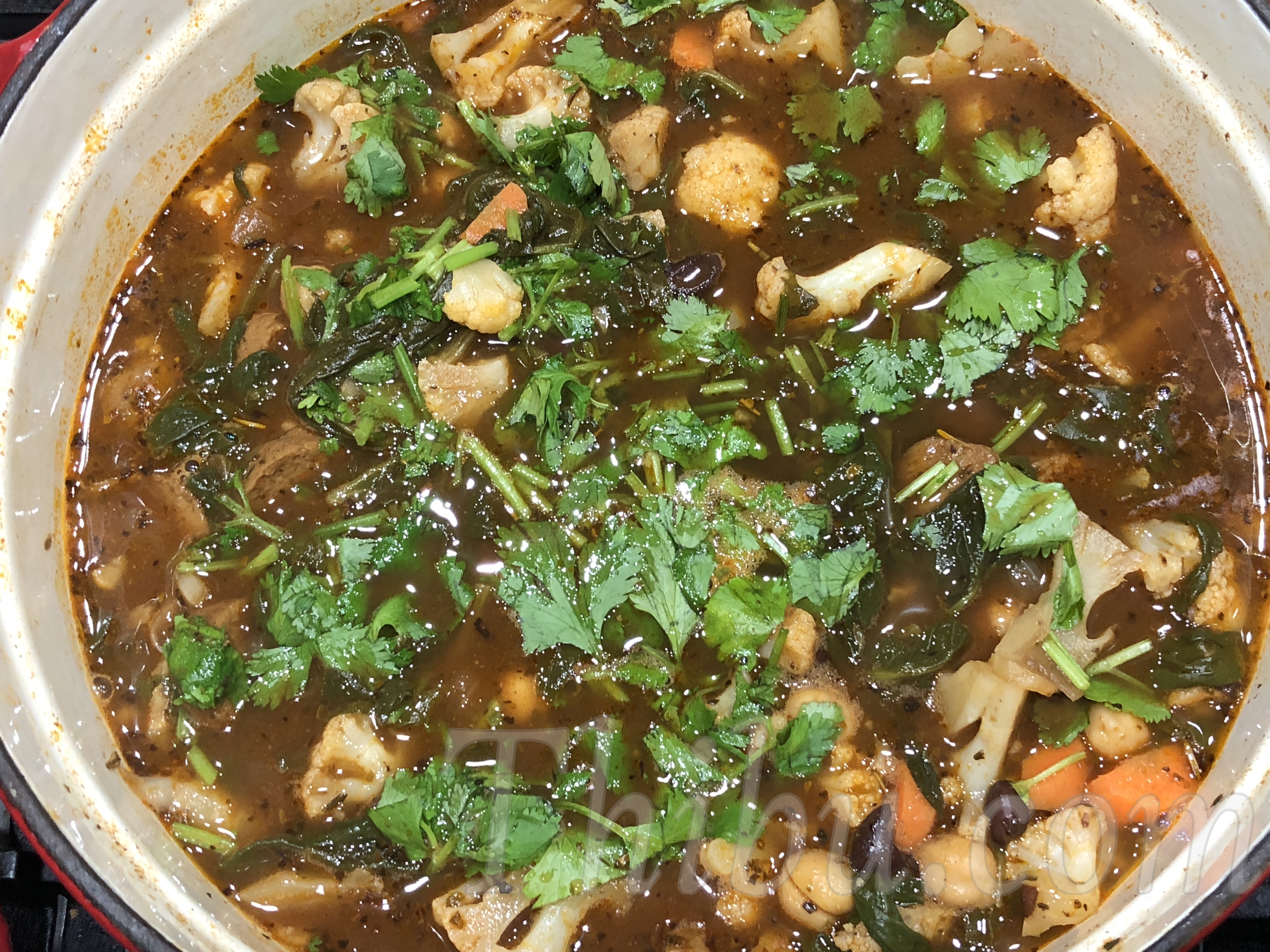 Easy One Pot Vegetarian Chili
I love cooking this in my dutch oven. It heats fast and evenly, and retains heat for a long time. The vegetable used in this can be changed up, add Celery, Corn, fresh tomatoes, etc. I used what was on hand and they work perfectly. Similarly Kidney beans are usually added to Chili. I had just Garbanzo and Black Beans and that's what I used. Again works perfectly. Herbs – when I have fresh, I use Oregano and bay leaves. In this I used mixed dry herbs and some fresh cilantro.
What you'll need:
Olive Oil – 2 tbsp
Red Onion, finely chopped – 1
Garlic Cloves, chopped – 4
Cumin Powder – 1 tbsp
Mixed Italian Dry Herbs (Oregano, thyme, sage, rosemary) – 1 tbsp
Garbanzo Beans – 1 can
Black Beans – 1 can
Cauliflower – 1 head
Baby Spinach – 8 cups (I used more than 3/4 Costco box)
Carrots, sliced – 1
Tomato Paste – 2 tbsp
Abodo Sauce – 2 tbsp
Paprika – 2 tsps
Ground Ginger – 1 tsp
Ground Cinnamon – 1/2 tsp
Salt to taste
Tofurkey Sausages (with sundried tomato) – 2
Cilantro – a small bunch
Method:
Place the dutch oven (or a large pot) on medium-high heat and add the Olive Oil. Add the chopped Onion and Garlic and saute.
When the Onion gets translucent, add the Cumin Powder and the Herb Mix.
Add the Garbanzo Beans and Black Beans and sufficient water.
Add the Cauliflower cut into florets, Baby Spinach and the sliced Carrots.
Add Tomato Paste, Abodo Sauce, Paprika, Ground Ginger, Ground Cinnamon and Salt. Mix and taste. Adjust flavorings.
Let simmer for 10-15 minutes on low, until the veggies are cooked and the flavors are well blended.
Slice the Tofurkey and add it in. Cook for another 3-4 minutes.
Top with chopped Cilantro and switch off heat. Keep covered until ready to eat. Enjoy it hot! Perfect with fresh bread!
I usually make it mild for kids and we add on Ground Pepper or Chilies for more heat 🙂
Comments
comments