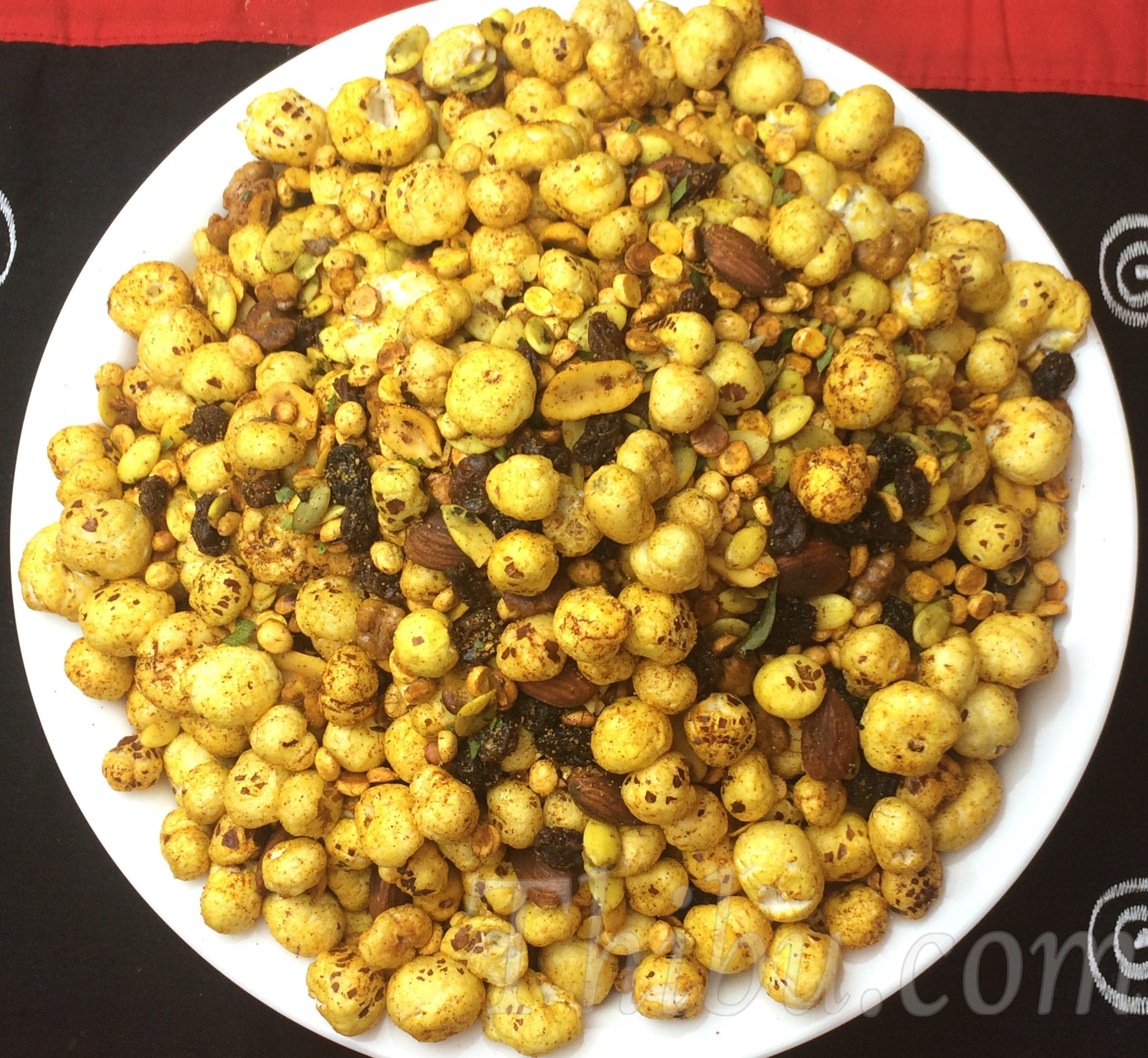 Makhana Fruit & Nut Snack Mixture
Makhana are seeds from the water lily plant. And this is a healthy guilt free organic snack that's great for anytime! A evening snack with tea, or for kids after school snack, or even in snackboxs (assuming nuts are allowed). And its quite simple to make.
I used some raw nuts and some roasted, all roasted nuts or all raw would also work just fine.
What you'll need:
Makhana – 4 to 5 cups
Raw Almonds – 1/2 cup
Raw Walnuts – 1/2 cup
Split Gram (Kadale) – 1/2 cup
Roasted Pumpkin Seeds – 1/4 cup
Roasted Peanuts – 1/2 cup
Dried Blueberries – 1/2 cup
Raisins – 1/2 cup
Curry Leaves – 2 to 3 stems
Turmeric Powder – 1 tsp
Paprika or Chili Powder – 2 to 3 tsp
Ghee – 4 to 5 tsps
Salt to taste
Method:
1. In a large pan, add 2 to 3 tsp of Ghee. Add the Almonds and Walnuts and roast them on medium low.
2. Add the Split Gram and roast.
3. Put aside the roasted nuts. Add the Makhana to the pan and 1 to 2 tsp of Ghee and roast on low.
4. Add the Roasted Pumpkin Seeds and Peanuts, and the nuts previous roasted.
5. Add the Turmeric Powder, Paprika and Salt. Mix.
6. Add dry roasted Curry Leaves (I forgot to roast them with the nuts and makhana. So dry roasted them separately)
7. Add the Dried Blueberries and Raisins. Mix.
8. Mix well. Enjoy this guilt free snack!!
After I had made this I put a spoonful into my son's mouth for taste as he was engrossed in drawing something, he gave me a thumbs up 🙂 So I went on to put a spoonful into my other son's mouth, who was busy playing basketball outside. Got another thumbs up!! Kids approved!
Comments
comments