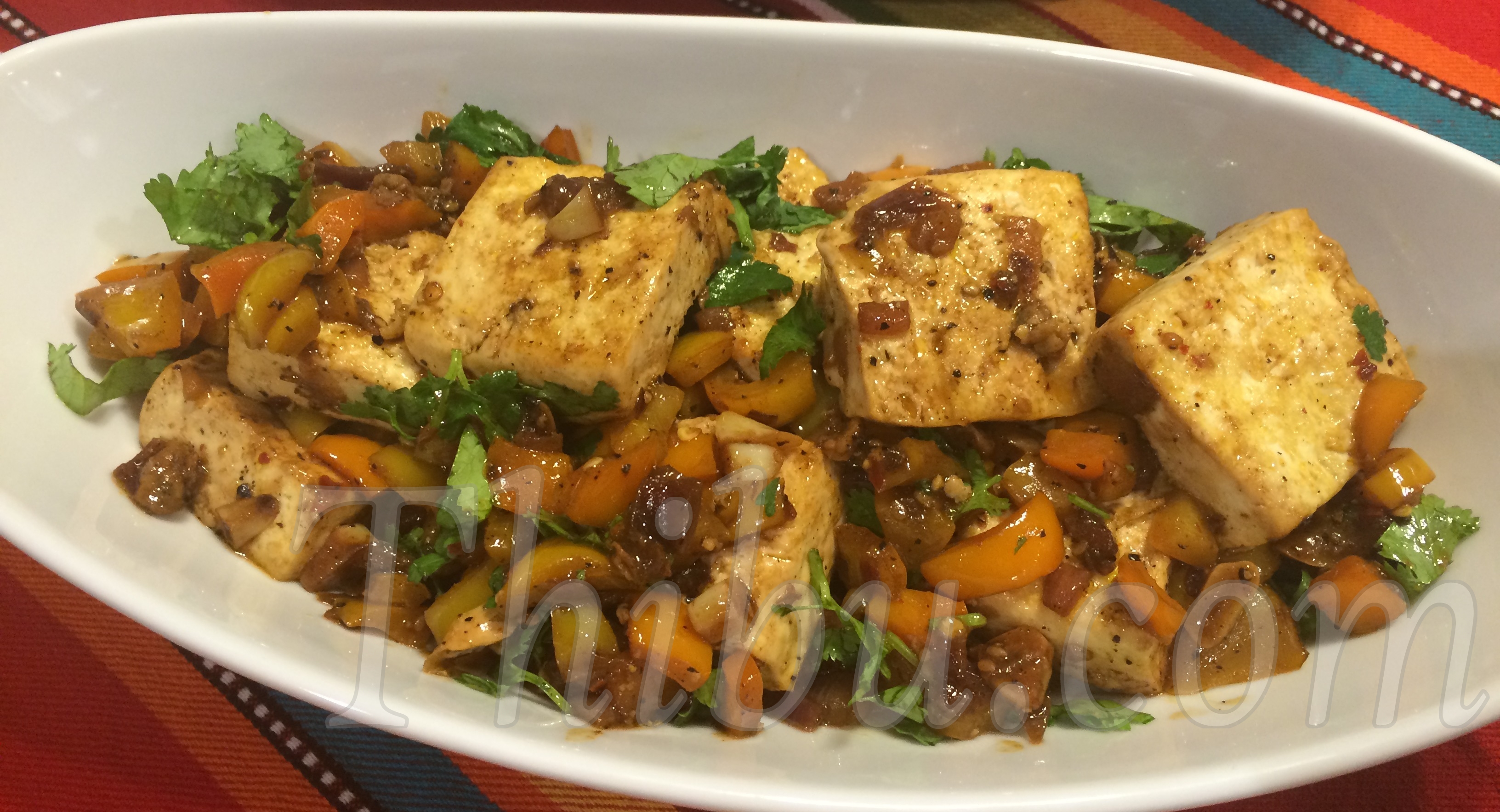 Pepper Tofu
I wanted to make a peppery Tofu and this is what it turned out to be. I did hold back on the pepper, as kids love tofu and I wanted them to be able to eat as well. But it still turned out great!
What you'll need:
Firm Tofu – 1 box
Onion finely chopped – 1/2
Garlic cloves finely chopped – 2 to 4
Orange Bell Pepper finely chopped – 1 small
Yellow Bell Pepper finely chopped – 1 small
Trader Joe's Sesame Soy Ginger Vinaigrette – 2 tbsp
Freshly ground Black Peppercorn – 2 to 3 tsp (or more per your taste)
Crushed Red Pepper – 1 tsp
Cilantro chopped – a few sprigs
Salt to taste
To make your own Sesame Soy Vinaigrette Sauce for this dish, blend all the below ingredients in a small blender. I use my NutriBullet.
Soy Sauce – 4 tbsp
Rice Vinegar – 4 tbsp
Olive Oil –  6 to 8 tbsp
Ginger – 1 inch piece
Sesame Seeds – 1 tsp
Method:
1. Cut the Tofu to large pieces and pan fry them. Set aside.
2. In the same pan and with the same oil, saute the Onion and Garlic until soft.
3. Add the Orange and Yellow bell peppers and saute another 3-4 minutes.
4. Add the Sesame Soy Ginger Vinaigrette (Homemade or the one shown below) and mix.
5. Add the freshly ground Black Pepper.
6. Add the crushed Red Pepper. Mix.
7. Add the Tofu pieces and mix. Add Salt as needed.
8. Top with the Cilantro.
Enjoy!! Goes well with steamed rice.
Comments
comments