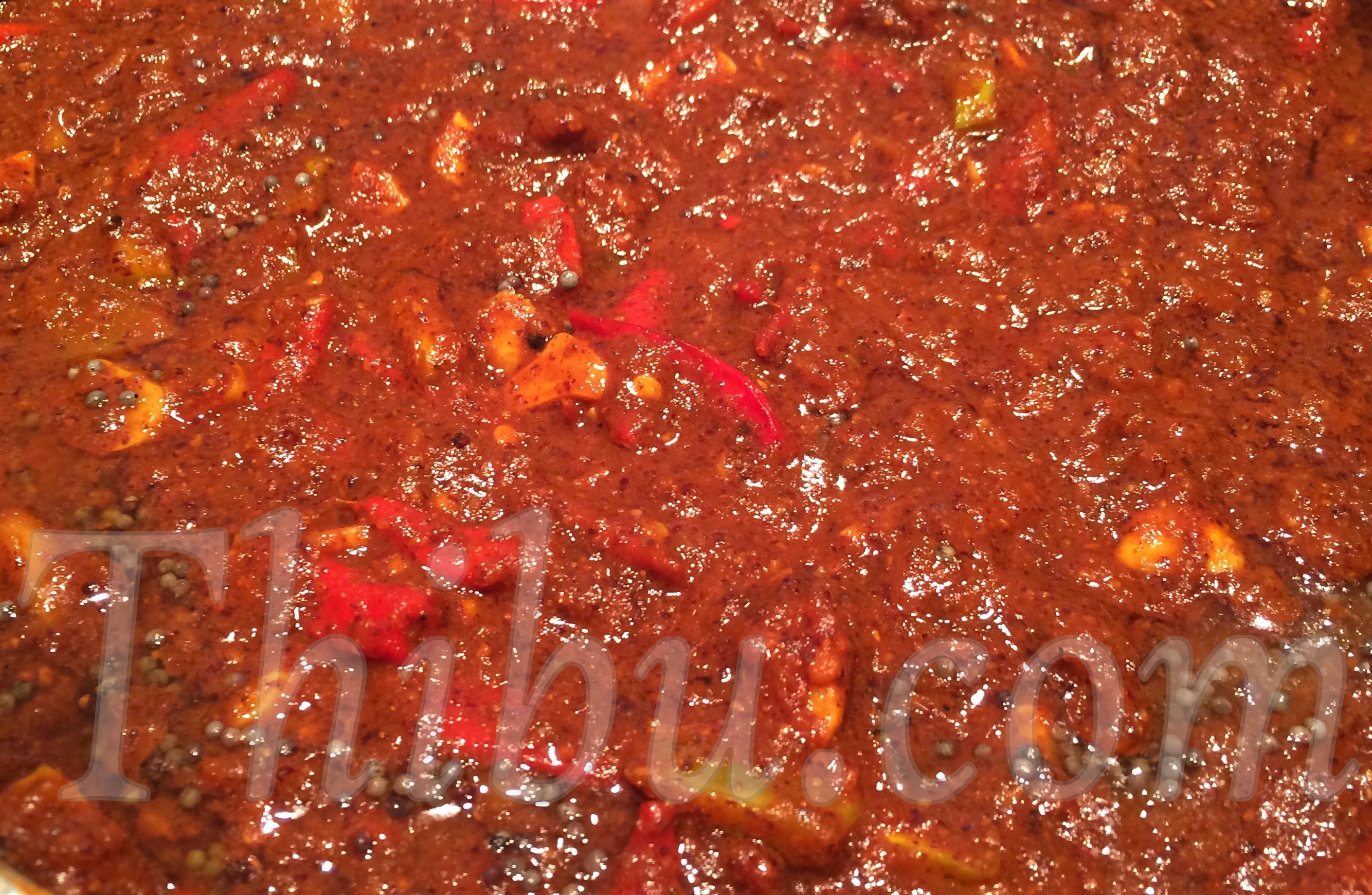 Tomato Chili Pickle with Garlic
When there is an abundance of tomatoes and chilies growing in the garden, what better than to make tomato-chili pickle! This is a slight variation of the tomato pickle I made last year. I included garlic this time.
What you'll need:
Fresh Tomatoes Chopped – 10 medium/large
Chilies – about 1 cup (add more or less per your taste. I picked only the red ones because I wanted to use them up, but anything with a good amount of heat would do)
Garlic Sliced – 1/2 cup
Mustard Seeds – 4 to 5 tbsp
Fenugreek (Methi) Seeds – 2 tbsp
Turmeric Powder – 2 tsp
Tamarind Paste made fresh by soaking about 2 tbsp tamarind
Sea Salt to taste (about 4 to 5 tbsp)
Red Chili Powder to taste
Sesame Oil – 1/2 cup
Mustard Seeds for Seasoning – 1 tsp
Hing or Asafoetida – 2 tsp
Method:
1. In a large pan, dry roast the Mustard Seeds and Fenugreek Seeds on medium-low until they start to splutter and turn golden and your kitchen is filled with a nice aroma. Keep aside and powder once it has cooled a bit.
2. In the same pan, add the chopped tomatoes, garlic and chilies. Cover and let simmer on low for about 15 to 20 minutes – until it has turned pulpy, turning it now and then.
3. Add the tamarind paste and let it simmer another 5 mins.
4. Add Salt, Turmeric Powder, roasted Mustard & Fenugreek Powder and Chili Powder. Mix. Let simmer covered for another 5 to 10 minutes. Turn off heat.
At this stage, taste and adjust the flavors to your liking.
5. In a small pan, warm up the sesame oil and add Mustard Seeds and Hing for seasoning. Once it starts spluttering, add to the pickle. Mix well.
6. Once cooled, pour into containers and store in fridge. Enjoy!
Comments
comments