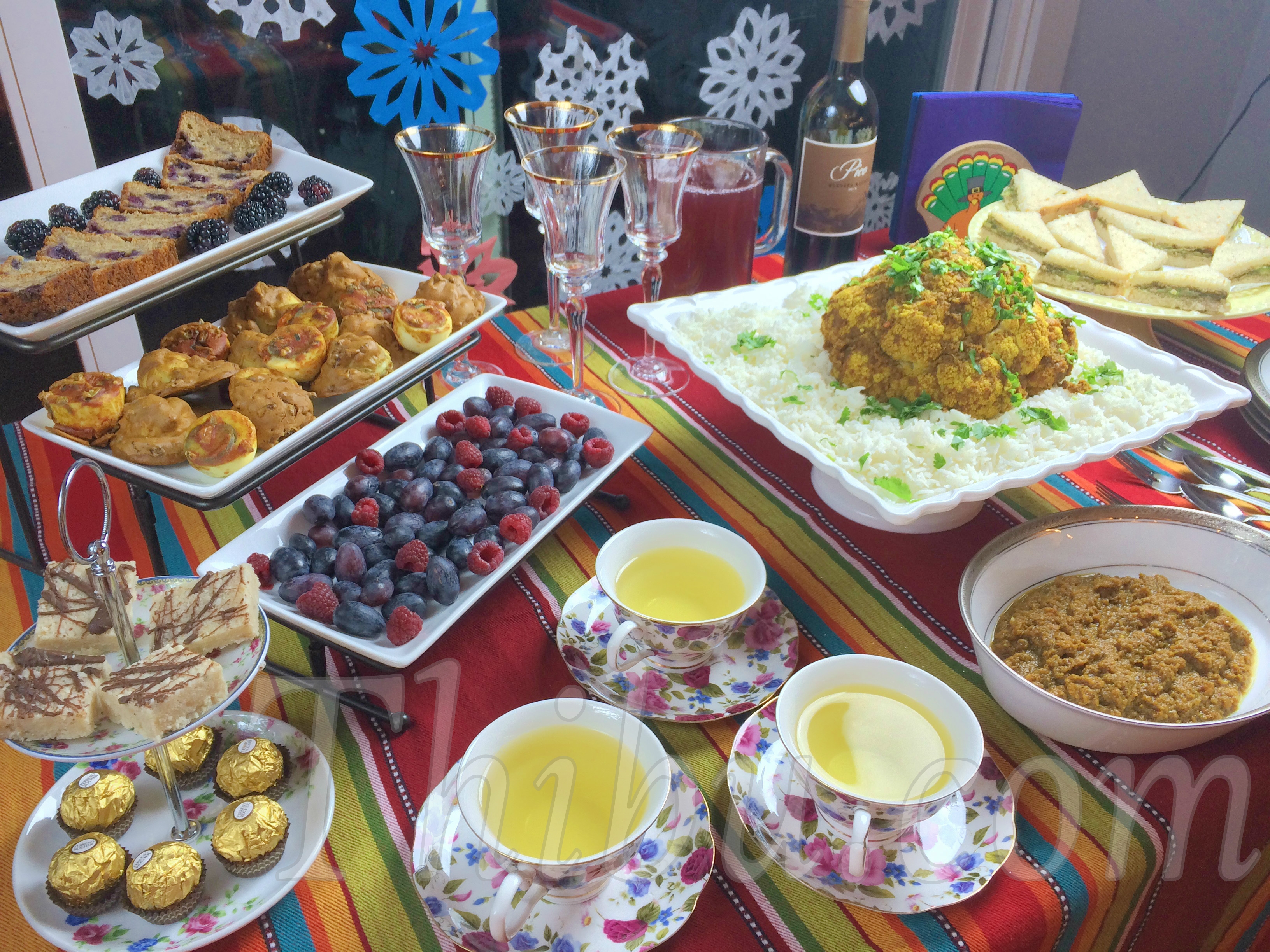 A High Tea Thanksgiving Dinner
After several hectic weeks, I wasn't feeling up to cooking a full fledged Thanksgiving Dinner, although ours is a vegetarian one. So, spent most of the morning and early afternoon lazing around at home, chilling out with kids. They later asked for "tea time". From when they were about 3 years, I would often do "tea time" with them during their afternoon snack time, which included serving milk from a mini teapot into their mini cups & saucers. And serving a few snacks.
I was planning to make some Banana Blueberry Bread anyway, as the bananas were becoming ripe.  I thought maybe I'll make some cucumber sandwiches along with that, and we'd be set for our "tea time". Kids and I made those together. They suggested I make Avocado Cucumber Sandwiches, instead of butter cucumber sandwiches.
My husband had picked up cauliflower thinking I might be cooking a Thanksgiving dinner. So while we were at it, I figured I'll also make the Roasted Phool Ghobi Curry to serve over some aromatic basmati rice. I attempted to make baked egg pakodas as I had some boiled eggs. First time making baked pakodas and it was just ok. Some things are better fried!
Kids had been asking to drink some chamomile or jasmine tea (they had seen it in my tea cabinet). So I inaugurated my tea cups and saucers I had recently purchased. They took one sip of the chamomile tea and realized that they hadn't missed anything 🙂
As my birthday was a couple of days away, my husband had got me photo studio lighting equipment as a gift. I had been complaining about the lighting everytime I took pictures for the blog, now I don't have to 🙂 He set it up and we took some pics of our "High Tea Thanksgiving Dinner".
I am the type who makes lists all the time and plans things well in advance. This time going will the flow and taking kids ideas, was very relaxing and enjoyable.
Comments
comments